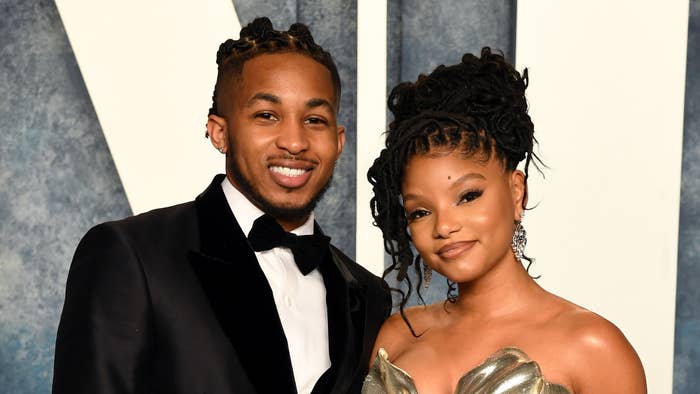 DDG has responded to the people criticizing his new song "Famous," which has him opening up about his insecurities in his relationship with Halle Bailey.
Over the weekend, the Michigan native responded to all the critics who had something to say about his new track "Famous" in a video shared on social media. Once the song was released, people had an issue with the rapper's comments about Bailey and labeled his rap career a failure. According to DDG, those people should calm down because the track is nothing more than just a song.
"They're calling me a failed rapper right now yea, so it's starting back up," DDG said. "I want y'all to know, listen, 'Famous' is just a song okay? It's just music y'all. Just how movies is just movies, songs is just songs.
He continued, "Y'all gotta relax and worry about y'all own stuff, and its all entertainment. It's the entertainment business. Relax, calm down, chill out you know it is what it is, I'm used to getting hated on."
DDG unleashed his new album titled Maybe It's Me... on Friday and on the lead single "Famous," the rapper wasted no time getting personal with his listeners about his relationship. In the chorus, DDG appeared to claim he hated falling in love and only asked for Bailey "to do the basic shit," and that the "hardest thing I did was fall in love with a famous bitch."
He also seemed to take issue with Halle Bailey's interactions with her Little Mermaid co-star Jonah Hauer-King in several red carpet appearances. DDG's feelings got to the point that he asked if his significant other was cheating on him on the song.
The song went viral over its lyrical content, and fans of The Little Mermaid star gave DDG an earful about his insecurities. Many were appalled by the rapper and advised Bailey to break up with him so he won't hinder her career.