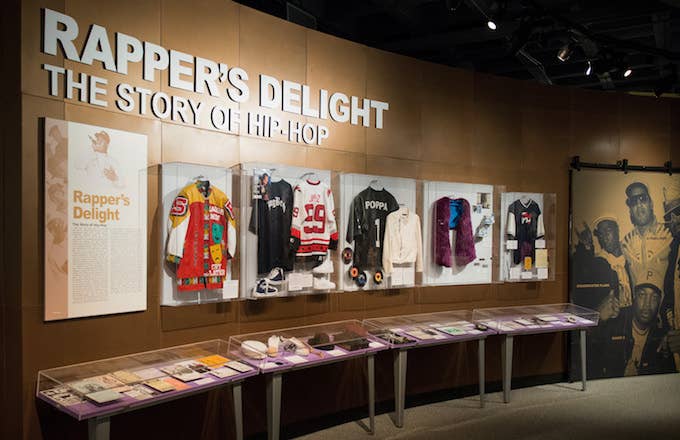 The Smithsonian National Museum of African American History and Culture is exhibiting "Represent: Hip-Hop Photography" until May of next year, and chronicling the culture's origins through photography, short films, and objects relevant to its history.
Just as hip-hop itself is comprised of four elements—DJs, MCs, breakdancers, and graffiti—so is the exhibit. The approach here is broken down into four sections: identity, creativity, activism, and community. That means you'll learn about the various slice-of-life stories found in hip-hop, the innovation of the art form, social justice activity in the culture, and about its birthplace. 
This latest exhibit makes sure to take museum visitors to the very beginning, when films like Wyld Style and Graffiti Rock introduced a whole generation to the scene that originated in New York City. There are rare items on display such as a mega-rare cassette tape of Mobb Deep's The Infamous, and even—behold—an unmastered pre-release cassette of Nas' debut, Illmatic. The primary focus, of course, is in the photography visually detailing those early days, with the Eyejammie Collection ensuring visitors more clearly understand the roots. 
That collection, which the museum purchased in 2015, is the most extensive collection of hip-hop photography of all time. It was curated by Bill Adler, a historian of the culture and former publicist for Def Jam who previously showcased some of the photos in a New York art gallery. "Represent: Hip-Hop Photography" boasts an incredible collection of over 400 pictures from nearly 60 photographers like Harry Allen, Janette Beckman, Jamel Shabazz and others. They include photos of Nas in front of the Queensboro Bridge, Black Sheep with the World Trade Towers in the background, and a young LL Cool J during his first show at New York's Benjamin Franklin High School.
"To showcase a sampling of the Eyejammie Collection through this exhibition exemplifies the Smithsonian's commitment to continue telling the important story of hip-hop's cultural and historical significance," said Rhea Combs, who curates photography and film and serves as director of the Center for African American Media Arts (CAAMA). "The pairing of photographs will challenge our visitors to view hip-hop within the context of a long-standing tradition of black creative achievement. It also reminds us that hip-hop is based upon rearticulating other arts that are constantly changing over time."
It goes without saying—but also deserves explicit stating—that should you find yourself anywhere near the Washington D.C. museum at any point in the next 12 months, you should make your way to the exhibit. Too much of our time is focused on what's hot right now, what to look forward to, and debates regarding top fives or who's wack. Not enough time, in my opinion, is spent on the past—and how we all got here in the first place. 
Read more about the "Represent: Hip-Hop Photography" exhibit here.