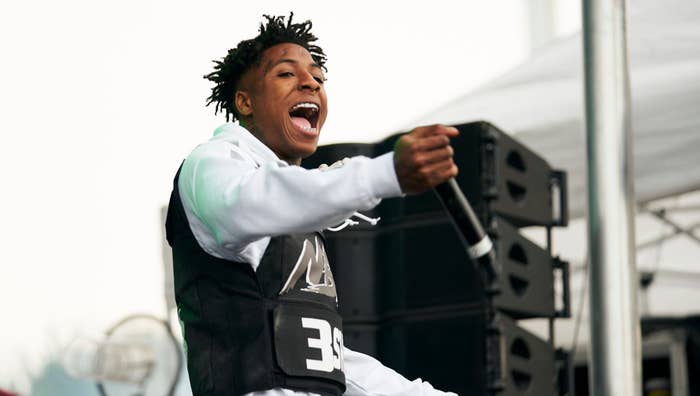 As YoungBoy Never Broke Againcontinues to remain behind bars awaiting trial on federal weapons and gun charges, his legal team has once again asked for the Louisiana-bred rapper be released on bond.
While the MC has been denied bond before, his attorneys presented their case for house arrest on Monday, asking that YB be relocated full-time to his Utah residence. As reported by The Advocate, attorneys said YB would have an in-home studio built so he could work on music and would be closely monitored by a private security firm staffed by former military soldiers. Chief U.S. District Judge Shelly Dick has previously rejected bonding out YB, saying that the rapper "is inclined toward reckless, illegal, dangerous behavior" and could potentially be a danger to the community.
Still, the rapper's legal team asked that Dick reconsider, saying that stringent house arrest would keep him from engaging with the community at all, and noted that YoungBoy has periodically stayed in Utah over the past decade, and that during that time he hadn't engaged in anything criminal. They also mentioned that YoungBoy has a strong support system in the area that would keep an eye on him and make sure he'd stay out of trouble with the law. Additionally, YB's team brought up that a childhood mentor of the rapper lives nearby.
Prosecutors were quick to push back on this notion, noting that YoungBoy has previously engaged in a pattern of criminal behavior while being in contact with a few of the loved ones who would be monitoring him. They also noted that the rapper has already been involved in a fight while confined in St. Martin Parish jail. Prosecutor Will Morris in particular noted that his pattern of criminal activity disturbed him. As of Tuesday evening, the judge had not yet issued a decision regarding YB's bond.
Even locked up, NBA Youngboy's latest release Sincerely, Kentrell continues to do big numbers. As many of you know, it debuted at No. 1 on the Billboard by moving 137,000 units, dethroning Drake's Certified Lover Boy in the process. It then moved an additional 60,000 units its second week on the charts.