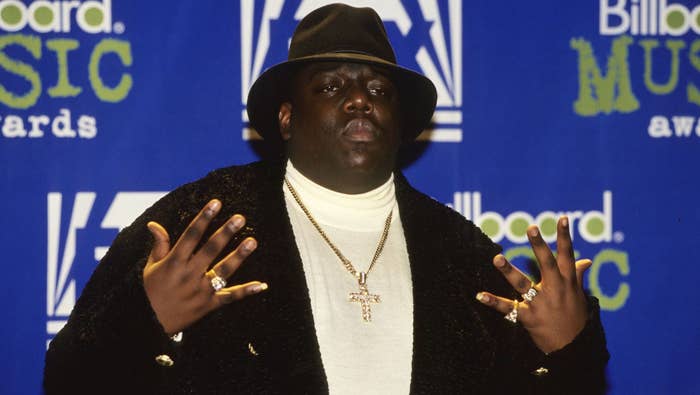 New York City will pay homage to the life and legacy of its fallen hometown hero The Notorious B.I.G. on what would have been the rap legend's 50th birthday, HipHop-N-More reports.
On May 21, the Empire State Building will light up in red and white and feature a crown spinning along its mast in honor of Biggie's multi-platinum debut Ready To Die. Barclays Center in his home borough of Brooklyn will also celebrate the rap star's legacy with a massive broadcast above the arena's entrance that will include a montage of some of Biggie's most prolific records.
Located only a few steps from the rapper's neighborhood of Bedford-Stuyvesant where he grew up, the MTA also plans to roll out a special edition MetroCard for the three subway stops nearest to his home. Lafayette Avenue, Clinton-Washington Avenue and Atlantic Avenue will all feature the new subway card on May 21 only.
The day before the festivities begin on May 20, the Empire State Building will also partner with Bad Boy/Atlantic/Rhino Records to host a ceremony that will feature appearances from Biggie's children, his mother Voletta Wallace, Lil Cease, and Lil Kim. Numerous other rap veterans who knew Biggie will also attend. 
Amazon Music plans to honor The Notorious B.I.G. as well, and alongside their music brand [RE]DISCOVER will take over the Clinton-Washington Ave. Station to decorate it with art and murals in honor of Biggie. They're also partnering with Beautify Earth to debut new locally-curated murals based on The Notorious B.I.G.'s biggest moments that will debut somewhere within each borough of New York City.
The celebration will then continue into June when the Lincoln Center hosts an orchestral tribute to Biggie on June 10. To cap off this historical event, Bad Boy Records will also release a limited edition vinyl of The Notorious B.I.G.'s diamond-certified, Grammy-nominated sophomore effort Life After Death. Dubbed the 25th Anniversary Super Deluxe, the box set will feature 8-LPs and a dense booklet compiled with rare photos from the album's cover shoot. It will be on sale for $179.98.