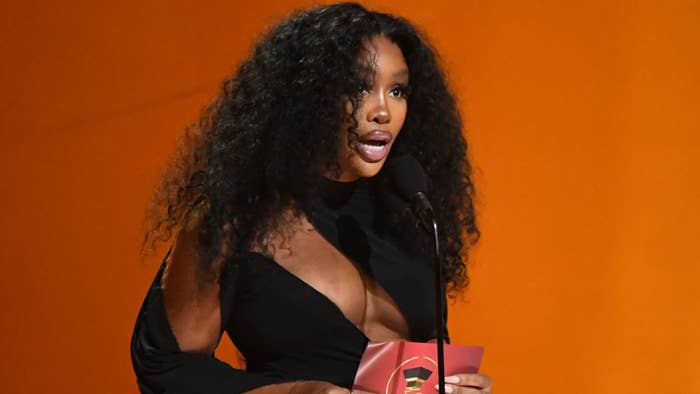 SZA has said that she doesn't trust fame, and spoke about the struggles she faced when trying to come to terms with being a public figure.
The TDE singer sat down for a lengthy interview with Elle, and said her career often feels incredibly precarious due to the potency of social media and cancel culture, noting that if the first three dates of her tour had fallen flat, it's likely the rest of her sprawling SOS Tour wouldn't have sold out in the way that it did.
"It's all really fickle. Had the first three shows of my tour gone poorly, would the rest of my dates have been sold out? Would those people be outside waiting in line by the time we got to L.A.? No," SZA said. "All it takes is, what, three poorly shot TikTok videos to basically decide that this tour is not worth coming to see."
She continued, "I know that people don't love me because love is really unconditional, and I'm one scandal away from being canceled indefinitely like anyone else. I'm grateful that they like my art and that it speaks to them, and it connects and tethers all of us together in this weird way. It's dope, but it's also still a string that could be cut at any moment. Literally, sometimes there's no rhyme or reason to it. Remember Susan Boyle? Like, what if I'm Susan Boyle?!"
She went on to say that it took her time to adjust to fame and said she attempted to create boundaries and take time for herself.
"I need time to prepare myself to be perceived...like, I need to mentally prepare. I need space and time," SZA added. "Some people think that, like, me having anxiety or me being shy or struggling with self-esteem is an act. I'm just, deadass, a person. Everybody else has feelings and fears. Why wouldn't I be scared to be famous? Would you be scared to be famous? Because I'm famous, I'm not allowed to be scared? I wasn't born famous. I had regular quiet-ass parents from a small town like everybody else. And I guess at some point I'm supposed to acclimate to all of this?"
SZA dropped off her latest album SOS in December, five years after releasing her Grammy-nominated debut Ctrl. Shortly after, the "Kill Bill" singer announced on Instagram that it was "time to take this shit on the road."
As previously reported by Billboard, SZA's SOS Tour grossed over $34 million, spanning 17 cities across North America and lasting just over a month. The outlet noted the tour averaged 12,812 tickets per night and $1.9 million per show.