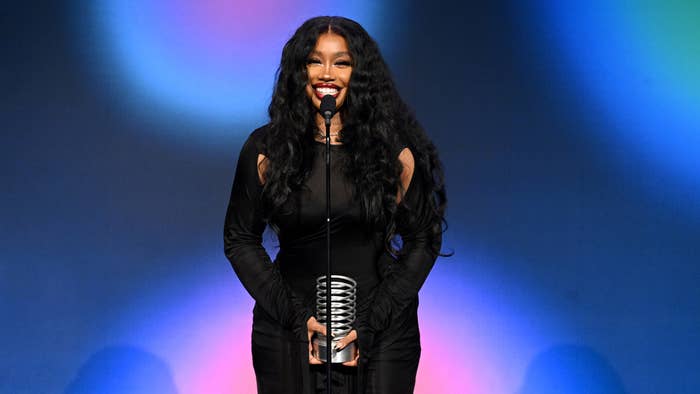 In a wide-ranging new interview with Elle magazine, SZA said she regrets disrespecting her parents when she was focused on getting her music career off the ground and recalled the time she worked at strip clubs.
Before she was signed by Top Dawg Entertainment, the SOS singer enrolled at Delaware State University to study marine biology. While she did well in her first two semesters, she eventually lost interest in the course. "I'm like, 'I told you I was smart and I proved my point. I have to leave now,'" she said. By her third semester, SZA had essentially "flunked out of school and stopped working at jobs that make any sense to other people." Looking back at the experience now, she said she regrets what she put her parents through.
"I really disrespected my parents for a long time," she said. "Me telling my mom I would rather go run in the streets and bartend at the strip club so I can pay for studio time [than go to school]. It's crazy."
This isn't the first time SZA has spoken about her experience bartending at strip clubs. In a February interview with the New York Times Magazine, she admitted she "smoked weed every day" during her short time at Delaware State University. She described lying about her age in an effort to serve alcohol at strip clubs, including at Sin City Gentlemen's Cabaret in the Bronx, Knockouts in Newark, Nardone's in Elizabeth, N.J.
"I was easily working 14 hours," she told the Times. "Like, just counting money."
While she wanted to dance at clubs because there was more money to be made, club managers apparently weren't that interested in what she had to offer. "I learned that a lot is expendable," she said. "Nothing is like the new girl in the club."
Read SZA's full Elle interview here.