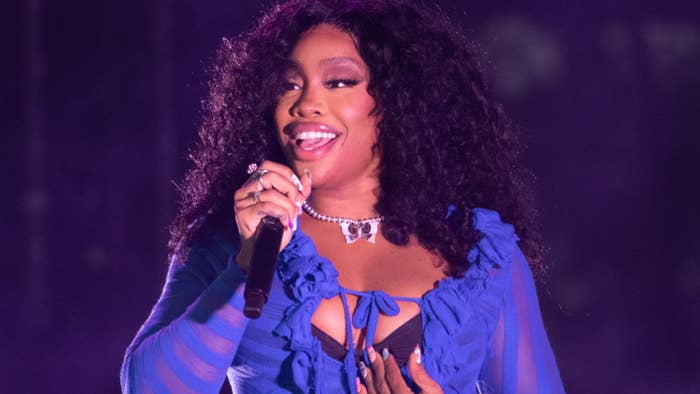 SZA's SOS found her to be candid about a myriad of topics, including plastic surgery.
In a new interview with Elle, the 33-year-old discussed getting surgery—and in particular, a Brazilian butt lift. She references her BBL on the album's opening title song, rapping, "So classic, that ass so fat, it look natural, it's not."
"I treat my butt like a purse," she told the magazine, smiling. "It's just there to enhance whatever else. And that's why I paid for it, because it works all by itself."
She shared that it was her choice to get surgery, and no one else's. "I always wanted a really fat ass with less gym time," she explained. "I didn't succumb to industry pressure. I succumbed to my own eyes in the mirror and being like, 'No, I need some more ass.'"
Earlier this year, Complex talked to Dr. Miami about BBL trends after Black Chyna announced on Instagram she had breast and butt reduction surgery due to health concerns. Dr. Miami told us that he's been seeing more requests for "skinny BBLs."
Elsewhere in the Elle interview, SZA discussed attending college and subsequently flunked out while working at strip clubs to support her music career. "I really disrespected my parents for a long time....Me telling my mom I would rather go run in the streets and bartend at the strip club so I can pay for studio time [than go to school]. It's crazy," she said.
Earlier this month, the singer took to Twitter to share her favorite songs from SOS.
"'Snooze,' 'Love Language,' 'Kill Bill,' 'Nobody Gets Me,' 'Ex Pack,' 'Blind,' 'Good Days,' 'Gone Girl,' 'I Hate U,' 'F2F,' 'Low,' 'Seek and Destroy,' 'Ghost,' 'SOS,' 'Used,'" she wrote, later adding "Forgiveless" to the list.
The album's second track, "Kill Bill," became her first No. 1 song on the Billboard Hot 100. Overall, SOS spent 10 non-consecutive weeks at No. 1 on the Billboard 200, marking her as the first solo female artist to have achieved the record since Adele.