NBA Youngboy Says He's Dropping An Album On The Same Day As 'B*tch' Lil Durk, Calls Akademiks A 'Fat Hoe'
NBA YoungBoy announced plans to drop an album on the same day as Lil Durk, calling the OTF leader a "bitch" in his latest social media jab.
Tim Mosenfelder / Getty Images/Cooper Neill / Getty Images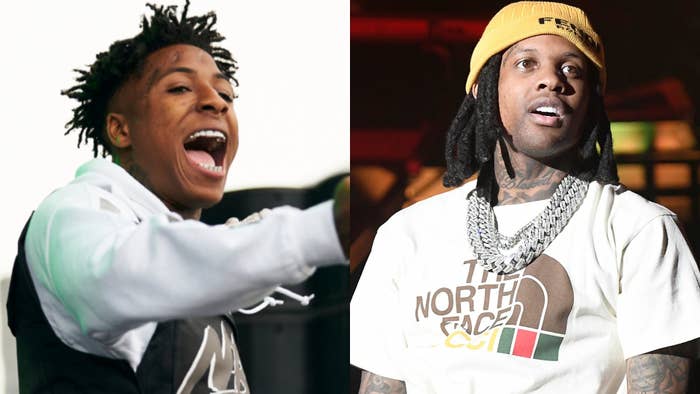 NBA YoungBoy has announced plans to drop an album on the same day as Lil Durk, calling the OTF leader a "bitch"
The pair's ongoing feud, which started last February after Durk dissed YoungBoy on his 7220 track "AHH HA," was apparently resolved after Akademiks noted on a recent live stream that the pair had reconciled their differences.
"That beef is squashed. You ain't hear?" Ak said in a conversation with another streamer at the time. "I'm serious. Durk and YoungBoy don't have beef no more."
While Durk initially liked a post showing Ak's comments, the Chicago rapper implied on Sunday that things actually weren't kosher between the two artists.
"Humble – I don't get played with just YouTube," Durk tweeted, seemingly in reference to YoungBoy's popularity on the platform. "fuck you [and] who you came with." He then added tp his Instagram Story: "I ain't friends with no n***as stop it."
NBA YoungBoy also disputed this notion, tweeting: "Ak you a bitch along with his industry friends I love this shit it turn out the same way every time."
YoungBoy then escalated things even further on Monday, sending out a barrage of tweets aimed at Ak and Durkio, and adding that he'd now be dropping an album titled Richest Opp on the same day as Durk's Almost Healed, which arrives on Friday.
"@lildurk you a bitch & yo nasty ass hoe and it's shown," he wrote. "And @Akademiks you a pure Fat hoe who mouth gone be the reason. you from now on ('invalid') #RichestOpp."
He continued: "@lildurk lol you ever realized you only get a buzz when one of your friends die. Think about it scary bum bitch you know I ain't lying ha ha #fact."
YoungBoy also tagged Durk's ex-girlfriend, India Royale, and calling out Akademiks once again for speaking about his album sales during his aforementioned livestream.
"@indiaroyaltyy tell that pussy bitch he bet not drop he ain't thang 'pretty lady,'" he tweeted. "@Akademiks you steady talking bout sales bitch I'm paid you can't manipulate me clown you embarrassing yourself. Simple fact: i can't be fucked with that's why I'm dropping. 'cause all you n***as hoes and I'm better."
Lil Durk then seemed to offer a retort to YoungBoy's tweets on Tuesday, writing: "Idk nun I ain't seen nun."
Akademiks also responded to his "homie" YoungBoy on Twitter.
"Lol I never thought I see the day my homie diss me cuz his sales low," he wrote. "This rap game is the devil lol. Youngboy I forgive u man. We can get them sales up otherwise …… lol," he wrote. "But ok. Capitol Records I blame u for this.. y'all pressuring YB to get some sales he doing anything. Get my boy off house arrest tho."
He added: "YB the last rapper I thought would ever do some shit for sales. But damn. Go buy his album it drops Friday…. He's tryna outsell Lil Durk. I still love him tho. Buy his project."