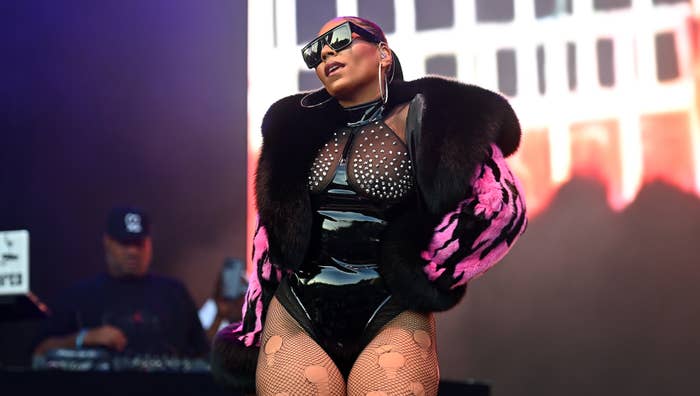 UPDATED October 14, 3:51 p.m. ET: Diddy releases a remix bundle that included the new Queens remix of "Gotta Move On" featuring Ashanti, Yung Miami, and Bryson Tiller, which is produced by Ron Browz.
You can listen to it below. Diddy is set to release an album in 2023.
See original story from 10/11/2022 below.
Ashanti appears to have responded to Irv Gotti's recent comments about their alleged relationship.
"It's giving obsessed, it's giving you stressed / It's giving you pressed, it's giving this n***a missing the best / But it's been 20 years, please cry less / We can see you and your tears," she sings on a remix of Diddy's new track "Gotta Move On," a snippet of which emerged online earlier this week. 
Diddy first mentioned the remix in an interview with The Breakfast Club, in which he said he had approached Ashanti to hop on the song after he heard Irv's comments.
"I just felt Ashanti – because I think music and art give you a chance to speak your mind when it comes to the love territory," Diddy said. "After I saw Irv do his thing, I thought, 'you know, sis may want to express herself on this song.'" 
The remix comes shortly after Irv Gotti vowed to not speak on the subject anymore, but has still pushed back against the criticism leveled against him.
"Oh. Please believe. It's gonna be NO COMMENT from here on end [sic]," he wrote in The Shade Room comment section at the time. "But I felt like at least trying to make y'all understand. Moving forward. it will be limited interviews and about of [sic] no comments. I tell the truth cause I want the people to know the real. But honestly. Y'all don't give a fuck about the truth."
The Murder Inc. founder spoke extensively about his brief romance with the R&B star in an interview with Drink Champs, claiming her 2002 hit "Happy" was recorded after they had sex. The comments drew ire from Gotti's peers, with Fat Joe calling out Irv for "disrespecting" the singer.
Gotti then spoke more about his former signee in BET's Murder Inc. Story docuseries, claiming their working relationship grew into a romance. The story again made Irv the subject of criticism.