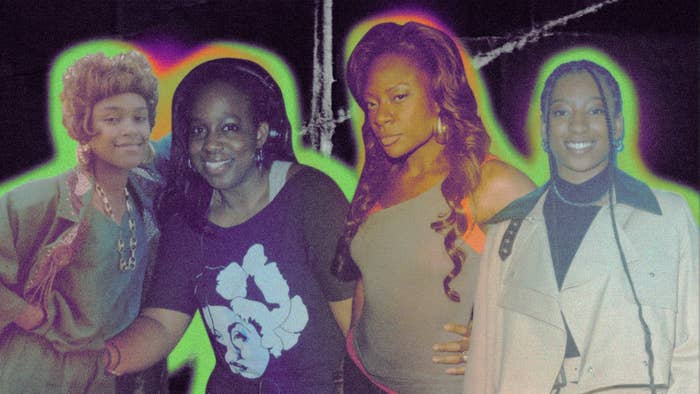 Hip-hop continues to influence culture around the world. From wardrobe choices to marketing decisions, hip-hop has been leading the evolution of culture. What was first established in Bronx, New York, 50 years ago is now a multi-billion dollar international legacy. But who are some female players who have helped sustain, build, and cultivate this legacy in Canada?
For this series of 50 Canadians who helped shape hip-hop, Complex Canada is splitting it up into five categories: 10 early trailblazers, 10 women who changed the game, 10 from "Northern Touch" and 2000's, 10 from Drake to now, and 10 pushing things forward.

Our latest: Here's Complex Canada's list of 10 women who changed the game in Canada.

1. DJ Mel Boogie
Mel Boogie is one of the East Coast's most renowned DJs. Starting as a volunteer at a community radio station, her hosting career and DJ skills eventually got recognized. Starting in 1994, she co-hosted Break-a-Dawn on CHRY 105.5FM. The hip-hop show helped to develop her confidence as an on-air personality and DJ. In 2001, she was back on the airwaves at CKLN for Droppin' Dimez, interviewing countless hip-hop legends. The show ran for 13 years and is recognized as Canada's first all-female hip-hop radio show. Since then, she has been a guest DJ on Flow 93.5 FM, and hosts Studio B Radio on Vibe105 FM. Earlier this year, the Toronto-based DJ became the first female DJ to perform on stage at the Junos.

2. Michie Mee
The Godmother of Canadian rap, Michie Mee paved the way. Her fascination with rap music all started with a gift from her mother: a record of "Rapper's Delight" by Sugarhill Gang. Young Michie Mee soon found others passionate about hip-hop and later discovered her style within the genre. Blending her rap cadence with Jamaican Patois, her delivery style brought her to stardom. "Jamaican Funk-Canadian Style," released with L.A Luv., took off across America. In Canada, many Jamaican-Canadians saw it as an anthem representing their cross-sectional identity. Shortly after this release in 1988, she became the first Canadian female rapper signed to an American label, First Priority of Atlantic Records. Her passion for staying true to her roots is prominent throughout her music, and continues on her latest album, BahdGyal's Revenge.

3. Ebonnie Rowe
Rowe has played an integral role in mobilizing and advocating against misogyny within hip-hop and the music industry. In the 1990s, CKLN was the hub for hip-hop culture. Reacting to derogatory terms and ways the culture addressed women, Rowe decided to voice complaints to one of the most popular DJs at the time, DJ X. Due to her outspokenness, she received a segment on the radio station. Listening to the program was the editor of Mic Check Magazine, who later contracted Rowe to organize an all-female edition. In celebration, Rowe held a wrap party for the 1995 issue called Honey Jam. The party was a big success, and before long, Honey Jam Canada, an artist development program designed for young female artists, was born. Since 1995, Rowe has been providing artists, MC's, DJ's, graffiti artists and b-girls with opportunities to learn about the music business and develop their performance skills.
4. WondaGurl
At the age of 16, the Brampton-raised producer got her big break, when her work found its way into Jay-Z's 2013 single "Crown." The 2021 and 2022 Juno Jack Richardson Producer of the Year recipient always dreamed of being a major producer. At her first beat-making competition, she shared with BET that she wanted to leave the auditorium, but instead, she found strength through her mom and ended up winning the 2012 Battle of the Beat Makers. Today, she continues to make Canadians proud as she leaves her mark on many massive songs, such as Rihanna's "B*tch Better Have My Money," Scott's "Antidote" and Big Sean's "No Favors." The Canadian-Nigerian plays a crucial role in helping sustain and build the hip-hop legacy worldwide. The now 26-year-old producer has her own publishing company, Wonderchild Music.

5. Jully Black
Canada's Queen of R&B and Soul has established herself as a renowned name worldwide. The artist is best known for her singles "Seven Day Fool," "Sweat Of Your Brow," as well as performing the unforgettable hook to smash hit "Money Jane" with Baby Blue Soundcrew and Sean Paul. Recently making international headlines for changing one word in the Canadian national anthem to support Indigenous communities, Black is known as much for her talents as her passionate advocacy. Today, the platinum-selling artist graces the limelight as a performer and celebrity. She can be spotted as a guest on CTV Your Morning and appears on shows such as The Social to share honest advice about life obstacles. Her most recent album is 2022's Three Rocks and a Slingshot.

6. Eekwol
Releasing her debut self-titled album in 1998, Eekwol is an acclaimed hip-hop artist from the Prairies. She won Best Hip-Hop/Rap Album at the 2005 Canadian Aboriginal Music Awards for her album Apprentice to the Mystery and had the #1 spot on the National Aboriginal Music Countdown for her 2017 single "Pitiful." The Muskoday First Nation artist continues to turn heads while spreading important messages about Indigenous social issues. Based in Saskatchewan, Eekwol also uses her platform to amplify similar messages about Canada's residential school system and Missing and Murdered Indigenous Women and Girls.

7. Eternia
Eternia is a two-time Juno nominated artist originally from Ottawa. She released her first record in 2005, titled It's Called Life, which was nominated for a Juno the following year, and has taken her career worldwide since then. The 2011 Polaris Prize long-listed artist for At Last has met many obstacles throughout her career, from physical and mental health to pushback for being a female emcee. After taking a hiatus to raise her son, the critically acclaimed artist is back and releasing more music. She dropped Free in 2021 with producer Rel McCoy.

8. Masia One
The Singapore-born and Canada-raised Masia One became the first woman rapper to be nominated for "Best Rap Video" at the MuchMusic Video Awards. She has worked with producers such as Pharrell and Dr. Dre, and had RZA jump on a track. Masia has received many music placements, including Fast & Furious 8. Her track "You'll Only Love Me When I'm Gone" is even the theme song for Singaporean show Titoudao. Masia One has also collaborated with Hot Chili Peppers guitarist John Frusciante. Masia One is known for spreading a positive message through her music. Her propensity to stay authentic to herself has captured the love of many.
9. Haviah Mighty
Haviah Mighty was the first rapper to win the prestigious Polaris Music Prize, which she did in 2019 for13th Floor. In 2013, she started to release her own music and, in 2018, joined an all-female rap group. Together, The Sorority toured across Canada and released one album and a few singles. Those years in the group were formative to discovering her artistic identity. Once they parted ways, Haviah's look and sound were further developed to reflect her authentic self. It's always been clear to the general Toronto area that Haviah is a star, but after her freestyle on Sway's Universe and nomination at the 2022 BET Awards for 'Best International Flow,' it's safe to say that her sound is going worldwide.

10. Backxwash
Horrorcore Zambian-Canadian artist Backxwash defies genres and has brought her own experiences to rap in Canada. Backxwash is well known for her 2020 Polaris Music Prize win for her album God Has Nothing To Do With This Leave Him Out Of It. Backxwash is a driving force towards the evolution of hip-hop in Canada as she uses rap as a tool to express her anger. The lyricist combines heavy metal and cultural sounds to express her trauma. She followed up her Polaris win with two more albums to complete the trilogy: I Lie Here Buried With My Rings and My Dresses and His Happiness Shall Come First Even Though We Are Suffering.