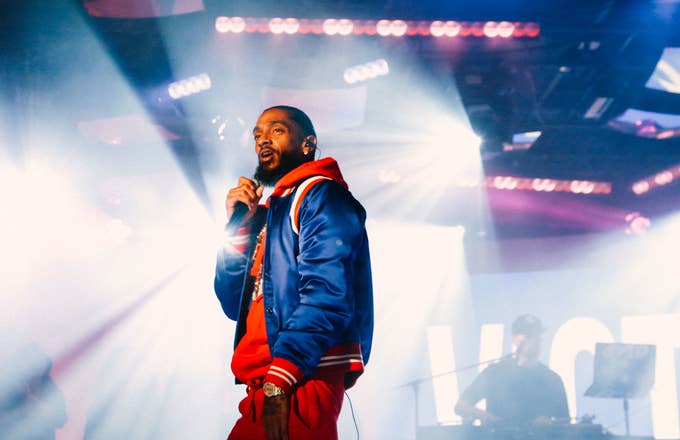 The death of Los Angeles native Nipsey Hussle has left a countless number of fans, friends, and peers in a state of mourning. Born, Ermias Asghedom, the 33-year-old Grammy nominee has left behind a legacy that is cemented within the hip-hop culture. Now, fans are asking that an intersection in his hometown be renamed in his honor.
A petition was filed on Change.org to rename Crenshaw Blvd and Slauson Avenue in the Hyde Park district of L.A. to Nipsey Hussle Blvd. The intersection is the same location of The Marathon Clothing store, and the same place his life was unfortunately taken. The petition calls for Councilman Marqueece Harris-Dawson to green light this project. After being created on (Apr. 1), the petition has managed to receive close to 5,000 signatures in 22 hours.
Outside of Los Angeles, many fans are taking time out to celebrate the life of the Victory Lap rapper. Though there have already been several vigils in his honor, more have been announced in cities such as New York, Washington D.C., and Atlanta.
Authorities have identified the suspected killer of Nip as 29-year-old Eric Holder. Page Six has reported that LAPD Chief Michel Moore has issued a statement calling for Holder's immediate surrender. "To Mr. Holder, who I am confident is watching this, I ask him to surrender," he said. "There should be no safe haven for this individual. This is a man who is of substantial risk to public safety and willing to use violence and we want to see that stop."