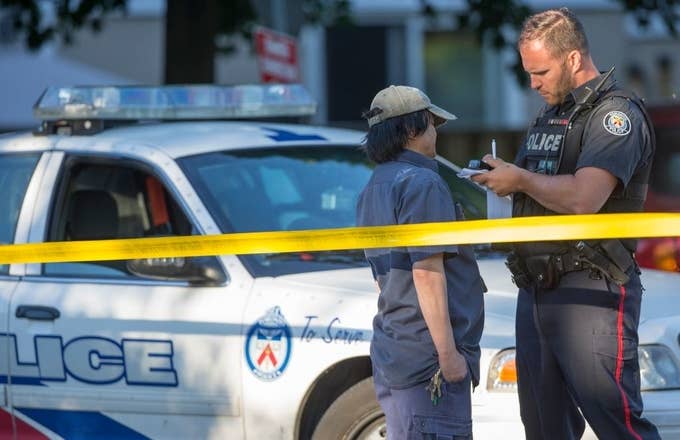 Toronto rapper Smoke Dawg was shot and killed in Toronto on Saturday night.
CP24 reports that three people were shot around Queen Street West and Peter Street in the city's Entertainment District right before 8 p.m. Shots were reportedly heard outside of Cube Nightclub. Two men and one woman were sent to the hospital in critical condition. One of the male victims was later pronounced dead. Police believe that suspects may have fled the scene in a black SUV or a white car.
"Our investigators are on-scene right now trying to piece this together," Const. David Hopkinson said to CP24. "It is a large scene. We're talking about the downtown core and Queen Street—one of the busiest streets on a very busy Canada Day weekend."
One witness told CP24 he heard multiple gunshots and then, "The scene just turned chaotic. There were people running everywhere, there were vehicles just trying to get out of the way. Down on Peter Street we just saw a mass of tourists—normal Saturday traffic on Queen Street—basically running scared for their lives. It was intense, it was very chaotic."
Mustafa the Poet, Canadian spoken word artist and friend of Smoke Dawg, confirmed the rapper's death on Twitter. He wrote, "Smokey is gone, may our prayers follow him to heaven." The news comes days after Smoke Dawg dropped "Fountain Freestyle."
Smokey is gone, may our prayers follow him to heaven
Drake also shared a message and a photo of the two of them together on his Instagram story. He wrote, "All these gifts and blessed souls and inner lights being extinguished lately is devastating. I wish peace would wash over our city. So much talent and so many stories we never get to see play out. Rest up Smoke."