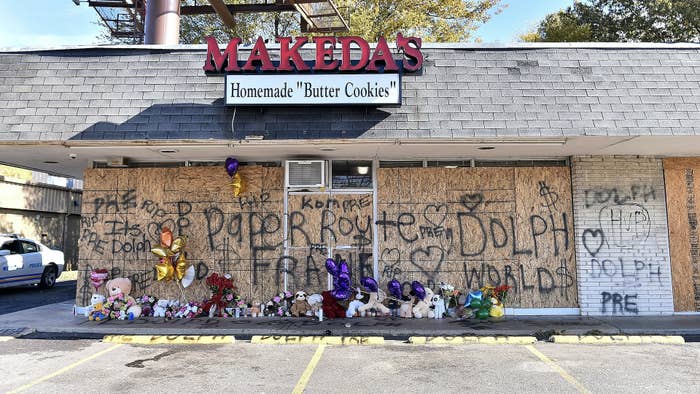 A suspect in the Young Dolph murder case is facing more legal woes.
According to FOX 13 Memphis, 25-year-old Justin Johnson was busted with contraband at Tennessee's Shelby County Jail. where he awaits trial for the 2021 fatal shooting of the Memphis-raised rapper, born Adolph Robert Thornton Jr. Authorities say the inmate was found with a cell phone and drugs inside his cell but declined to provide any more details, including what type of drugs Johnson allegedly possessed and when the contraband was discovered. The Shelby County Sheriff's Office (SCSO) confirmed they are actively investigating the incident, as Johnson remains in "special management housing."
Johnson, a rapper known as Straight Drop, is one of several men who are accused of killing Dolph in November 2021. Investigators said Dolph was visiting Makeda's Homemade Cookies in Tennessee at around 12:30 pm. local time when two gunmen pulled up to the bake shop and opened fire on Dolph. The Chicago native was reportedly shot 22 times during the attack and was pronounced dead at the scene.
Johnson surrender to authorities in early 2022 and was booked on a handful of charges, including first-degree murder, criminal attempted first-degree murder, unlawful carrying and possession of a firearm, and employment of a firearm with intent to commit a felony. Johnson's phone privileges were revoked nearly a year later after officials discovered he had released a track while behind bars. The song, titled "No Statements," was shared via YouTube and was reportedly recorded inside 201 Poplar.
Cornelius Smith has also been charged with first-degree murder in connection to Dolph's killing. The suspect is accused of carrying out the attack alongside Johnson and is believed to have stolen the vehicle that was used in the drive-by shooting. Authorities also arrested Hernandez Govan, who is accused of ordering the hit on Dolph. The man is now facing first-degree murder, conspiracy to commit first-degree murder, and attempted murder charges.