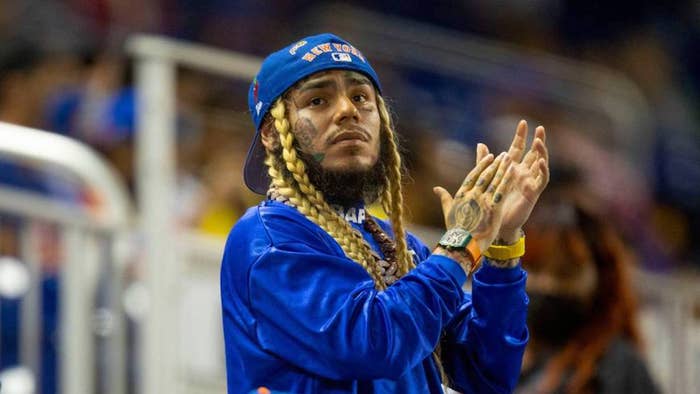 A so-called survival expert is capitalizing off of 6ix9ine's recent attack.
Dale Brown, the viral commander of Detroit Urban Survival Training (D.U.S.T.), offered some self-defense tips for those who may find themselves at the receiving end of a fitness gym ambush. Brown recreated the attack along with two actors, who pretended to jump him as he was lying face up on a washroom floor.
Though the popular TikToker didn't specifically mention the assault on 6ix9ine, he made not-so-subtle references to the incident.
"Come on clown … I wanna be famous, too," one of the faux attackers said as he pretended to stomp Brown. "I wanna be famous too."
"This is what you do when you want to survive when you are at LA Fitness, or any other place, and you're 6-foot-9 or 69 years old or if born in 1969 like me, this is how you survive," Brown told the camera.
He then proceeded to offer a single self-defense tip: Simply hook your leg behind the assailant's leg mid-stomp, bring him down, and "stop him out repeatedly." He then pulls the same move on the second attacker.
"These intelligent options will increase your survivability," he concluded.
Brown's survival tactics have been met with mixed reactions. While some find his videos amusing, others have slammed his techniques as dangerous and possibly deadly. Former MMA fighter Bas Rutten falls into the latter group, as he's publicly criticized Brown's self-defense program.
"The not real guy? With the black hair and 'stache, that guy?" Rutten said about Brown during a 2022 MMA Hour interview. "Very funny… Guys like that get people killed, because they give them a false sense of security. That's why I don't teach self-defense in my classes."
Brown shared the video just days after 6ix9ine was allegedly beaten by a group of men at a Florida LA Fitness. The controversial rapper was reportedly hospitalized with non-life-threatening injuries.
"He was attacked in a Sauna at a gym by three or four thugs who beat him up (he tried fighting back)," his attorney, Lance Lazzaro said in a statement provided to Complex. "He had cuts to his face and bruises. Employees heard the disturbance and the perpetrators fled. Police in South Florida were called and he was transported via ambulance to a local hospital."
Authorities have not confirmed a motive or made any arrests in connection to the attack.