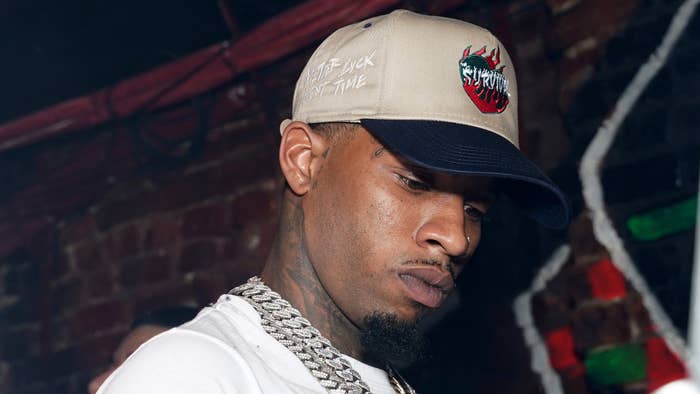 Tory Lanez was found guilty on Friday in his highly publicized assault trial, according the The New York Times.
Lanez was found guilty on all three charges, which included assault with a semiautomatic firearm, having a concealed and loaded firearm in a vehicle, and discharge of a firearm with gross negligence. Law & Crime's Meghann Cuniff, who reported that Lanez was remanded into custody after the Los Angeles jury's guilty verdict was announced, described a chaotic scene that saw family members of the Canadian rapper screaming. 
The jury, which consisted of seven women and five men, took seven hours to deliberate. In total, the trial lasted for two weeks (10 days).
The 30-year-old rapper, legal name Daystar Peterson, was accused of shooting Megan Thee Stallion more than two years ago in Southern California. Prosecutors said the incident took place in July 2020, after he, Megan, and their associates left a house party at Kylie Jenner's Hollywood home.
The group had reportedly been traveling in an Escalade when Lanez and Megan, born Megan Pete, began having an argument. The Houston rapper claimed the situation became so heated that she decided to exit the vehicle once it had stopped on a residential street. Megan said it was at that time that Lanez opened fire and wounded her in the feet.
"He was holding the gun pointing at me," Megan reportedly told the court, adding Lanez had shouted "dance b*tch" before firing five shots. "I froze. I felt shocked. I wasn't really sure if this was happening … I looked at the ground and saw the blood … everyone was shocked."
During her emotional testimony, Megan claimed Lanez had apologized for the shooting and offered to pay for her silence.
"'Please don't say anything, I'll give you $1 million,'" she recalled Lanez telling her. 
Megan said she obliged and told officers she had injured her feet by stepping on glass. She told the court she was afraid no one would believe her, and was concerned that police would "shoot first" and ask questions later.
"At this time, we were at the height of police brutality and the situation with George Floyd," Megan said. "… I don't wanna see anybody die, I don't wanna die."
During the trial, Lanez's legal team acknowledged that Megan had been shot, but claimed it was the rapper's former assistant, Kelsey Harris, who opened fire. Harris, who was present during the incident, denied shooting Megan, but gave conflicting accounts about what she did and didn't see on the night of the assault. She previously told authorities she witnessed Lanez shoot Megan, but went on to recant her statement, claiming she had no idea who pulled the trigger. She also denied allegations that Lanez had paid for her silence.
"The entire defense theory is that the reason Megan lied is because it was more convenient from a PR perspective … Make that make sense," Kathy Ta, Los Angeles County Deputy District Attorney, said in court on Thursday. "It would have been easier for her to say, 'My crazy assistant did this to me.' It is much harder for her to come out against Tory."
Lanez is now facing over 20 years in prison and deportation. The maximum sentence Peterson can receive is 22 years and eight months. He's scheduled to be sentenced next month on January 27th, 2023.
"The jury got it right. I am thankful there is justice for Meg," Megan Thee Stallions's attorney Alex Spiro said in a statement that was provided to Complex. 
On the other side, Lanez's attorney George Mgdesyan said that the rapper's legal team is "shocked" and plan to look into appealing the decision.
"We are shocked by the verdict," Mgdesyan said in a statement, per Page Six. "There was not sufficient evidence to convict Mr. Peterson. We believe this case was not proven beyond a reasonable doubt. We will be exploring all options including an appeal."
Los Angeles District Attorney Gascón also released a statement following the announcement.
"I want to start by highlighting the bravery of Megan Pete," Gascón said. "You showed incredible courage and vulnerability with your testimony despite repeated and grotesque attacks that you did not deserve. You faced unjust and despicable scrutiny that no woman should ever face and you have been an inspiration to others across LA County and the nation."
Gascón continued, "Women, especially Black women, are afraid to report crimes like assault and sexual violence because they are too often not believed. This trial, for the second time this month, highlighted the numerous ways that our society must do better for women… I'd also like to thank the jurors for their time and thoughtful deliberation, and our trial team for their tireless pursuit of the truth. You spent countless hours away from your families during the holiday season preparing this case and finding justice for Ms. Pete. Your sacrifice is appreciated."