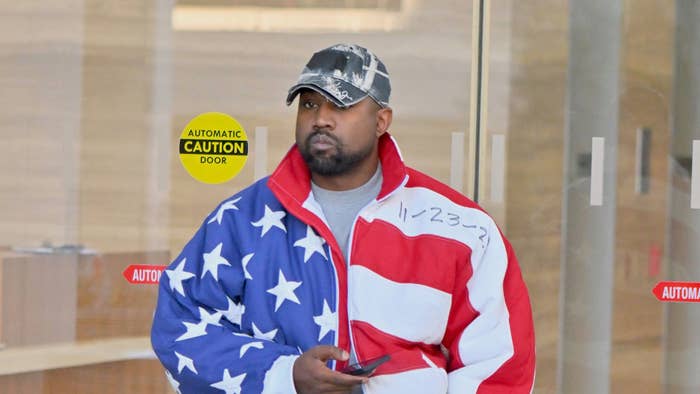 Kanye West's Donda Academy has been dealt another huge blow.
According to legal documents obtained by Entertainment Tonight, the controversial artist and his private Christian school are being sued by Cecilia Hailey and Chekarey Byers—two former employees who say they were fired in retaliation for reporting code violations. The plaintiffs, who were reportedly the only Black female teachers at Donda Academy, say they were hired as full-time teachers in January and fired about two months later, after expressing concerns over "unlawful and unsafe practices."
Hailey and Byers allege Ye's Donda Academy was not following state regulations "for students in need of educational services, additional testing, or individualized learning plans"; they also claim the school lacked a nurse, janitorial services, security precautions, and a "proper disciplinary system," which resulted in severe bullying and multiple instances of physical assault. 
According to Rolling Stone, Hailey claims she issued her complaints to the academy's principal/director, Moria Love, on three separate occasions, but her concerns were ultimately dismissed. She accused Love of referring to her and Byers as "aggressive," simply for sounding the alarm
"Plaintiffs believe this type of comment facilitates stereotypes about African-American women as being confrontational simply for doing their job and voicing their legitimate concerns in order to provide a safe environment and proper education for their students," the lawsuit reads.
Hailey says she was "threatened not to reach out" to West.
The suit outlined alleged school rules that ranged from bizarre to unsettling. Kanye reportedly implemented a ban on crossword puzzles, coloring sheets, wall art, and even lunch forks. He also required students and staff to wear an all-black uniform from a designated brand.
"Kanye West is clearly as bad at running a school as he is at managing his own personal and professional life, enabling an unsafe and illegal school environment for students that also discriminated against the plaintiffs based on their race," the plaintiffs' attorney Ron Zambrano said in a press release. "These egregious violations at Donda Academy are just another example of West's unusual behavior, and our clients just won't stand for it, no matter his celebrity status. Kanye needs to realize his genius is in creating music, not in school administration."
Hailey and Byers say that teachers were locked in from the outside throughout the day, students were prohibited from going outdoors, and classes were not held on the second floor because Kanye was "reportedly afraid of stairs." There was also an alleged ban on jewelry, chemical cleaning products, and chairs, which meant students had to use stools or foam cushions if they didn't want to stand. 
The suit states Donda Academy prohibited all outside food and drinks except for water. This rule was particularly concerning as the plaintiffs claim sushi was the only daily meal offered to students.
"It was widely known that Defendant West spends $10,000.00 a week on sushi," reads the complaint.
In addition to the racial discrimination claim, Hailey and Byers say their paychecks were often late or inaccurate. They are reportedly seeking damages related to emotional distress as well as unpaid wages, loss of earnings, and deferred compensation. Donda Academy directors Brianne Campbell, Allison Tidwell, and Chris Julian are also listed as co-defendants.
The school appeared to temporarily shut down last year following Kanye's string of anti-Semitic remarks. The non-accredited K-12 institution was launched in 2022 and has been the subject of several bombshell reports.