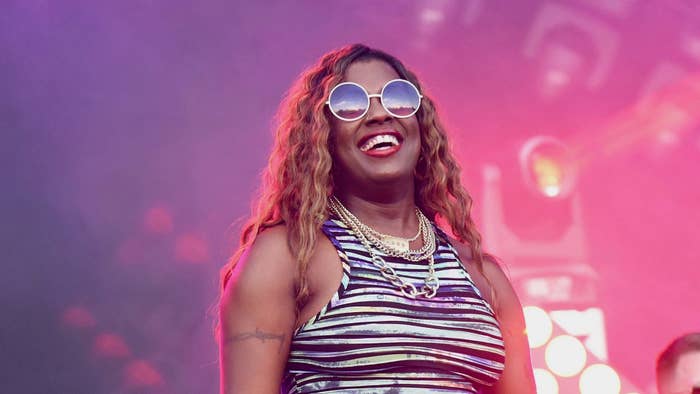 Gangsta Boo's legacy lives on.
More than two months after her untimely death, TMZ Hip Hop confirmed plans for the rapper's first posthumous album. Sources said Gangsta Boo's estate has already secured a number of big-name features, including Latto, Run the Jewels, Skepta, and La Chat.
The insiders also revealed that Drumma Boy, Nick Hook, and El-P have signed on to handle production, while Metro Boomin and BeatKing are in talks to contribute.
Gangsta Boo's untitled project is scheduled to arrive on Aug. 7, which would've marked her 44th birthday. It will serve as her first solo project since Enquiring Minds II: The Soap Opera, which was preceded by Enquiring Minds (1998) and Both Worlds *69 (2001).
The Memphis native began her music career in the mid-1990s, when she joined Three 6 Mafia at the age of 15. She would appear the group's 1995 debut album Mystic Stylez and its following five projects, including the platinum-selling effort When the Smoke Clears: Sixty 6, Sixty 1. Gangsta Boo officially left the group in 2001.
According to TMZ, Three 6 Mafia founders DJ Paul and Juicy J may be involved with Gangsta Boo's upcoming album.
The hip hop legend—born Lola Mitchell—was found dead Jan. 1 in her hometown. Officials have not confirmed a cause of death; however, sources told TMZ she died from a suspected drug overdose.
"My daughter Lola was my only baby girl. I was so proud when she would rap as a little girl," her mom, Veronica Mitchell, told the outlet. "She became the Queen of Memphis and God brought her home to be with her daddy Cedric and her brother Derron. I miss her but I know she's happy with them. I'll always remember telling her GO GET THEM DOLLAS, but I had no idea how many people would love my baby girl. I'm grateful all y'all support my daughter. Thank you."