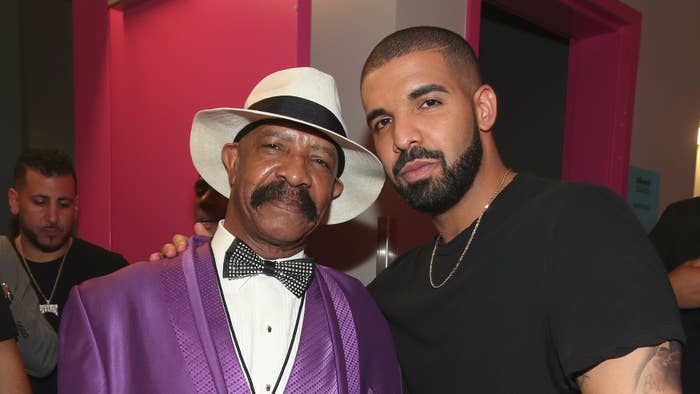 Dennis Graham's got jokes.
During Drake's Aug. 16 concert, in Inglewood, California, the rapper was presented with a comedically large bra on stage. The OVO boss took a few moments to address the item, suggesting it may have ended the bra-throwing contest that's carried on throughout his tour.
"This might be the end of the saga right here. This might be the end of the road," he told the crowd, as he held up the bra. "I don't know if I even wanna see it, 'cause then I'll believe that aliens exist."
A few seconds later, Drake was informed that the bra was a gag gift from his dad, Dennis.
"Oh this is from my dad? Oh this is from my father, my father made this for me," he said, before reading Dennis' accompanying note. "'Dad's wishing 'BIG' things for you. I love you and making sure you're breastfed correctly!' What's wrong with this man?"
The oversized bra has a pink design with ruffle trim and floral detailing over the cups. Dennis commissioned the piece from Toronto-based designer Zoba Martin. The creative confirmed this in a behind-the-scenes video that showed her completing the massive undergarment.
"The most giagantic bra gifted to @champagnepapi by his dad, @therealdennisg 😂," she captioned the video. "I couldn't keep a straight face while making this 🤣 #itsallablur #itsallablurtour #iaab #bra #allsizesmatter #zobamartin."
Dennis hopped in the comments section shortly after and applauded Martin for the design.
"Thank you so much 🙏🏾Great job," he wrote, to which she replied, "Anytime, Pops!"
Drake is currently on the road for the It's All a Blur Tour alongside 21 Savage. Since the trek's kickoff in early July, a number of concert-goers have gone viral for throwing their bras at the rapper while he was on stage. One fan, identified as Veronica Correia, nabbed headlines for tossing her 36G brassier during his show in New York City last month. Shortly after the incident, Correia received a career opportunity with Playboy.
While performing at the Kia Forum on Saturday, Drake kindly asked the crowd to refrain from throwing any bras on stage, as his young son, Adonis, was in attendance.
"Look, to be honest with you, I can't talk about titties tonight in L.A. because my son is at the show for the first time," he said, revealing his 5-year-old kid was present. "So we've got to keep this real PG tonight… Y'all keep your bras on. Throw them up here another night."