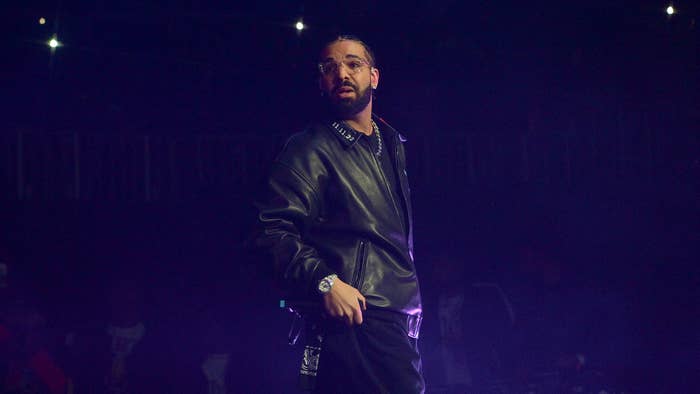 Drake was in a generous mood during his show in Los Angeles on Wednesday, August 16.
At the fourth and final show at the Kia Forum in Inglewood, Drizzy paused between songs to offer out a Birkin bag to someone in the audience. He walked across the stage and instructed security to hand the bag to a specific person he picked out. "Give that girl a nice little Birkin bag," he shared. "Make sure she has security on the way out too so nobody robs her."
In a 2017 interview with The Hollywood Reporter, Drake said that he's been collecting Birkin bags for "the woman I end up with." In a 2020 cover story for Architectural Digest, he finally showed off the collection. Prices of the bags in his collection cost anywhere from $40,000 to $500,000 each.
The moment during the Wednesday comes just days after Drizzy hosted some huge stars at one of the Inglewood shows. During the Sunday, Aug. 13 concert at the Kia Forum, big-name guests included Bad Bunny and his rumored girlfriend Kendall Jenner, as well as Kim Kardashian, who recited a sample of her on his track "Search & Rescue." Drizzy specifically gave a shout-out to Bad Bunny, who he teased another collaboration with.
"I'ma let y'all cheer, go ahead y'all," Drake told the crowd. "I wanna tell y'all something because y'all are L.A. and we love you. It's been like six years since me and Benito did a song, so we got a song coming for y'all." The two previously collaborated on the 2018 track "MÍA."
The first Kia Forum show almost didn't go ahead, though, as Drizzy informed the audience that it was almost canceled due to last-minute production difficulties. "I don't mean to put the Forum on blast or anything but I'mma tell you the truth," Drake said. "They came to my house this morning after I woke up and they told me that they couldn't build the show for y'all tonight. I'm not really that good at taking no for an answer. I told them, I said, when I left Toronto I had a picture on my screensaver. It was of a house in Los Angeles. I said the one place that took me in when I left my hometown was Los Angeles, California."
He asked the audience to make some noise for everybody that helped put the show together despite the issues.