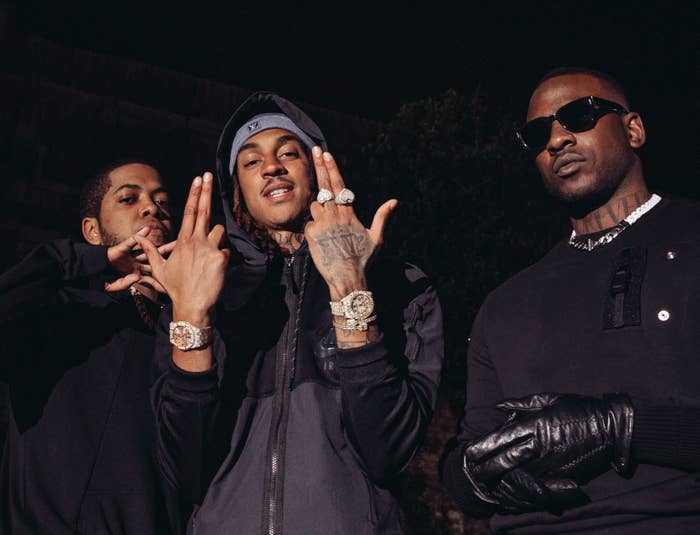 Last week, a surprise announcement burst onto our timelines, almost out of nowhere.
After a couple of cryptic tweets, Skepta, Chip and D-Block Europe's Young Adz dropped the pre-order link to their new, collaborative album Insomnia. Not long after that, we were greeted with the video for the project's lead single, "Waze", a bold statement of intent that united three very different rhymers. No one's quite sure where this came from or when they decided on it, but as we nervously shut ourselves away from the current COVID-19 pandemic, here at Complex, we decided to stave off boredom by getting into this surprise new project.
Stitching together the vocals of three frontrunning rappers with wildly disparate styles and flows was never going to be an easy challenge, so without further ado, let's see how they did.
---
They ventured out far and wide for production
Skepta opens the project with a beat of his own, appropriately enough for a track titled "Mains", and steps behind the boards again on "St. Tropez", which samples M.I.A. As for the rest of the set, the trio cast their nets wide, tapping up some of the most prodigious hit-makers from across the globe, including dancehall-minded UK outfit The FaNaTiX, Texas-based Cardo, chart-conquering twosome Scott Styles and Scott Supreme, South London duo DaBeatFreakz, MoStack collaborator RXWNTREE, Yungen and MIST producer Sevaqk, German beatmaker JacquesToni, Dubai-based collective SOS Music, New Yorker Ayo B, and Gold-certified producer Money Montage.
With that lengthy list of credits out the way, it's impressive that a project with so many hands involved could sound this cohesive. The overarching theme here could be loosely-described as 'bass-heavy trap with a high-end finish', but there are plenty of other influences in there to keep your ears interested. The Afro-bashment supplied by RXWNTREE on "Mic Check" is probably the most London-centric moment on the whole project (even nodding to Craig David at one point), while Sevaqk's penchant for unexpected instrument choices gives the album a global quality that stretches beyond the West. We would assume all three MCs had a hand in the beat selection, but whoever it was did well to maintain influences from outside the usual sphere. —James Keith
There's a strong feeling of London/UK pride
On Insomnia, Skepta, Chip and Young Adz shout-out hotspots around the world, like St. Tropez, Ibiza and Australia, and talk about drugs, sex and foreign cars like you'd expect any US trap rapper to. But at the core of the project is something that's quintessentially British. It can be subtle—like in the sampling of M.I.A. or references to being so "James Bond with it"—and overt, as evidenced with "Star In The Hood", an obvious homage to Tinchy Stryder's infamous brand, or "Mic Check", a very clearly garage-influenced riddim, complete with a pitched-up sample and a 4-bar hook they use as the intro for their verses. What is clear, though, is who they are and what they represent. In between talk of international flights and expensive vices, they never forget to talk about the world around them that raised them. One of the funnier moments on the album is Adz proclaiming he knows a girl from Liverpool, but in a Scouse accent; Skepta does well to anchor them to the ends, and this is a strength here; and with Chip acting as the bridge between them, the trio manage to make music that can be appreciated globally, while being super-proud of their UK roots. —Jason Kavuma
Young Adz is really spitting on this album
The Auto-Tuned delivery from Young Adz on Insomnia is a solid melodic counter to Skepta and Chip's more caustic, classic styles; the way he plays with pitches at the end of "Intro" shows how he brings something kind of left-field to the table. But what's especially striking is his lyricism on this, because compared to the other two, Adz isn't necessarily someone associated with bars. Sure, there's always been a certain honesty to D-Block Europe's output, be it talking the streets or sex, but on the basis of "Waze"—which understandably had everyone talking about Chip's next-level way with words—I wasn't convinced Adz would stand out in this context, beyond hooks. But actually, it feels like he's been pushed to level-up.
Some of it is deft, multi-layered drug-slinging chat and comical sleaze, but as ever with Adz, it's his introspection in processing trauma that yields thought-provoking moments. On "High Road", he steps back from the bando and his love of shiny fashion brands, and instead considers the path of his life: "I'mma go down the loneliest road / It's hard to spin your life 'round when you come from the road." The hook on "Traumatised" (with that amazing sax!) has him singing, "I told bae to give me time, yeah / Ten stacks on therapy because I'm traumatised..." There's something quietly reassuring about him trying to get his shit together for himself, his girl and his kid, rather than accepting that lonely road. —Tara Joshi
Skepta's OG status reaches greater heights
Anyone who's watched Eddie Murphy's 1989 film Harlem Nights, starring himself, Richard Pryor and Redd Foxx, knows the potency three generations in one space can possess. Across Insomnia, Skepta assumes the role of Redd Foxx: the foundation holding down Chip's Pryor and Young Adz's Murphy. A year of collaborations with a new and established crop of UK talent—AJ Tracey, Headie One, Octavian, slowthai and others—has sharpened his OG chops and, in this new drop, he gives his younger cohorts the time and space to breathe and shine, never shrouding the project under his weighty shadow. With less responsibility on the production side of things, the Tottenham legend is left to his lyrical devices. It's a performance that shows he is no slouch next to one of the scene's best barrers in Chip, that he can be as melodic as Young Adz, and that he retains the hunger to be the best version of himself. His bars on the LP's sombre, penultimate track "High Road" are enough evidence: "It's sink or swim, I'm in it to win, trying to dodge bin, whipping up lemonade when they give me lemons." Insomnia proves Skepta is enjoying his elder-statesman role to the fullest. —Yemi Abiade
Chip is star of the show
When I first interviewed Chip (fka Chipmunk) in 2008 for a future of grime piece, he had a star quality that most of his peers just didn't—and he hadn't even turned 18 yet. Despite leaving his grime and rap roots for the shiny pop sphere in the late '00s, Chip could always spit. On "Oopsy Daisy", a track of his that many still frown upon, his skill was evident, it's just that the pop lean wasn't connecting with the base of fans he left behind. Those days, however, are long gone and Chip is back in his rightful, respected place as one of the UK's top-level emcees, one that can skip rings around any beat that's put in front of him. And this is something that makes him stand out across Insomnia; he's spitting his heart out all over it with a hunger reminiscent of his League Of My Own days, especially on "Mic Check", "Waze" and "Sin City", adding a livewire-like spark to proceedings. Chip makes this whole project make sense. —Joseph 'JP' Patterson
Overall thoughts
A pretty solid release from three of the country's finest. Some tracks could have been solo cuts (see: Skepta on "Golden Brown", Chip on "High Road", Adz on "Traumatised"), but I get it: this is #TeamUK all the way, a sign that there is true unity in the world of British rap. These guys know that conversations of who went the hardest will arise, but they're comfortable and experienced enough in their own lanes to know what they bring to the table. It'll take a few more spins yet, but Insomnia has future classic potential. —Joseph 'JP' Patterson