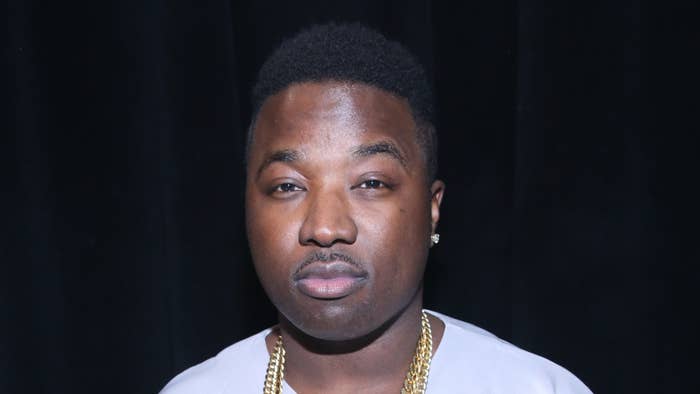 Troy Ave testified Monday in the Taxstone murder trial, alleging the two struggled over the gun that was used in the fatal shooting of the rapper's bodyguard Ronald "Banga" McPhatter in 2016 at Irving Plaza, where T.I. was billed to perform.
"If it's fight or flight I'm always going to fight because at that point you could die," Troy Ave said of the scuffle that resulted in him getting shot in both legs, according to the New York Post. The Brooklyn native compared their tussle to a high school wrestling match.
"When the shot goes off I see the light from the spark and I hear the shot," he said. "This is all happening fast. I get up and start fighting Taxstone, trying to take him, grab the gun, and another shot goes off. I put my leg up to kind of block the shot from hitting me in the face or chest."
"I got up," Ave said in regards to getting shot. "I'd rather die fighting. People die from leg shots. I'd rather die fighting than laying on the ground. I got up immediately."
Ave testified that when he was able to get his hands on the firearm, he tried to shoot Taxstone as he fled the scene, but the gun misfired. He was initially arrested for attempted murder after he was the only one seen in surveillance footage firing the weapon that was later found in the car that he used to drive himself to the hospital.
Taxstone was arrested after his DNA was found on the trigger of the gun in question. The attempted murder charges against Ave were dropped.
Ave alleges Taxstone shouted, "What's poppin'?" in his direction after the rapper and McPhatter showed up in the VIP room before T.I. was set to take the stage. "Banga turns around to me and says, 'I'm gonna rock him,' which means, 'I'm gonna hit him,'" he testified. "And then I wink at him—I tell him, 'Do your thing.'"
Taxstone allegedly pulled out a gun from his waistband, and the struggle ensued. Ave said he decided to stay by Banga's side after realizing he had been shot. "I rolled his body over and I'm like, 'Banga, get up. Come on.' I'm smacking him, like, 'C'mon bro. Get up,'" he recalled. "And his eyes were rolling to the back of his head. His shirt was red so I could tell he got shot."
Ave took to Instagram prior to his testimony, declaring in a Jay-Z-referencing post, "Today is the day I finally get to clear my name."
He continued, "It's been almost 7 years since I lost one of my closest friends #RIPBANGA 💔, 7 years of a narrative about it being my fault, 7 years of my character being assassinated all the while Trying to defend myself without saying much! I took it all on the chin, never complained about the stress even tho I felt it. Never complained about the pain even tho it hurt! Never shed a tear even tho my heart was crying! At my weakest points I drew strength from GOD! drew strength from my Children & drew strength from Yall 💪🏾❤️‼️ but today…Ya Boi is Strong! Today..is our day! We in court & the facts will speak louder than any words! It's time to get this false narrative off my name and dark cloud off my head."