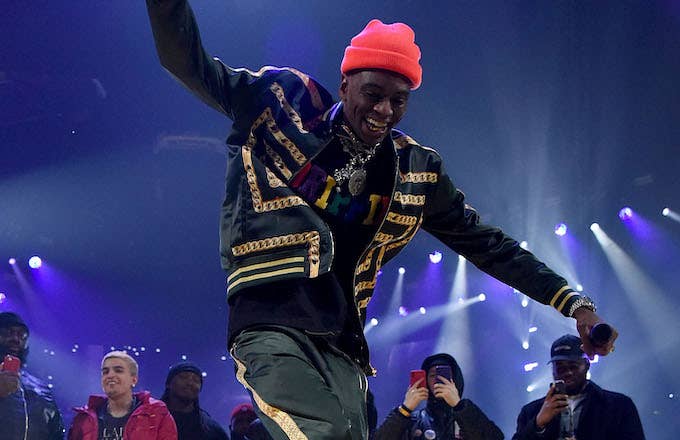 Soulja Boy has assumed the throne reserved for "King of Trolling" and isn't showing signs of relinquishing that seat anytime soon. On Wednesday, Soulja reposted a short clip on his Instagram which depicts him eliminating a few of the targets that have found themselves in his crossfire this month. 
The clip, which is from IG account @yobritish, starts off as a loading screen with an animated version of Soulja holding a Draco. The opening shot is accompanied by a banner, which reads, "Use Soulja Pods for best audio experience." It's a reference to the line of earbuds that he announced last month which looked almost identical to the AirPods from Apple. The only difference is, well, we can't even tell you. The name? That's probably about it. 
As Soulja Boy's own song "HML" plays over the video, we see him killing three characters in succession by way of spikes. The first person was Tyga, who Soulja has been repeatedly saying did not have the biggest comeback of 2018. 
The next character to get killed off was Nintendo, which was responsible for forcing him to remove his SouljaGame console amid threats from the gaming company that he could face criminal charges for violating the Trademark Counterfeiting Act.
The final person taken out, while on a shopping cart, was Ariana Grande, who was recently accused of stealing Soulja's flow on "Pretty Boy Swag" for her new single "7 Rings." Soulja has already addressed the situation, calling her a thief and demanding that she give him his credit. 
After a brief fade out, Soulja Boy is seen sitting on the back of 6ix9ine, who is rocking an orange jumpsuit. Soulja recently bragged that his Breakfast Club interview has surpassed the number of views Tekashi's interview garnered. The clip ends with the close-up shot of a woman's legs before panning up to show that the mystery person was actually Drake. It was the perfect moment to break out arguably the greatest meme of 2019 so far: "Draaaake?!?" 
"I can't even lie Soulja Boy is an actual genius and he is coming with the SMOKE," @yobritish wrote in the caption section of the video.
Head here to watch the clip.