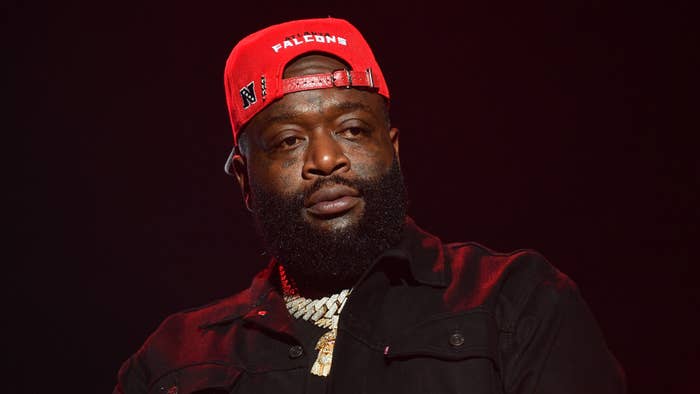 Rick Ross and his "Promise Land" Georgia ranch may be more of a pest than a peaceful farm.
His neighbor, located behind Ross, found his two 2,000 pounds buffaloes roaming on her property twice recently. According to TMZ, she worries that the animals pose a threat to her young children.
TMZ obtained images and footage of the buffaloes as they grazed on her land.
A video shows a man herding the animals away from the property. "[Inaudible] is about to flip," the person behind the camera says, seemingly hinting at the property owner.
The neighbor said she confronted Ross about the incident, resulting in a verbal dispute with one of his team members.
It appears the conversation did not fix the issue at hand, as the woman intends to file a neighbor dispute. When she called the police, they said the problem was a civil dispute, and a report was not filed.
In addition to the high safety risk, the buffaloes also damaged her yard, with photos showing huge hoof prints on the land.
Last March, Ross was gifted two buffaloes by Ethika, a clothing and underwear brand in partnership with the Richer Than I Ever Been MC. "This is something real personal. This is something that means a lot to me, and this is what I need you to know, I'm the new, proud owner of two buffaloes," he said. The company intended to gift Ross a giraffe, but he did not want that much of a commitment.
One buffalo, Timbuktu, is a five-year-old weighing around 2,000 pounds. The second one is smaller, around two years old, and weighing over 700 pounds. The ranch is also home to four horses and a steer named Thor.