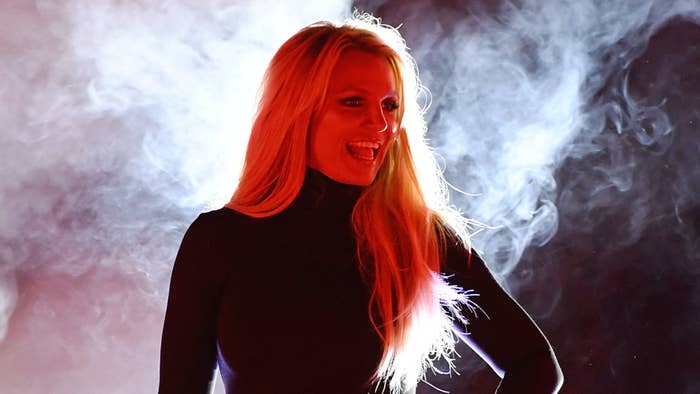 Britney Spears took to Instagram Thursday to share two photos of herself completely naked.
"Free woman energy has never felt better," Spears captioned the post, which features the singer covering up her body with the help of a heart and flower emoji.
The "free woman energy" caption seems to allude to her newfound freedom since the court terminated her 13-year conservatorship in November. In the days that followed the court's ruling, Spears opened up in a since-deleted Instagram post about taking up the opportunities, like having a child, that she was denied with her father Jamie as her co-conservator.
Spears delivered a bombshell testimony in June, pleading that the court put an end to her conservatorship and the "abusive" guardianship oversight she had been subjected to in wake of mental health concerns in 2008. Britney revealed that she had no control over her finances, as well as medical and personal decisions. "I have an IUD in my body right now that won't let me have a baby and my conservators won't let me go to the doctor to take it out," she said at the time. "I wanna be able to get married and have a baby." 
Prior to the termination of the conservatorship, Britney posted a topless photo on Instagram which has since been deleted. She explained the decision to post it stemmed from the realization that she was "born into this world naked and I honestly feel like the weight of the would has been on my shoulders and it's made me view myself that way." 
"I wanted to see myself in a lighter way … naked," she continued. "Like the way I was born and to me looking back at my pictures when I shoot it's insane the psychology in seeing myself in my purest form gives evidence that pain … hurt … tears … and heavy burdens aren't who I am." 
Britney also shared her recent experience going out to dinner "at a very nice place in Los Angeles." The singer described everything from the decor of the restaurant to the bathroom, which she admittedly wanted to stay in forever, to the emotional journey she was taken on with each food course. She revealed that on this night, she had her first glass of wine in 13 years. "I will say it was one of the most magical experiences of my life and I will never forget it," she concluded.