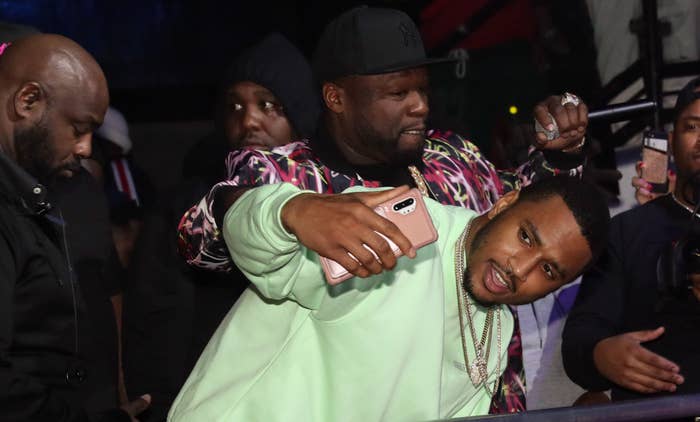 50 Cent announced via Instagram that Trey Songz will no longer be allowed to attend Fif's Tycoon Weekend due to behavior at previous events. 
"Last TYCOON he crashed a Wraith, this TYCOON he was acting crazy, wanting to fight and shit over the girls," 50 wrote. "He broke some shit up in his room @antthaladiesman Nah tell @treysongz he can't come. smh." 
Songz has been repeatedly involved in legal matters this year alone. Megan Johnson filed a sexual assault lawsuit against the singer in April stemming from a 2013 party at a Foxwoods Resort Casino in Connecticut. The suit alleges Songz approached Johnson from behind, pulled her top up, and chanted "titties in the open" four times. She's seeking $5 million in damages. 
Jauhara Jeffries also came forward with a lawsuit in February in which she accuses Songz of penetrating her with his finger without her consent during a New Year's Eve party at E11VEN nightclub in Las Vegas in 2017. 
Songz was accused of raping a woman in his home in a $20 million lawsuit as well. The suit was dropped months later, but it's unclear if the woman chose to drop the case or a confidential settlement was reached. 
In other Tycoon-related news, 50 shared that Pleasure P is on probation following a scuffle at a hotel but will make appearance at Tycoon Miami.