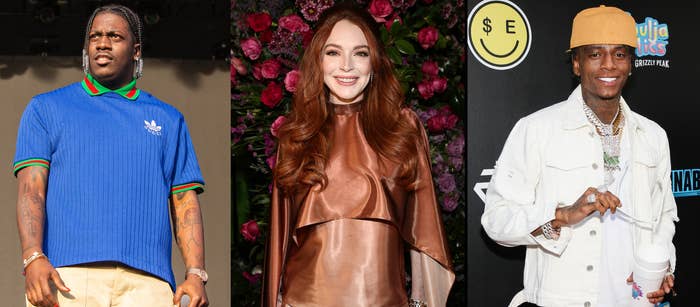 Lindsay Lohan, Soulja Boy, Lil Yachty, Jake Paul and four other celebrities have been named in a press release from the Securities and Exchange Commission (SEC) and are being charged with promoting cryptocurrencies without telling their audiences they were paid to do so.

The full list is rounded out by Akon, Ne-Yo, Austin Mahone, and Kendra Lust.
They are specifically charged with promoting BTT and TRX. Both crypto companies are owned by Justin Sun, who is also being charged with fraud. His companies, Tron Foundation Limited, BitTorrent Foundation Ltd., and Rainberry Inc. (formerly BitTorrent), are named for the unregistered offer and sale of crypto asset securities Tronix (TRX) and BitTorrent (BTT).

Sun and his companies are being accused of offering and selling TRX and BTT as investments through bounty programs—which then encouraged others to promote the tokens on social media and leverage their audiences to join Tron-affiliated Telegram and Discord channels.

According to the SEC, Sun has made $31 million from the secondary market sales of the illegal sales of the token.

This isn't the first time a group of celebrities were charged by the SEC for the same securities crime. Last year, Kim Kardashian settled for $1.26 million after promoting the cryptocurrency EthereumMax without disclosing that she was paid to do so. The SEC's investigation revealed Kardashian was paid $250,000 in exchange for promotion. Celtics Hall of Famer Paul Pierce settled for $1.4 million for promoting the same cryptocurrency without disclosing the $244,000 he was paid.
Soulja Boy and Mahone have not yet reached settlements. Yachty, Akon, and the rest of those named have agreed to pay restitution upwards of $400,000.

Leslie Sloan, a spokesperson for Lohan, said the star did not know about the disclosure requirement. "Lindsay was contacted in March 2022 and was unaware," Sloan said, adding that she has agreed to pay the fine.

Between April 2018 and February 2019, Sun directed his employees to illegally wash and trade 600,000 TRX, totaling 4.5 million to 7.4 million TRX each day, per Forbes.