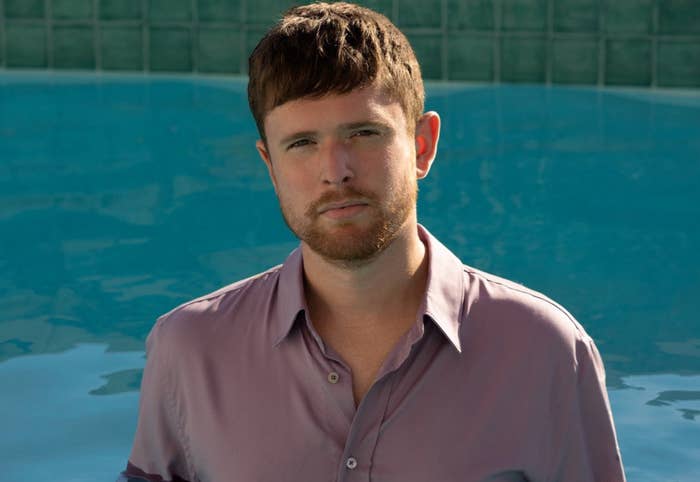 James Blake's fifth studio album, Friends That Break Your Heart, dropped today and along with it the requisite press tour.
Much of these interviews have touched on the usual topics: the album's inspiration, how it differs from his other LPs, as well as his thoughts on the world around us. One interview in particular, a conversation with Seth P for GRM Daily, saw him share his thoughts on a topic that surprisingly few journalists have quizzed him about in the past: grime music.
"In terms of production, early influences for me were Wiley, Ruff Sqwad, J Sweet and Alias," he said. "There's something sonically about grime that felt incredibly free and un-self conscious. Some of the sounds being used in the Eski era of Wiley's stuff was just to me completely new; new in a way that I don't think any other music was as brave as that."
He added: "Even Timbaland, even that kind of R&B from that era, nothing touched the bravery of early grime if you ask me."
It shouldn't be too surprising that Blake's an avid grime fan. The genre's formative years in the early noughties would line up pretty well with his teen years and let's not forget the Harmonimix remix of Trim's "Confidence Boost" or the 1-800 Dinosaur album that Blake helped get out into the world.
From the post-dubstep-esque dancefloor experiments of 2011's CMYK EP right through to the faster tempos of 2019's Assume Form and into the colourful R&B grooves of the latest album, it's always been present. These past two releases have seen a marked brightening of his sonic palette, no doubt a reflection of his Los Angeles surroundings, but they're also symptomatic of a more open and collaborative James Blake.
While Assume Form was probably his most collaborative album to date, Friends That Break Your Heart feels arguably even more outgoing. JID joins him on "Frozen", as does SwaVay, the Atlanta rhymer Blake first co-signed when they worked together on surprise joint "Billy" all the way back in 2018. The only other two collaborations on the album come from SZA and Chicago-born singer-songwriter Monica Martin, two artists known for their tales of heartbreak.
Still, Blake's output in 2021 feels brighter and more colourful than ever. Videos recorded in his LA studio suggest more of an open house setup with a steady stream of collaborators dropping by for jam sessions—something unheard of for 2012 James Blake. Not only that, but when Complex connected with him late last year, he suggested that recent collaborations with slowthai and Dave were just the beginning, and that he wanted to produce an album for Young Thug or André 3000.
"I mean, André 3000. That would be glorious," he told Eric Skelton. "In terms of other rappers: Young Thug. I'd love to do that. Barter 6 made me rethink production. It was so satisfying and minimal. It's fucking amazing. 'Constantly Hating' changed the way I thought about production. I listened to that on repeat for about a month. I think it's one of those interestingly-produced hip-hop tracks ever."