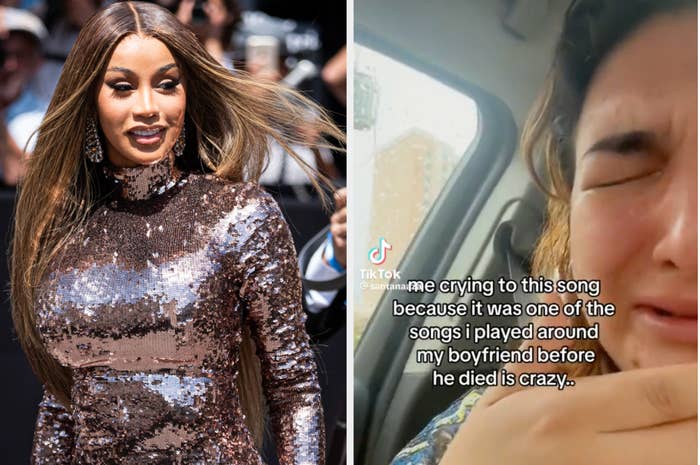 As humans, we can't help what we form an emotional attachment to. For TikTok user Santana Aza, she had a particularly strong reaction to Cardi B and GloRilla's collaborative hit, "Tomorrow 2."
In a TikTok shared on June 6, Aza shared a video of her crying alongside the caption, "me crying to this song because it was one of the songs I played around my boyfriend before he died is crazy."
Comments began pouring in about similar strange reactions people have to the most unexpected music. "It's okay my weirdly emotion song is gangnam style," one user said.
"I used to cry to period by city girls cs we had our own lil choreography to it before he cheated on me," another user said.
But Aza got perhaps the biggest condolence of all when the video was brought to Cardi B's attention.
The Invasion of Privacy rapper appeared to be a bit confused, but she thought the emotional reaction to the song was a good thing. "Awwww …I guess …..He in heaven turning up!" she wrote.
Cardi's fans were living for her humorous response.
"Tomorrow 2" is the official remix of Memphis rapper GloRilla's hit 2022 song. The link up became Glo's first top-ten hit and Cardi's 11th.