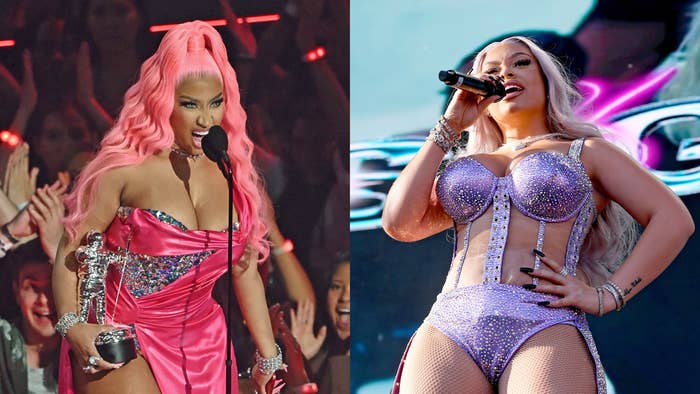 On Thursday night, as the music world was preparing for Lil Baby's new album to drop, Nicki Minaj was prepping for war. It always somehow comes back to this. Nicki Minaj was understandably upset yesterday when she learned that her massive single "Super Freaky Girl" will reportedly not be considered for hip-hop categories at the Grammys; it will be in the running for Best Pop Solo Performance instead. Then she brought Latto into it for some reason—and everything went left after that. 
Nicki decided to project her frustration about the possible Grammy nomination snub toward Latto by saying that if "Super Freaky Girl" doesn't get acknowledged, neither should other pop-adjacent rap songs like her "Genius of Love"-sampled track, "Big Energy." Nicki asserted that anyone who thinks otherwise is just a "Nicki hater or a troll." 
It goes without saying that a confused Latto logged into Twitter last night; she mentioned she didn't respond to Minaj publicly until she revealed that she had tried to have a private conversation with her. That's when all hell broke loose, with both rappers sending shots on the timeline while many fans were still confused as to why Nicki was upset at Latto in the first place. It turns out, some cited subliminal tweets that Latto made a week prior to that could have been directed at Minaj.
With the timeline finally calm (for the moment) and many of the tweets now deleted, here is a brief timeline of the feud that erupted between Nicki Minaj and Latto.
Fans Speculate Latto Sent Subliminal Shot at Nicki With "Big Energy" Tweet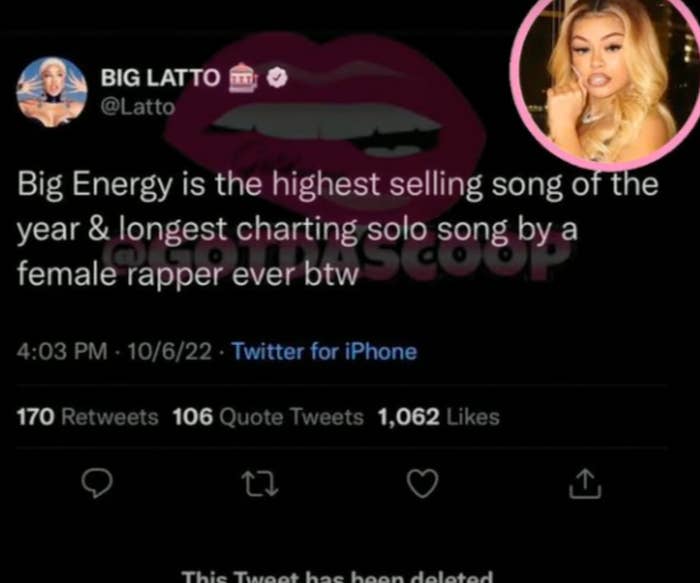 Nicki Minaj Criticizes the Grammys and Loops in Latto
Latto Indirectly Responds to Nicki and Attempts to Talk Offline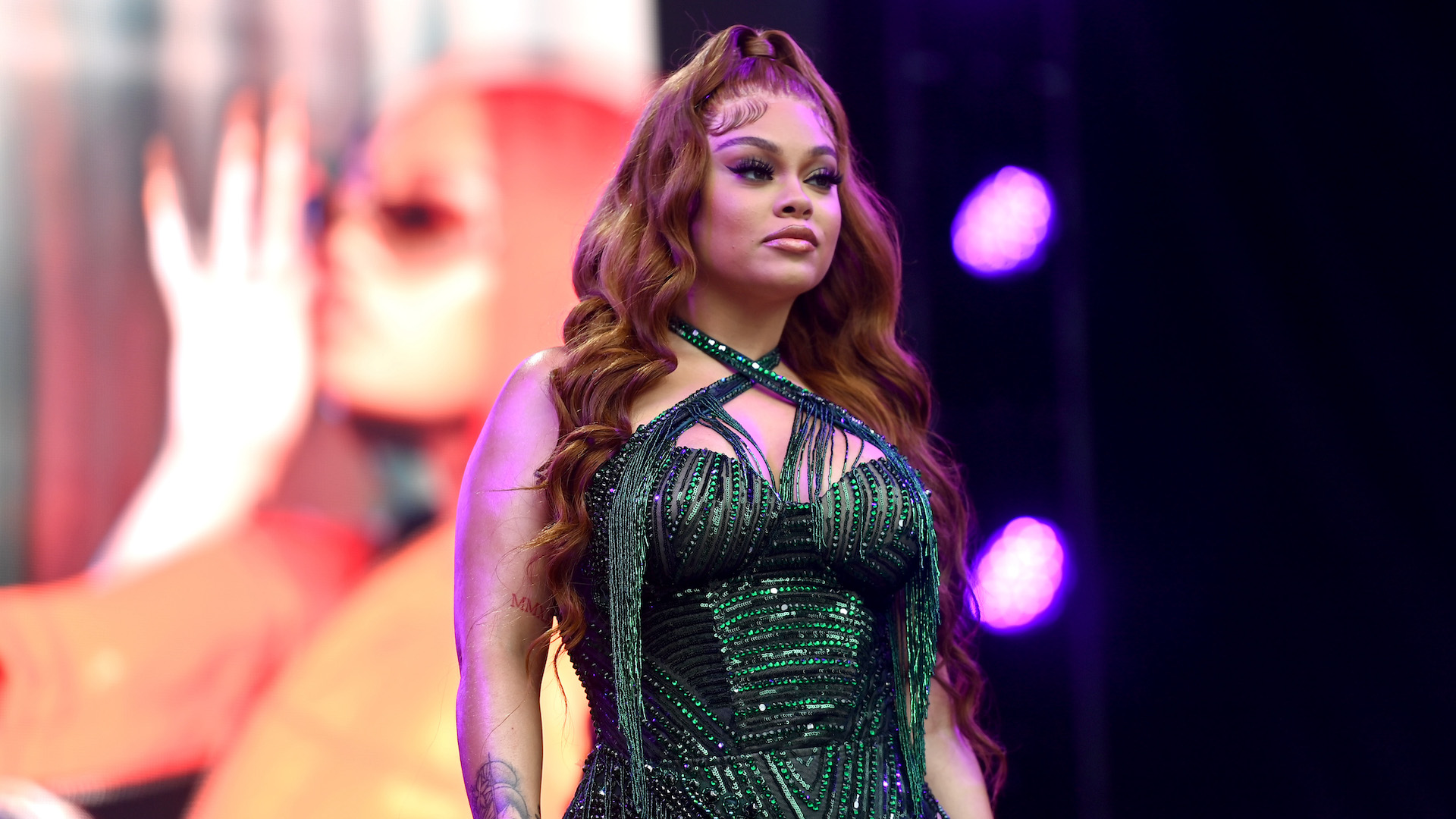 Minaj Calls Latto an "Entitled Karen," Shares Private Conversation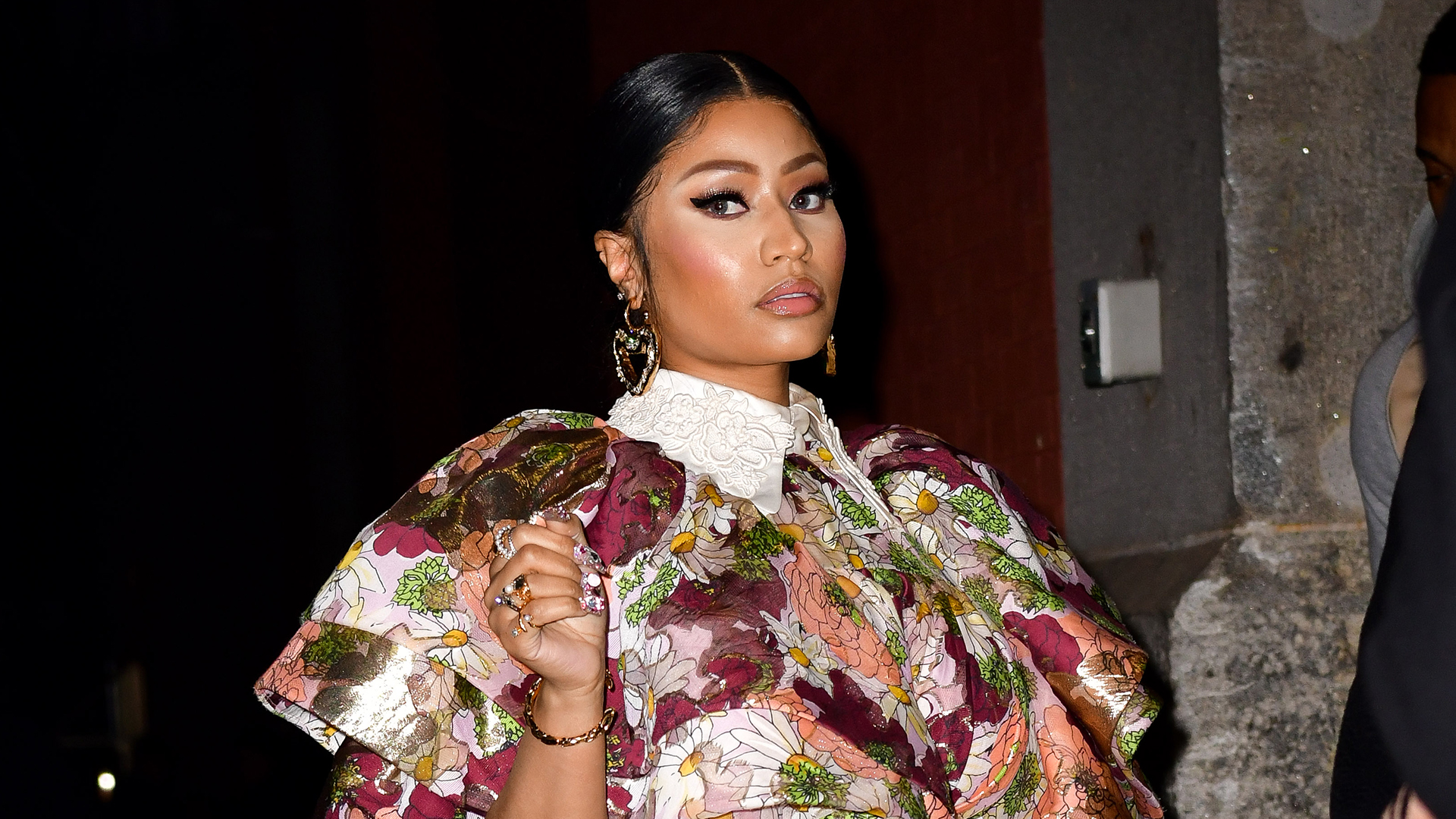 Time: 10:22 p.m.
After Latto attempted to try and deescalate the situation over private message, Minaj took to Twitter to call the Atlanta rapper, who is half white, an "entitled Karen" and says that she decided to "be silent; rather than speak up for the black woman she called her biggest inspiration."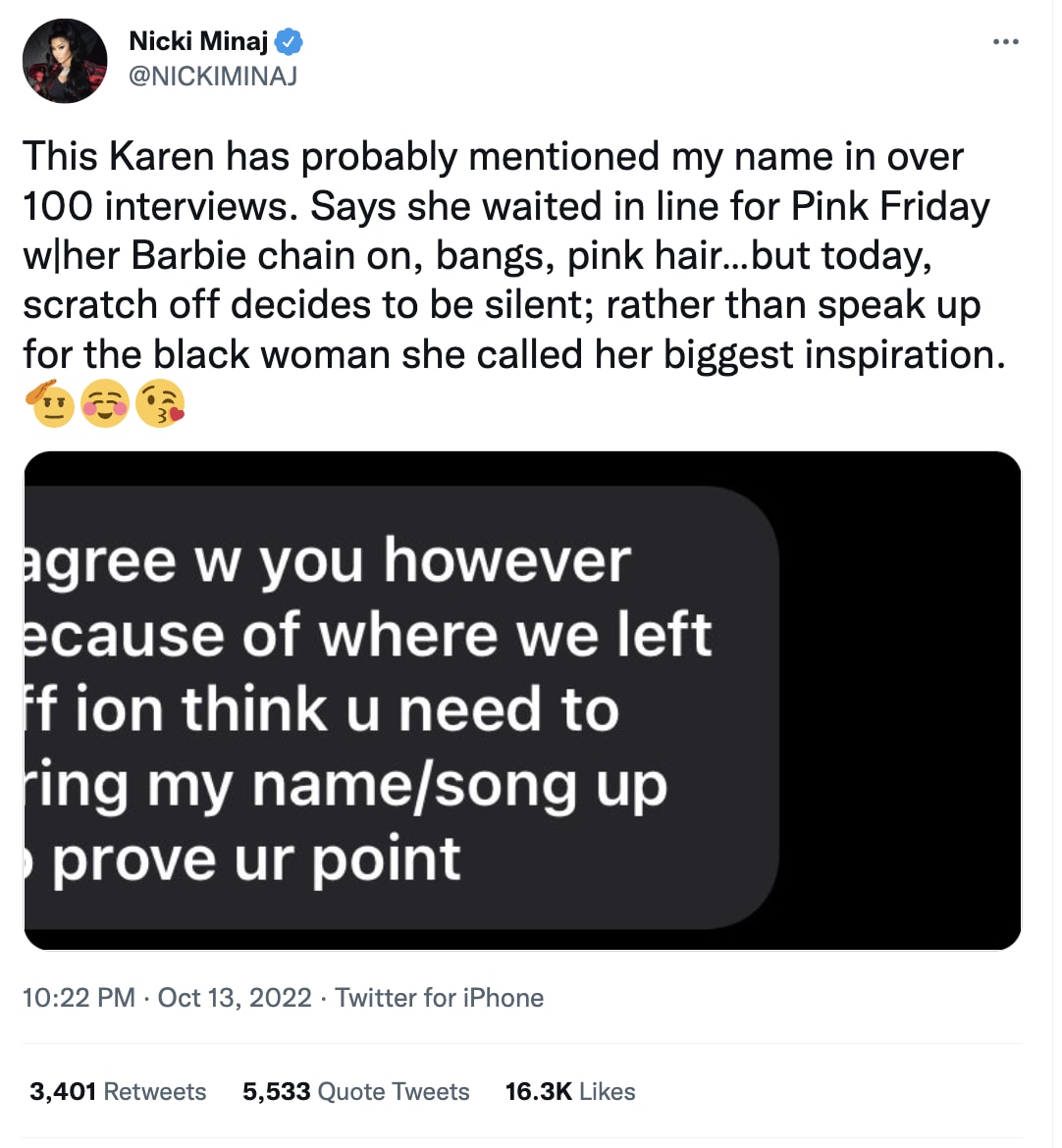 Latto Responds, Calling Out a History of Subtweets From Minaj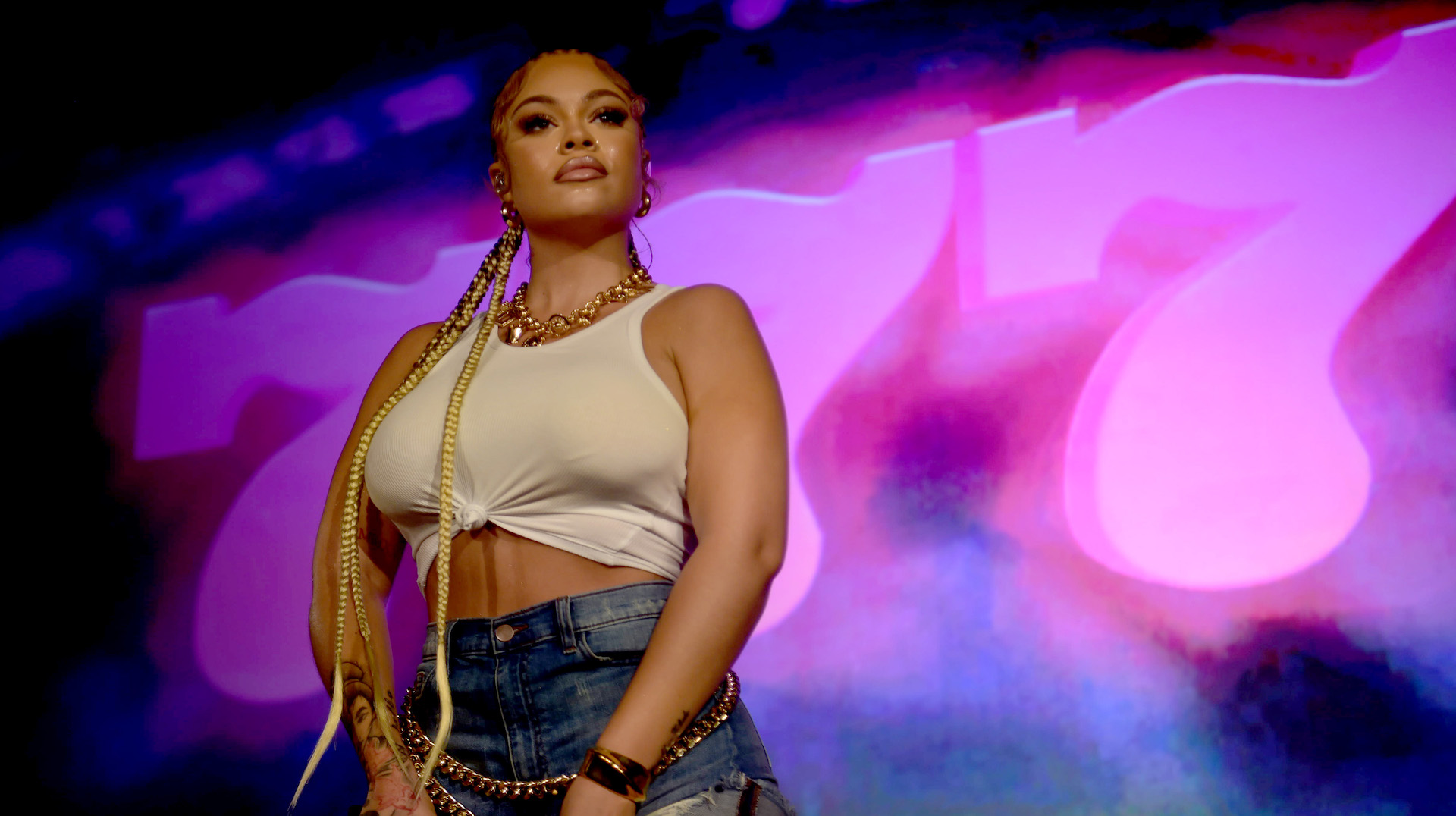 Time: 11:26 p.m.
Latto did not take Nicki's insult lying down, and instead responded to her directly saying that she only texted her because she wanted to squash the dispute off the internet. While some believed Latto was the first to send subliminal messages a few weeks ago, she claims she's been ignoring slick shots from Minaj that date all the way back to March.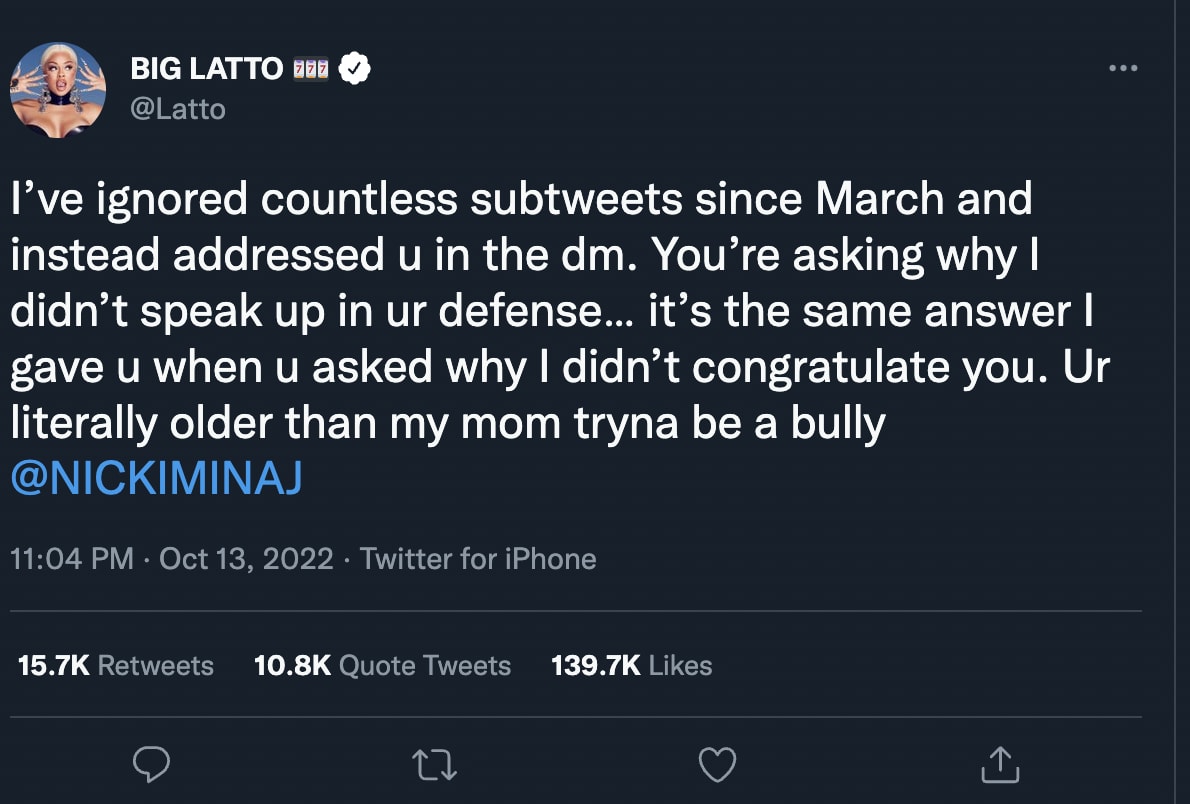 Latto pulls out receipts of Nicki seemingly calling her a "dud" at the beginning of October as well, later calling her a "40-year-old bully" after Minaj made a joke about thinking she was in her mid 30s. "The most recent subtweet in question… but I'm finna start from the beginning #40yroldbully." This rhetoric from Nicki falls in line with a history of issues she's had with the younger generation of artists.
Nicki and Latto Trade Shots, Latto Calls Out Nicki's Husband for Being a Sex Offender
Time: 12:30 a.m., October 14
Nicki and Latto continued to trade shots live on the timeline, which included Nicki sharing private messages she received from the young rapper a year ago asking to work together and other reference tracks. Latto retorted by sharing clips of how she always admired Nicki and would say she was one of her biggest inspirations, despite Nicki trying to make it seem otherwise. While calling her "super freaky grandma," Latto also fires back at Minaj by bringing up how her husband, Kenneth Petty, is a registered sex offender.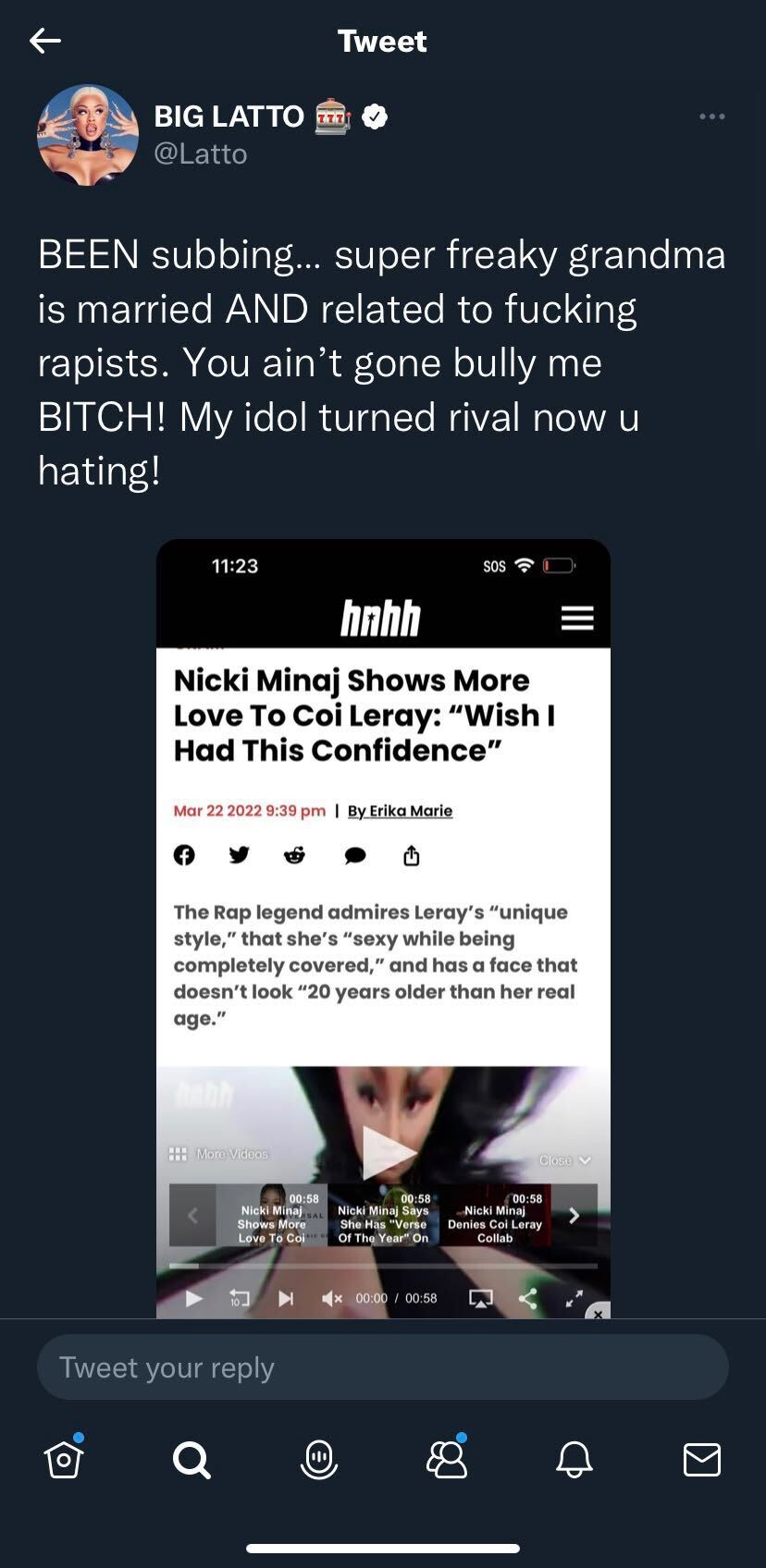 Date: April 17, 2023
Months after the last time either Nicki Minaj or Latto sent any public shots at each other, Latto took some time out of her Coachella set to remind the crowd that she's still not backing down from any smoke. The Atlanta rapper premiered a new song during her performance, and it sounds like she dedicated a few bars to Minaj in the track.
"Say she got a problem, imaginary smoke/Bitch, you said it's up, then put on the floor," Latto raps, before closing the song with "Let a bitch know, we tired of the subtweets this year."
While Latto never addresses Minaj by name, she's clearly referencing all of the subliminal shots that had been sent her way from the Barbz over the past year. Nicki has yet to respond.