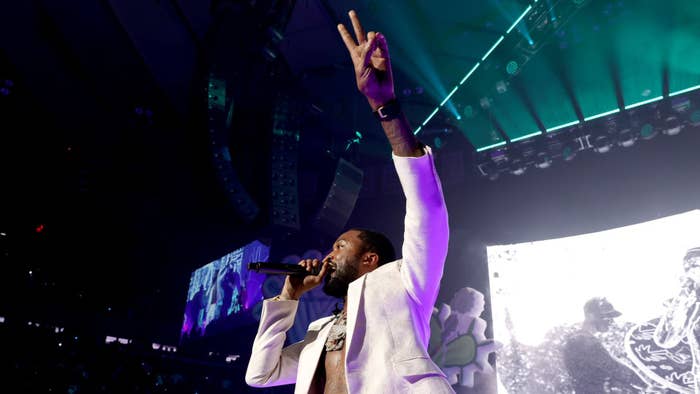 Meek Mill got on Twitter Monday to call out his record label for mismanaging him and allegedly not paying him for his music. In one since-deleted tweet, Meek said he doesn't know how much money the label has been making off him.
"i haven't get paid from music and i don't know how much money labels make off me!!!!! i need lawyers asap!!!" Meek wrote. He went on to say that he plans on revealing his deal to the public to expose the alleged bad business being done.
"ask the record label? how much have you spent on me as a artist? then you ask how much have you made off me as a artist? i'm about to make my record deal public by monday just to let the world see what these people on!!!"
The rapper went on to tweet that he's willing to fight for everything he deserves.
Keyshia Cole caught wind of Meek's tweets and responded to a Shade Room post on the subject, writing, "Never received a check from any record label, period. But I just thought about that the other day. It's nothing wrong with Obtaining Audit Atterney's [sic] so that you're aware of where every dollar went. Trust me. A lot gets 'Lost in the sauce.'"
Tyrese also chimed in under the post, writing, "Most of us who were signed 20 years ago we should ALL DEMAND OUR MASTERS be reverted back to us………. Yeah I said it by Dec 2022 I will own 5 of my masters from releases over the years…… Speak up on it or they will keep collecting off of your body of work…."
Meek's tweets come on the heels of the Philly rapper dropping his fifth studio album, Expensive Pain. It's unclear whether Meek is referring to Atlantic or his deal under Maybach Music Group. Complex has reached out to Meek's rep for more information on what led to the tweets.
In other news, Meek headlined his Expensive Pain show at Madison Square Garden this past Saturday night which featured appearances from Bobby Shmurda, Lil Baby, Lil Durk, 42 Dugg, EST Gee, Fivio Foreign, and more. Head here to read a recap of the event.