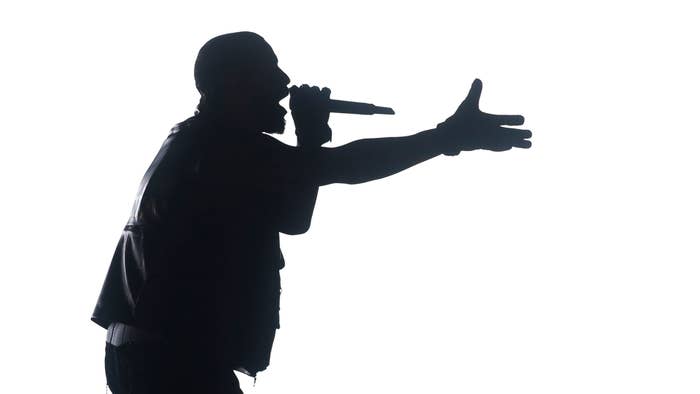 Drake thrives when he has an opponent to embarrass, an enemy to battle, and a beef to win. Without an opp to aim at, though, he sometimes struggles to find new motivations in his music, and his latest single is a reflection of that.
On "Search & Rescue," he sounds uninspired. The song officially arrived today after he first teased it during his SiriusXM Radio station Sound 42 on April 2. It's well-produced, thanks to Philadelphia beatmaker BNYX, and falls in line with the more ominous beat selections Drake has been using lately, but the bars don't hold up. "Come and rescue me/Take me out the club/Take me out the trap/Take me off the market/Take me off the map," he croons, playing the damsel he often acts like he's trying to save. 
The lyrics sound like an afterthought to what's really meant to be another unnecessary subliminal diss toward Kanye West. Drake put more energy into troll-style marketing for the track than its actual content, resulting in a below-average song that's bogged down by the pettiness that powered its rollout.
"Search & Rescue" comes across like a less-inspired version of "Elevate" or "Nothings Into Somethings" (albeit much longer), where Drake used slower beats and repetitive hooks, but in this case, the verses don't add anything to the song. He repeats "mami" a dozen times (I counted), and there are only so many times one can listen to a 36-year-old rapper sing about wanting to be "saved from the club life" before wondering if there's a deeper underlying issue. He never finds a melodic pocket on "Search & Rescue," making his empty lyrics even more noticeable. Songs like "Elevate" and "Nothings Into Somethings" work because of the catchy grooves he finds and the slick wordplay he's famous for, but this song has neither. To put it in TikTok terminology: This track has neither thoughts nor vibes. Drake is not doing anything different than what he's done before; it's yet another example of him leaning into his patented formula of lo-fi production paired with an easily captionable hook and catch-all subject. But it doesn't land because of its weak verses and all the weird trolling in between. 
Following the first verse, Drake samples a clip from the series finale of Keeping Up With the Kardashians, where Kim Kardashian is talking about getting a divorce. "I didn't come far just to come this far and not be happy," she says. Before the track's release, Drake's dad commented saying that his son isn't trolling Ye and that "it's just a song," but the two rappers' history suggests otherwise.
Drake and Ye's feud has been well-documented up until this point, and many have speculated it's because of rumors Drake has allegedly been intimate with Kim in the past. Kanye silenced those murmurs on his last visit to Drink Champs, and most fans thought the beef was squashed after the two came together onstage for Ye's 2021 Free Larry Hoover Benefit concert. But then Drake doubled down on the beef during his Her Loss cut "Circo Loco," rapping, "Linking with the opps, bitch I did that shit for J Prince/Bitch I did it for the Mob Ties," in reference to music industry veteran J Prince who notoriously brokered their treaty. 
Drake gains nothing from continuing to antagonize Kanye West, and now it's a distraction in his music, rather than the spice he might be aiming for. Ye has already lost virtually everything (and for good reason), including his wife, Adidas deal, and public affection. Drake came out on top in this feud long ago. Using the sample, paired with cover art of a woman who looks strikingly Kardashian-esque in a helmet (which could be referencing a picture that Kanye and Kim took together) is not a flex, it's weird. It seems Drake put more energy into trolling Kanye than putting together the song, which leads me to believe that this "beef" is either much deeper than just music for him, or he needs an adversary in order to fuel his creative fire right now. 
Drake has made some of his best music in the heat of battle. His beef with Meek Mill birthed "Charged Up," "Back to Back," and a sizzling run throughout summer 2016 and beyond. This was back when Drake's diss tracks still meant something. Not only did "Back to Back" embarrass Meek and turn him into a meme, it got nominated for a Grammy; it was a summer anthem that took over the streets and clubs. It didn't sacrifice lyrical integrity for pettiness. It found a way to live in perfect union, which is the calling card of a well-crafted diss song. The only reason that beef ended was because Drake called it off. Meanwhile, Drake's beef with Pusha-T (despite ending in defeat) gave him the motivation that led to an album that produced some of his biggest records to date—"God's Plan" and "In My Feelings"—plus enough battle scars to continue sending subliminal shots at him to this day. "Search & Rescue" is neither direct enough to be considered a diss track, nor well-crafted enough to be considered a good song at all. 
As it currently stands, Drake does not have any public enemies to engage. Since it's all calm on the Northern front, his bullying of a shamed and disgruntled rap megastar isn't just unbecoming, it exposes his urge to always have a war to fight. He already won this battle, though, so the music that's still drawing inspiration from it is falling flat. 
So, why is Drake choosing to antagonize Kanye West again right now? Drake trolls more purposefully than anyone, and he's an expert at crafting narratives around his music.
Right now, he's preparing to go on his first tour since 2018, and he just released two albums last year, so letting a gossipy single fly is an easy way to keep his name in the conversation, despite likely not having another major project in the pipeline. He has a history of picking at beefs for years, including sending subliminals at Pusha-T long after their feud ended unceremoniously, and he isn't letting up on Kanye now. Whatever the issue is between the two of them, it has to be more than the disses that have been traded. No one will ever know for sure unless it's revealed, but given how far Kanye West has fallen and how high Drake sits in the game, it makes no sense for this one-sided battle to keep happening unless there's something else at play. 
Even though these antics are childish and they distract from the music, they're working. People were talking about the song before it even came out because of the controversial Kardashian sample, and fan pages scrambled to figure out if Kim was the woman in the cover art. Drake is getting what he wants out of these gimmicks, so it's unlikely he'll stop using them any time soon. However, these tricks won't work forever. With the amount of power that Drake holds in rap, the weight of his influence can't be held up by petty games forever, even with people eating it up right now. Eventually, he'll start to look less like the rap mob boss that he tries to portray, and more like the very good actor who overcommitted to the role.

Drake doesn't need to start dad-rapping or drop his version of 4:44, and he doesn't have to drastically change his subject matter (he is the self-crowned "petty king," and doesn't need to reinvent himself) but he just doesn't sound inspired on this song. Perhaps the war of words is the only thing that keeps his passion burning lately, and he's had to stoke at dull embers. Or maybe drama is the best marketing tool for him. Even if Dennis Graham is right and "Search & Rescue" is "just a song," it's not a good one, and Drake might need to find a new muse outside of relationships and rap beef.