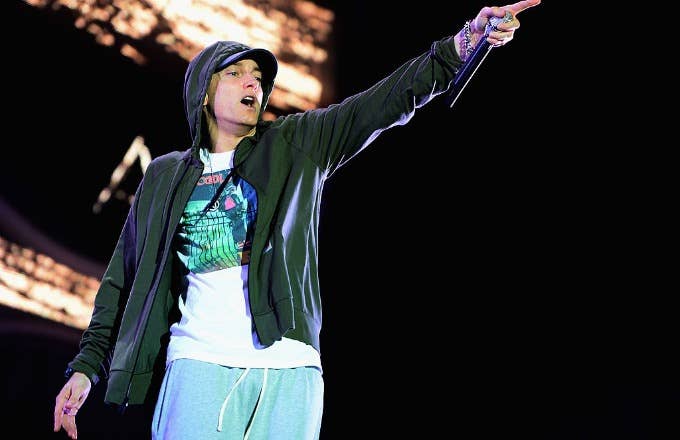 We're three weeks into 2020, and fans were just hit with the first major release week of the year. Mac Miller's estate dropped the late rapper's final album, Circles, and Dreamville released the deluxe version of their compilation project Revenge of the Dreamers III. But everyone is talking about Eminem's surprise album, Music to Be Murdered By. Without warning, Em dropped the 20-track project—featuring guest appearances from Juice WRLD, Don Toliver, Anderson .Paak, and more—on Friday morning.
Music to Be Murdered By is dark at times. There are some awkward punchlines and gory anecdotes, as well as other standard Em fare. The title was inspired by Alfred Hitchcock's album of the same name, with Eminem recreating its iconic cover art and sampling the filmmaker's voice on his own intro and outro. Stylistically, Em mimics Hitchcock's work, using haunting sound effects, statements, and melodies across the project.
So what can we take away from an Eminem album in 2020? The Complex Music team put together a list of first impressions below. 
He seems to care what others think of him
At this point in his career, you would think that Eminem isn't bothered by criticism, but there are several times throughout the album where he appears to really care what others think of him. On the opening track, "Premonition," Em reflects on his career as a whole, from the years when he was considered "the illest" to more recent times and the criticism they've brought. He specifically addresses the negative reviews of 2017's Revival and 2018's Kamikaze, spitting, "Revival flopped, came back and I scared the crap out 'em / But Rolling Stone stars, I get two and a half outta / Five, and I'll laugh out loud." He suggests the feedback doesn't bother him, comparing himself to LeBron James or Tom Brady, but then expresses more of his frustrations as the track progresses. He also wrestles with the conversation about his age. He references JAY-Z and 2 Chainz rapping in their 40s, saying that they have all been mocked for their age instead of being praised. "I wasn't dissin' Tech, that was not a shot at 2 Chainz or to JAY-Z," he raps. "They probably feel the same way because lately / Instead of us being credited for longevity / And being able to keep it up for this long at this level, we / Get told we'll never be what we were." Elsewhere on the 20-track project, the rapper questions why he's faced so much hate in recent years ("All the hate, can't tell exactly where it stems from / But it's happening again, huh? / Y'all used to be in my corner"). —Jessica McKinney
He says his beef with MGK is over 
Eminem and MGK have been going at it for a couple of years now (as if this is the rap beef we all needed and wanted). On Em's last album, Kamikaze, he fired shots at MGK three different times, bringing on a beef that the Detroit rapper claims started when MGK called his daughter "hot as fuck" and accused him of barring his music from Shade 45. Although Eminem claimed he was bigger than MGK career-wise, he continued to retaliate until things fizzled out. A couple of years later, Eminem speaks on their beef once again. On "Unaccommodating," Shady explains that he ended their battle victorious. "But when they ask me, is the war finished with MGK? Of course it is / I cleansed him of his mortal sins, I'm God and the Lord forgives even the devil worshippers," he raps. Even though he claims the beef is done, he later sends two more shots on "Yah Yah" and "No Regrets," completing yet another three-peat that makes listeners question if this claim had any merit in the first place. —Kemet High
Juice WRLD's first posthumous track is on the album
A little over a month after Juice WRLD's unfortunate death, we received his first posthumous track on "Godzilla." On a song that's produced and delivered with high energy, the link-up between Eminem and Juice WRLD feels seamless, despite the generation gap. After some rapid-fire bars from Marshall that contain more words than this post probably does, Juice WRLD checks in for chorus duty, skillfully moving from Godzilla to Louis Vuitton carpets. "When the moon shines like Ice Road Truckers / I look like a villain outta those blockbusters / Godzilla, fire spitter, monster / Blood on the floor and on the Louis Vuitton carpets," he sings. At first, his voice is hard to hear, but once he finds his pocket, the track turns into something special. Rest easy, Juice. —Kemet High
Don Toliver's year is off to a great start
We're only a couple of weeks into 2020, but Don Toliver's already having a breakout year. Don finished 2019 with Cactus Jack's compilation pack, JACKBOYS. The album peaked at No. 1 on the Billboard 200, and his appearances on "What to Do?" and "Had Enough" were highly acclaimed by critics and fans. Coming off of last year's success, Don managed to nab a spot on Em's surprise project, appearing on "No Regrets." While the record finds Eminem reflecting on his controversial past, Don Toliver's emotionally rich and melodic chorus is most memorable and soothing. His latest feature is just more proof that he is a star on the verge of a major break. —Jessica McKinney
Eminem addresses his past lyrics about Tyler, the Creator and Earl Sweatshirt
On "No Regrets," Em reflects on his mistakes. In responding to the mountain of criticism and hate thrown his way, he admits that he's sometimes targeted the wrong people. Tyler, the Creator and Earl Sweatshirt are two of the people he regrets lashing out against. Em originally fired shots at them on 2018's "Fall," calling Tyler homophobic names. Here, he suggests the track was a result of misplaced anger. "Some targets'll get the kill shot / Some, I just barely nicked 'em / I can make a mistake and erupt and end up takin' a dump / Or sayin' some dumb shit, thinkin' I run shit / Misplacin' my anger enough to give Earl and Tyler, The Creator the brunt," he raps. Eminem addressed his remorse in a 2018 interview with Sway, saying, "It was one of the things that I kept going back to and saying, 'I don't feel right with this.'" In that same interview, he revealed that Dr. Dre shelved songs from Kamikaze because "they went too far." —Jessica McKinney
It looks like Eminem and Joe Budden are still not on good terms
Fans were happy to hear Slaughterhouse unite on the single "I Will," but one person was noticeably missing from the reunion. Joe Budden, who has been a part of the group with Crooked I, Joell Ortiz, and Royce da 5'9" since their inception in 2008, did not appear on the latest track. To be fair, Joe is technically in retirement, but his absence could suggest that he and Eminem are still beefing. Budden suggested there was a riff among the group members when he revealed that he wasn't part of the Slaughterhouse group chat. Budden's critique of Em's 2017 single "Untouchable," which he called "disgraceful" during an episode of Everyday Struggle, is probably what marked a shift in their relationship. Eminem then followed with a diss on "Fall," rapping, "Somebody tell Budden before I snap / He better fasten it / Or have his body bag get zipped / The closest thing he's had to hits / Is smacking bitches." Budden has not commented on the new single on social media yet, but we'll likely hear his take on The Joe Budden Podcast. —Jessica McKinney
There are flashes of old Eminem, the good and the bad
Eminem makes some bold statements on this album, but would it be an Eminem album if he didn't? On Music to Be Murdered By, he dances around a number of personal and national tragedies, addressing everything from his hellish relationship with his father to the Route 91 shooting on "Darkness" and the bombing at Ariana Grande's Manchester show on "Unaccommodating." These instances, along with certain bars ("Ball like J, but not Jay as in / JAY-Z, J as in Leno / 'Cause I got a huge mansion / No, huge man chin"), lead to a couple of cringe-y moments. But throughout the project, he confidently raps that he's still one of the best in the game. And when he's not exploiting dark lyrics for shock value, his rhyme schemes, varied flows, analogies, and incorporation of multiple genres make a case for that statement. —Kemet High