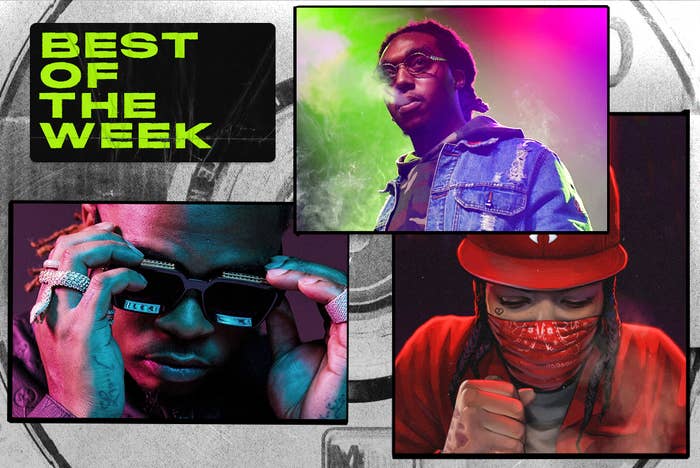 It's been another great week for new music. Gunna dropped his highly-anticipated new album, Wunna, and it's full of memorable tracks like "Dollaz on My Head," his collaboration with Young Thug. Migos and NBA YoungBoy united for their fiery record, "Need It." Young M.A dropped off a summer anthem for the ladies, "Bad Bitch Anthem," from her new EP Red Flu. And we also received new tunes from Lady Gaga, Ariana Grande, The 1975, and more.
Here's the best new music of the week. Stay up-to-date on all the new music by following our Best New Music playlist on Spotify here.
Gunna f/ Young Thug, "Dollaz on My Head"
"Dollaz on My Head" is one of those great collaborations between Gunna and Young Thug where the duo rep Atlanta and brag about their rich lifestyles. Gunna says that working on this track was "easy," and you can tell. They glide over the Mike Will Made-It and Myles Harris-produced beat with ease, weaving in and out of bouncy verses and a melodic chorus. "Dollaz on My Head" appears on Gunna's new album, WUNNA, and is bound to be one of the most-played records off the project. 
Migos f/ YoungBoy Never Broke Again, "Need It"
"Need It" is an aggressive track from Migos and YoungBoy Never Broke Again. As soon as the "Buddah Bless this beat" tag drops, the collective rips through razor-sharp verses that allude to their intoxicating and violent lifestyles. "These niggas can't run, we gon' peel everyone/You know where I'm from, give a fuck how you come/Got a stick in the car and it sounds like a bomb," YoungBoy spits. Quavo rounds out the track after Offset and Takeoff lay down equally bouncy verses. This is the fourth single Migos have dropped in the last couple of months, following "Racks 2 Skinny," "Taco Tuesday," and "Give No Fxk." Does this mean a new Migos project is on the way soon?
Young M.A, "Bad Bitch Anthem" 
Young M.A and Mike Zombie teamed up once again for a track that is bound to make the ladies go crazy. "Bad Bitch Anthem" is a quintessential "getting ready" song that could play in the background as women put on their dresses and make-up in preparation for a night out in the city. It's twerkable with Instagram-captionable lyrics like, "She not a bitch, she a queen/But if you say bitch, say a bad bitch" and "She bad in real life, she no catfish." Unfortunately, the summer is nonexistent due to the current pandemic, but M.A told Complex that she hopes this song brings some sunny energy to women and "uplifts them" as it starts to get hotter. 
The Weeknd f/ Doja Cat, "In Your Eyes Remix" 
"In Your Eyes" is the seventh single to receive the remix treatment from the Weeknd's fourth studio album. This time, the Toronto singer recruited Doja Cat, who adds a glamorous touch to the '80s style pop song. On her verse, she switches between waspy vocals and talked-out raps about the inevitable pain that comes with experiencing real love. "Hate the way I feel love, one hurts with real love/And it's taking every part of me, when you look, I could see love," she says. Doja Cat and the Weeknd are both having a great year. After Hours became the first album to sit at No. 1 on the Billboard 200 for four consecutive weeks since 2018. Doja also made history last week with her No. 1 single "Say So Remix" with Nicki Minaj. So, it's only right that these two teamed up on this one. 
Deadmau5 & Neptunes, "Pomegranate" 
"Pomegrante" is a funky fusion of disco and R&B that sounds like it would serve as the perfect backdrop for an electronic festival set. Pharrell moonwalks on the track with silky lyrics like, "Pulse is high, the heartbeats/We're being called to the other side, girl/Lost in the vibe, we can't sleep." "Pomegranate" is a feel-good track that makes you want to get up and dance, clean your house, or just close your eyes and vibe out. 
Lady Gaga & Ariana Grande, "Rain On Me" 
After some heavy promotion early this week, Lady Gaga and Ariana Grande finally connected on "Rain On Me." It's very Gaga-esque in that the record falls in line with the singer's retro synth-pop sound, but Grande manages to add her own style to the collaboration with 90s style riffs and runs. Gaga's vocals are a little harsh, but they are complemented by Grande's soft adlibs. "I'd rather be dry, but at least I'm alive/Rain on me, rain rain," they sing together. Overall, "Rain On Me" is a very uplifting and celebratory record from pop royalty.  
Kota the Friend, "Summerhouse"
"Summerhouse" is as the opening track on Kota the Friend' new album Everything. It's a breezy summer record that updates fans on everything Kota has gotten into since the last time they heard from him. "Couple of L's, couple of blunts, couple of wins/Couple of drinks, couple of girls, couple of trips/Couple of bags, I got my foot on the gas," he raps over jazzy horns layered with birds chirping. You likely want to play "Summerhouse" while you're outside enjoying a sunny day in the park or taking a stroll. 
Key Glock, "Son of a Gun"
Five months after dropping The Yellow Tape, Key Glock is back with a new mixtape called Son Of A Gun. The tape's title track is a grandiose record with dizzying violins that lead into a lengthy solo verse about his rise to fame. "I've been gettin' paper/Made a whole M without a major label/Yeah, they like, 'Glock you major/I just put a new set of fours a new Mercedes/Stop, bitches tryna have my baby," he spits. "Son of a Gun" is great cruising music. 
The 1975, "What Should I Say" 
"What Should I Say" is an exhilarating house record with rousing instrumentals produced by The 1975's George Daniel and Matthew Healy. There's not too much to the song lyrically—there are mostly variations of the questions "What did you say?" and "What should I say?" sprinkled throughout the chorus and verses. But the record is all about the feeling anyway.  It's one of those songs you'd expect to blast from the speakers at an outdoor festival or at a packed house party that's engulfed in a puff of smoke. 
Rod Wave, "And I Still"
After releasing his sophomore album Pray 4 Love at the beginning of April 2020, Rod Wave is back with a new single. "And I Still" is a little different than Rod's past hits. He sounds happier and more grounded as he raps about his newfound fame. "I ain't felt this way in a minute/I just blew the roof through the ceiling/I just woke up to another million/Finally made it out of the trenches," he spits. While the pain and vulnerability that he's expressed on previous records is what got Rod to this point, it's nice to hear him switch it up and revel in how far he's come. 
IDK f/ ASAP Ferg, "Mazel Tov" 
"Mazel Tov" is a triumphant collaboration from IDK and ASAP Ferg. The track starts off with a folkish flute, before unraveling into a trap-leaning beat, courtesy of Ronny J. "Mazel Tov to the gang/Livin' far from lame/Livin' out in the Hills," IDK raps on the chorus. Ferg later swoops in with a rapid-fire verse about financially setting his family and friends up for life. "Mazel Tov" is the perfect track for moshing, but it also appeared on the soundtrack for Kevin Durant's documentary Basketball County: In the Water, which premiered on Showtime on May 15.