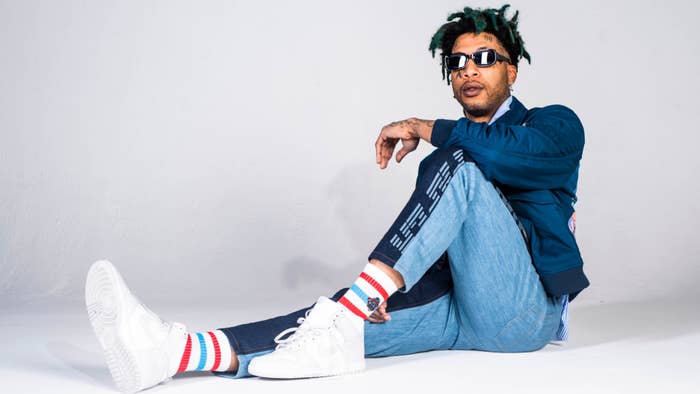 "Way 2 Sexy" featuring Young Thug and Future has become the early commercial standout track on Drake's Certified Lover Boy album. This prompted the song's co-producer TM88 to sit down with Rolling Stone and explain how he crafted the No. 1 song in the country, his first time achieving the feat. 
TM88 explained he was working with producer Too Dope when they came up with the concept for the instrumental. Once the beat was completed, they handed it over to Future, with no idea Drake would ever hear it. 
"On this particular day we happened to make, I think, about 12 beats. We were using a lot of the same drums, so I was like, 'The next beat, let's try a new drum. Let's try something else.' And it ended up being the 'Way 2 Sexy' beat," he said. "We tried these new drums from this kit we got, and man, it was going so crazy. I had to give it to Future. … And Drake getting on the song, you see what it did. It's on one of his most anticipated projects, and it's going crazy, spreading like wildfire. It just happened to be the single, which shocked me as well."
TM88 went on to state he's a fan of all types of music, so flipping Right Said Fred's debut 1991 single "I'm Too Sexy" wasn't a wild concept to him. But the idea came from Pluto himself. 
"I heard the song when I was a kid, just being five or six years old and seeing the video on MTV—vintage MTV. And you would hear it in movies all the time," TM88 continued. "But that sample was actually Future's idea. He was like, 'Man, add this sample in there.' And my boy who is his engineer, he was like, 'I got it.' He found the sample and put that little piece in the beginning. It happened to just ride through."
In a conversation with Jordan Rose for Billboard, TM had more to say:



"It could've went to Future's album—but I feel like the whole time, in Future's mind, he was going to put Drake on it anyway. Because you know, Future came in and was doing the 'Way 2 Sexy' hook, and he was like, 'Man, put that "Too Sexy" sample in front of the hook.' … Mind you, I heard it the next time I pulled up to the studio, and I was so surprised. It was Future's idea to use that sample. He's a wizard, bro."
Future's random but hilarious approach to the song paid off. "Way 2 Sexy" is now the No. 1 song in the United States and had the biggest chart debut of the year outside of Olivia Rodrigo's smash hit "Drivers License."
Asked if "What a Time to Be Alive 2 could ever happen" with the slew of beats TM makes for Future, the producer was optimistic. "I hope so. The fans want it. I'm pretty sure all the producers want it, because everybody wants to get an opportunity to get in on that. What a Time to Be Alive went crazy. You know Metro [Boomin] would have to be a part of it. Southside has to be a part of it too. I don't know. Maybe they might come up with something new. With them two, you just never know. I just try to stay prepared and always have beats on standby."