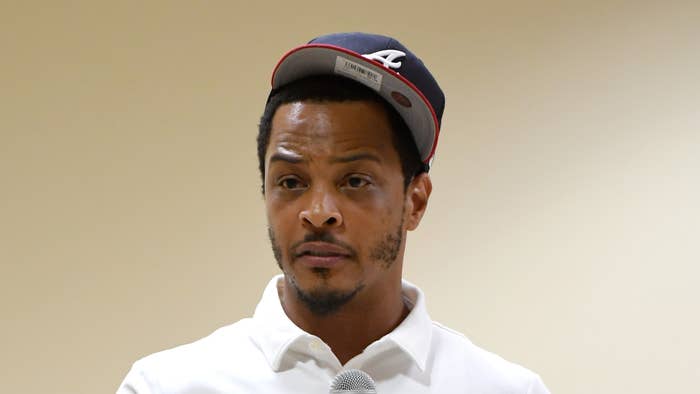 UPDATED 7/8/2020 4:35 p.m. ET: 50 Cent has trolled T.I. over the recently resurfaced Crime Stoppers video. "This the first song i'm a play you so Tuff," he wrote on Twitter, in reference to T.I. challenging him to a Verzuz battle. The tweet includes the aforementioned Crime Stoppers video, as well as an audio clip of G-Unit's 2008 record "You So Tough," which features a verse from 50 Cent that suggests T.I. is an informant.
"What's today's mathematics? Shit ain't addin' up/Get knocked with 10 machine guns, only get 12 months/Ooooh weee, don't talk to me; you talk to him; you talkin' to them," he raps. "I got the best lawyers money can buy/They said they would've got me 10, or maybe 9/I said how do you explain how homie breeze?/They said keep ya mouth shut or you eat the cheese."
T.I. responded to Fif's post in the comments section, insisting he never helped authorities convict anyone of crime. 
"The video clip is cute, in poor taste but cute ... however, I prefer facts," Tip wrote. "I've never given any information to any for of law enforcement to get nobody no time for no crime ... Ever! @50Cent Can you same the same?"
T.I. shared a subsequent Instagram post, reiterating his eagerness to go head-to-head with Fif in a battle of hits.
"He bit the bait! Set this shit up so I can finally shut this watermelon head, invisible nect ass n***a up once and for all!" he wrote. "... Let's set this date & select ya songs off that 1hot album you got & let's lay your lil overrated, outdated, steroid inflated ass catalog to rest. RIP to @50cent catalog 🙏🏽 I seen you bully all them NY n***az for years..."
See original story below.
T.I. has taken it upon himself to clear his name, after being accused of snitching.
On Tuesday, Tip took to Instagram Live, where he spoke to comedian Kelly "K-Dubb" Walker. During their conversation, T.I. addressed reoccurring accusations that he snitched. 
"Fuck you and ya life, n*gga. If you see a snitch, n*gga, slap him when you see them. Knock his nose off," Tip said. "Next time I'm out, instead of asking for a picture, like a little hoe ass n*gga. N*gga come on knock my nose out if you think I'm a snitch, n*gga. N*gga quit smiling in my face trying to get in my motherfucking section."
These accusations have followed T.I. for years, and recently resurfaced after his Crime Stoppers video reappeared on the internet. Tip explains that he did the "drop" at the request of the court because it would help him "get from under" a potential 20-year sentence. He then broke down the basic meaning of "snitching" before claiming that he's willing to have a paperwork party to prove he's never given information to the feds.
T.I. was arrested in 2007 on gun charges, and served a year in prison. In December of last year, Blueface's manager Wack 100 accused Tip of cooperating with authorities for a lighter sentence.
"I never gave no motherfucking information to get anybody in no motherfucking trouble no time with no police," Tip continued. "If I am working with a police, it'll be to get him to shoot you."