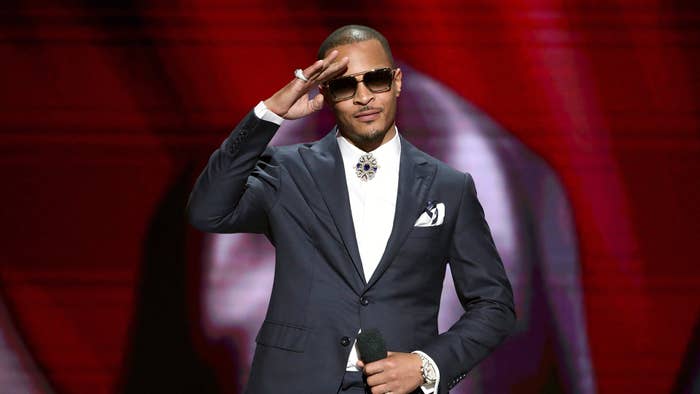 On the latest episode of Complex's Open Late With Peter Rosenberg, T.I. sat down for an interview to talk about who he might wanna battle on the next Verzuz. When asked what his favorite battle has been so far, he said he enjoyed Teddy Riley and Babyface's, and revealed that he would be willing to face off against "anybody from my generation." He said he's received a lot of requests to go against Jeezy, but T.I. himself suggested a battle with 50 Cent.
Dropping off a number of names after saying he'd go head-to-head with Fif, T.I. added that he thinks Lil Wayne would make for an entertaining battle. "He gonna be a tough one," he said with a smile after suggesting Lil Wayne. When Rosenberg said that Weezy has a ton of records, T.I. agreed but said he would still be up for the challenge. "He gonna be a tough one. That shit gonna be tough... I'm gon' pull up tho. I'm pulling up tho."
He's been talking with Timbaland and Swizz Beatz about the series, but right now he didn't reveal whether he actually has a battle on the way. "Yeah, I've been talking to Swizz and Tim all through the whole shit," T.I. said. "Congratulating them every step of the way because the shit is phenomenal. It's like, what they did for the culture, it's outstanding." 
Before revealing who would be his ideal opponent for the ongoing series, the rapper also discussed what he's been up to in quarantine, and his new movie on the way. Additionally, he gave his thoughts on the killing of Ahmaud Arbery, which he called a "travesty," and said that he would be pleased to see a black woman as Joe Biden's running mate.
Asked if he would be excited to see Stacey Abrams as Biden's VP pick, T.I. was hesitant to throw support behind one candidate so quickly "I mean, sure... Man if you had asked if I would be excited to have a black woman as vice president, yes," he replied. "Of course. I think she was the best candidate for the governor of Georgia, we got it wrong when she didn't become the governor." He suggested he would have to see what her policies in a VP position would be, rather than from a state perspective, though. He added that it would be "phenomenal" to see a black woman as VP regardless. When asked if he would ever run for office himself, however, he instantly replied, "Hell no."
Watch the full episode of Complex Open Late With Peter Rosenberg above, and watch new episodes on Thursdays and Fridays at 9 p.m. ET on Complex's Instagram Live.