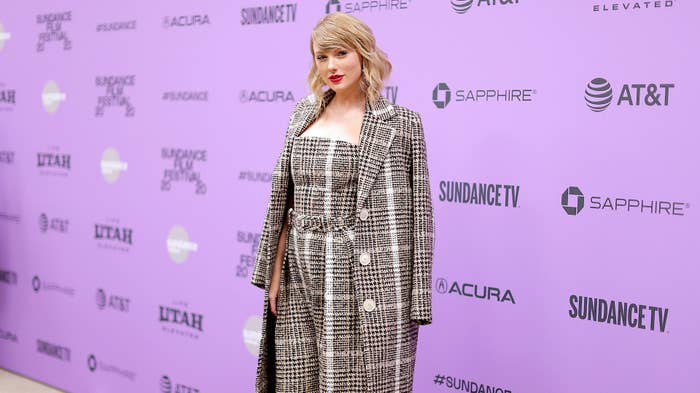 Taylor Swift and Kanye West will forever be linked. Although they've both tried to amend their relationship, things went south when Kanye mentioned the singer on his The Life of Pablo track "Famous." Now, four years after Kim Kardashian released Kanye and Taylor's infamous phone call, the entire unedited footage has surfaced on the internet.
On "Famous," Kanye raps "To my Southside niggas that know me best/I feel like me and Taylor might still have sex/Why? I made that bitch famous." Taylor was not pleased by the lyrics. Her team quickly released a statement calling the song "misogynistic," claiming that she was unaware of the lyrics. Her response led Kim Kardashian to take to Snapchat, where she posted a phone call between West and Swift during which it seemed like Taylor gave Kanye approval to rap the lyrics. But, the newly revealed footage shows that West only told her half of the bar.
"So it says 'To all my Southside niggas that know me best/I feel like Taylor Swift might owe me sex,'" 'Ye tells her stopping short of the line where he refers to her as a "bitch." While she agreed that the line wasn't mean, Taylor cautions him about saying a woman "owes" him sex. She also declined to help release the song because she felt like the message would resonate better coming from him. 
When the song officially dropped, Taylor heard the whole line where Kanye calls her a "bitch" and alludes to taking credit for her success. This didn't sit well with Swift. 
"Kanye did not call for approval, but to ask Taylor to release his single 'Famous' on her Twitter account. She declined and cautioned him about releasing a song with such a strong misogynistic message," her rep told Rolling Stone at the time. "Taylor was never made aware of the actual lyric, 'I made that bitch famous.'" 
Yet, the way Kardashian framed and edited the footage that ended up on Snapchat made it seem like Swift was aware of the whole bar. Now people are back on her side after hearing the entire call for themselves. Some fans believe that West manipulated Swift and have started a #KanyeWestIsOverParty hashtag to shed light on the situation.