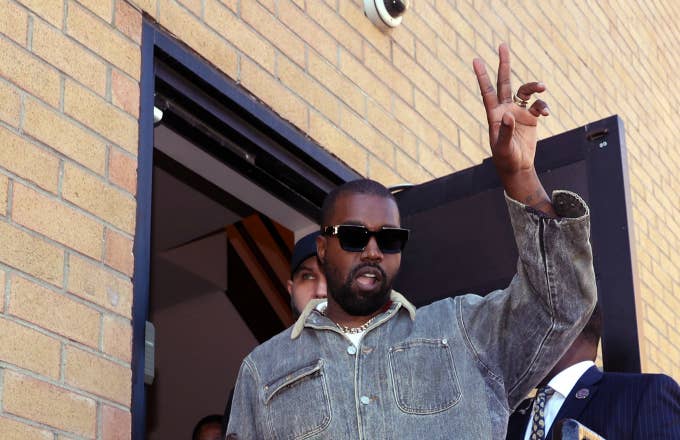 Atlanta's New Birth Missionary Baptist Church plans to redirect a donation made by Kanye West to nearby Morris Brown College. 
West held a pop-up Sunday Service in September at the church in Stonecrest, Atlanta, led by Senior Pastor Rev. Jamal Harrison Bryant.
Bryant redirected the donation due to Kanye's continual support of Donald Trump's policies. During a Sunday Service held in Salt Lake City, Utah on Oct. 5, Kanye reaffirmed his allegiance with Trump and the Republican Party.

"Abraham Lincoln was the Whig Party—that's the Republican Party that freed the slaves," Kanye told the crowd. "I ain't never make a decision based only on my color. That's a form of slavery—mental slavery. I ain't drink from the white person fountain. ... I ain't playing with them. All these mind controllers, the media, all of these mind controllers. I find that wherever Christ is where I've got my mind at. We find that the love of Christ is where I've got my mind back."
Bryant responded to West's sentiment during an episode of Roland Martin Unfiltered on Oct. 10. "The same Donald Trump who in fact brought in all the presidents of the United Negro College Fund—HBCUs—and promised them he would give them funding—ain't given them a dime. And still, he says he supports him." Bryant said at the episode's 1:50 mark. "I don't align with the statements of Kanye West... Mr. West made a significant donation to New Birth Cathedral. But I do not want to be guilty of double speech... The donation he made to our church I am now redirecting. I am going to be giving the donation he gave to Morris Brown College."

A spokesperson for the churchconfirmed to the Atlanta Journal-Constitution that the financial contribution made by Kanye West will be used to supplement the Historically Black College's scholarship fund. The official announcement came from Bryant during the church's 9:30 a.m. service on Oct. 13.
Harrison revealed that the donation will be divided to create two scholarships. One scholarship will honor West's late mother, Donda West. This holds a significant sentimental value because Donda West used to be a part of the faculty at Morris Brown College. The other will pay homage to Vanessa Long, who is the wife of the church's former pastor, Bishop Eddie Long. 
The amount of the donation has not been disclosed, but this money will help curb the institution's financial issues. In 2002, Morris Brown College lost its accreditation. As a result, only around two dozen students attended classes at Morris Brown. Saving the school from closing would have an important impact on the community. Morris Brown College was established in 1881 and is the only HBCU in Georgia that is funded by African Americans. Morris Brown's interim president, Kevin James, says this donation will be a "major step" in its journey to keep the college open. 
"When you lose your accreditation, you close," James said. "But for some reason, for the past 17 years, Morris Brown College has been able to survive. We will be the first historically black college in history ... since 1837 to actually come back and be fully accredited under these circumstances."