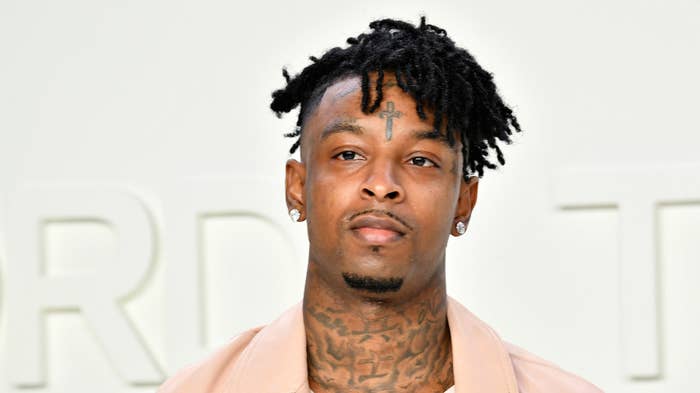 After Young Chop questioned the realness behind 21 Savage's rap persona, 21 decided to respond.
This weekend, 21 took to his Instagram Stories where he urged fans to go get whatever Chop is about to drop because he's clearly trying to generate some "clout."
21 caught wind of Young Chop's new song, where he used a meme of 21 looking scared with the words "when young chop come in the studio" as its artwork.
"Make sure y'all go get his tape wen it drop cuz he need da clout and pray for him cuz he done lost his mind," 21 wrote.
This was also in response to Chop questioning the realness of 21 and claiming he knows the real reason why he doesn't wear jewelry.

Last week, Chop went live with Philadelphia rapper, Gillie da Kid. During their conversation, Chop decided to expose "scary" rappers who aren't as hard as their images. This led him to recount a story about going to a studio session where Meek Mill and 21 Savage were recording. Chop claims he had a firearm on him and that the sight of the gun made both 21 and Meek uncomfortable. And per Chop, 21 was so scared he decided to leave the session. 
"They had the Bentley trucks outside. ... Them motherfuckers skitted off," Chop said after Gillie asked him to clarify that 21 left the studio. "Whole time he was hiding behind Meek Mill, though. I ain't even see him." 
Like 21, these accusations forced Meek Mill to respond with a tweet that questioned Chop's sanity. 
Chop continued to send shots at Meek on Instagram, calling him a fraud.
Gillie defended his fellow Philadelphian, explaining to Chop that he's known Meek since he was a teenager and that a gun would not shake him. This didn't stop Chop from continuing to make claims. He even stated that Meek's MMG brother French Montana is also a "scary" rapper. Similar to Meek, Gillie has a close and long relationship with French.
Gillie didn't believe these accusations, and once French caught wind of the comments, he combated these claims by shedding light on Chop's mental health.
"Yo, Chop. Go back to the madhouse, bro," French said in a post to his IG Stories. "I just saw you last week. Shout out to [Lil Durk], we was finishing Coke Boys 5 the album in Atlanta. Chop come out of nowhere talking 'bout him and Drake would make a cute couple. I busted out laughing and Durk was like 'Nah, dog really lost it.'"
"To all you blogs out there stop putting my bro Chop on the thing," French continued. "Until this corona thing is over and he can check back into the madhouse. ... They laugh at things like that but it's for real."
Apparently, Young Chop still has more to say. He called out 21 Savage again, posting a private convo they had in IG DMs claiming he was scared of Chicago.

Savage then took to IG Live to tell his followers to uplift Young Chop. "Y'all pray for Young Chop. He's having a mental breakdown, for real. It's fucked up. I hate to see my young black kings acting like that. We gotta start uplifting people when they're acting crazy and shit. Y'all gotta show him that he's loved out here. I don't love him, but I'm sure that some of you love him."

As of now, Chop's IG page is filled with people he's calling out, which include Puff Daddy, Jeezy, T.I., JAY-Z, and Spike Lee.