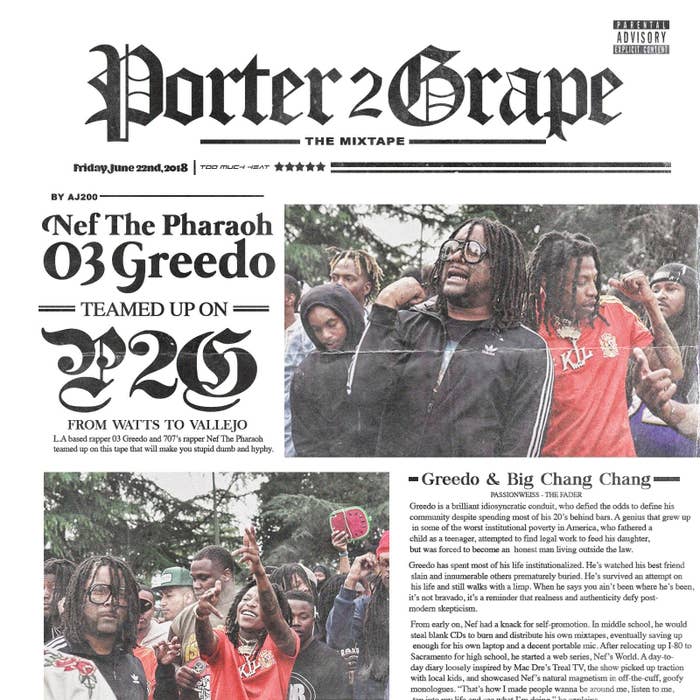 Last month, 03 Greedo laid out an ambitious plan to have 30 albums finished before starting his 20-year prison sentence for drug and gun charges this summer. Fans will likely have to wait a while for those projects to see the light of day, but today he and Nef the Pharaoh announce their collaborative project.
Porter2Grape is a five-song project that will arrive on July 22 and we get our first taste with the lead song "Ball Out." Featuring Oakland artist ALLBLACK, the hard-hitting track rides a classic Bay Area bounce. Clocking in at just over two minutes, this one doesn't waste any time as Greedo, Nef, and ALLBLACK efficiently tag each other in and out over the bass-heavy production.
During a recent interview with Power 103, Greedo spoke about how productive he's been lately, explaining, "I got so much music by myself." He added, "I do like 15 songs a night, but I mean, certain times I'll be doing special projects with certain people, so it'll be a little slower 'cause I work kinda too fast. But when you got the type of stuff I got on my mind, you just gotta get it out or else I'ma be in the streets getting my anger out in a different way."
Bump "Ball Out" below. Pre-order for Porter2Grape will be available here.