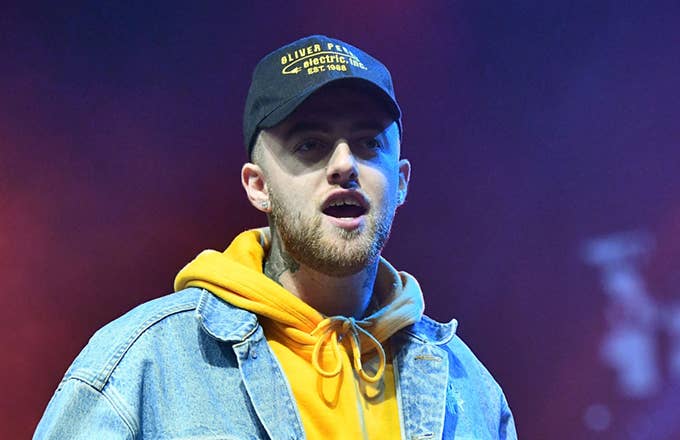 After Mac Miller passed away due to an apparent overdose at the age of 26 on Friday, fans have spent the weekend revisiting his catalog in memory of the late rapper.
Miller's most recent project, Swimming, currently sits at No. 1 on the Apple Music albums chart as of Sunday evening, over Eminem's Kamikaze at No. 2 and Travis Scott's ASTROWORLD at No. 3.
The Pittsburgh artist's music videos have also taken over the streaming service's video charts. Mac Miller-related visuals take up the entirety of Apple Music's top 5 music videos.
Miller's fifth studio album, Swimming, debuted at No. 3 on the Billboard 200 chart when it was released in early August, 2018. The achievement marked his fifth consecutive top-five album in the United States. Speaking to Vulture about his head space while making the project, Miller said, "I really wouldn't want just happiness. And I don't want just sadness either. I don't want to be depressed. I want to be able to have good days and bad days. I can't imagine not waking up sometimes and being like, 'I don't feel like doing shit.' And then having days where you wake up and you feel on top of the world."
Since Miller passed away, artists like J. Cole, Chance the Rapper, Kid Cudi, and Drake have publicly mourned the late rapper. During a concert in Chicago on Saturday, Childish Gambino addressed Miller's death and told the crowd, "This Mac Miller shit got me fucked up [...] He was so nice. He was the sweetest guy, he was so nice. And we were both internet music kids, and a lot of critics were like, 'This corny-ass white dude, this corny-ass black dude,' and we used to talk. And this kid, he just loved music."