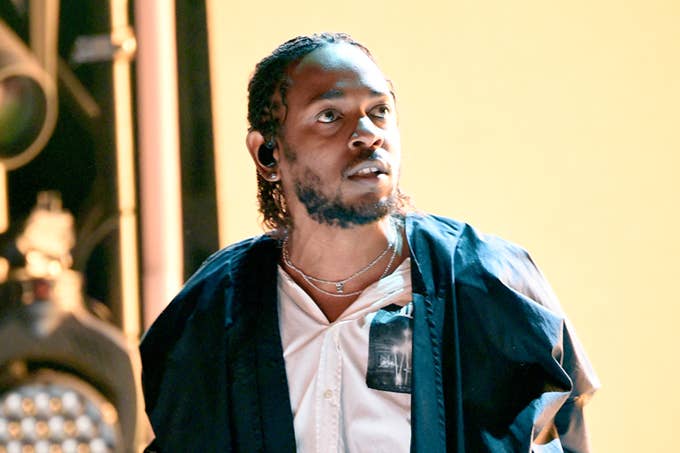 Two days after the release of Black Panther: The Album, Kendrick Lamar sent out a rare personalized tweet that reflected on the experience of executive producing the soundtrack alongside Top Dawg Entertainment boss Anthony Tiffith.
"Respect to all the artist/producers that allowed me to execute a sound for the soundtrack," he said, acknowledging the project's many collaborators, which included SZA, Travis Scott, The Weeknd, Vince Staples, Khalid, ScHoolboy Q, 2 Chainz, Future, and James Blake.
Following four studio albums of his own, Black Panther: The Album represented a new creative challenge for the 11-time Grammy winner. His solo projects are known for being centered around themes personal to his own life and light on big-name features, but this soundtrack allowed Kendrick to approach things from a new angle. As he put it, "The concept of producing and composing a project other than my own has always been ideal."
Days before the album's release, Black Panther director Ryan Coogler sat down with NPR to explain how Kendrick became involved in the project.
"I've been a massive Kendrick fan ever since I first heard him, since his mixtapes, and I've been trying to track him down," Coogler said. "Eventually I caught up with him a couple years ago—first with Anthony 'Top Dawg' Tiffith, who runs his label, and then later on sat down with him and Kendrick and just spoke about much his music affected me. He talked about my movies that he had seen, and we said if the opportunity comes, we'd love to work with each other on something."
The original plan was for Kendrick to only work on a few songs for the soundtrack, but he was inspired to take on a larger role after getting an early look at the movie.
"To Marvel's credit, they really supported the idea of getting some songs from him," Coogler continued. "At first, he was just going to do a few songs for the film, and then he came in and watched quite a bit of the movie, and the next thing I know, they were booking a studio and they were going at it." TDE producer Sounwave added, "[During] The Damn Tour, we probably came up with 50 percent of it—the production, the hooks, and ideas. When we got back from the tour in September, that's when we were able to execute our ideas and reach out to people we respect and whatnot."
You can listen to Black Panther: The Album on Spotify below, while you wait for the film to hit theaters on February 16.