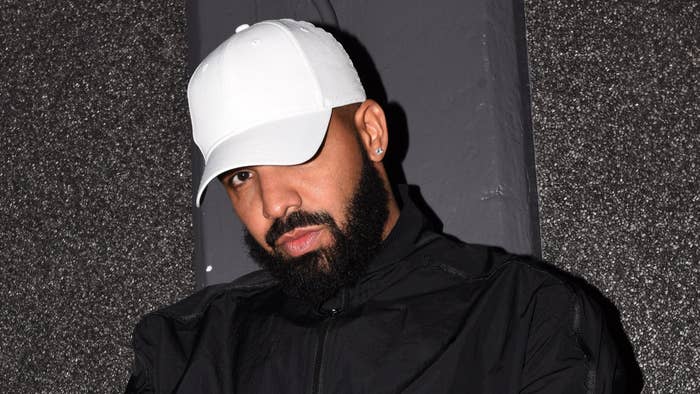 Nine months after releasing Care Package, Drake returned on Thursday night with another collection of loosies. This time, though, the songs are more current, and most of them hadn't been heard in totality until now.
"My brothers put together a lot of the songs people have been asking for (some leaks and some joints from SoundCloud and some new vibes)" Drake explained on Instagram, hours before Dark Lane Demo Tapes hit streaming services. 
On the cover of the 14-track project, Drake is wearing a mask, leaving it up to our imagination whether he's in the middle of a heist or if he was just on his way to get groceries and ran out of N-95s. However you choose to look at it, though, it's a dark, moody image that accurately reflects the music found inside.
As Drake made clear, this is just a warm-up before his sixth solo album arrives this summer, but there's still a lot to digest here. Dark Lane Demo Tapes holds plenty of hints about where Drake's head is at right now, giving us a peek at what to expect on the next release. We'll be publishing a full review next week, but the Complex Music team (and a couple close friends) couldn't help ourselves from scribbling down some of our thoughts before the weekend. After a few spins, here are our initial takeaways and first impressions.
Mixtape Drake is a good Drake
Drake couldn't help himself. He had every right to sit back and focus his attention on making a studio album full of streaming-friendly hits. That's what we expect from the biggest artist in the world. But he's made it very clear by now that isn't the only thing he's interested in. For every pop smash he records, he wants to make sure he makes one for the rap nerds who still print out sheets of lyrics and haven't forgotten their Boxden passwords. Over a decade into his career, he still has time for Mixtape Drake. And Mixtape Drake is a very good Drake. Wisely, like he did with the More Life "playlist," he presented Dark Lane Demo Tapes as a collection of loosies and "new vibes" (in his own words), effectively removing the heavy weight of expectations that usually come with a Drake studio album. This way, he gets to play around and try things that wouldn't make sense on a proper Drake album. He can try his hand at drill and make sleepy, introspective rap songs that might get lost in the shuffle alongside massive hits. A mixtape allows him to turn back the clocks and release music like he did a decade ago, when he wasn't the biggest star in the world. There's an argument to be made that Drake is at his best when he's dropping loosies on SoundCloud at 2:00 a.m., and Dark Lane Demo Tapes gives him a chance to scale that up to a full project. This thing won't end up anywhere near the top of his discography when it comes to critical and commercial success, but it is a very worthwhile listen that satisfies a subset of fans who might be turned off by some of the polish coming from a 2020 Drake studio album. —Eric Skelton
Drake is always paying attention
Aubrey really must be online all day. As he made clear in his pre-release Instagram message, he heard everyone asking for songs like "Pain 1993." He knows about the leaks. He's seen all the theories that he should have already dropped an album by now, but had to hold back because of the COVID-19 lockdown. So he listened, and delivered a pack of new music to hold everyone over (and keep the spotlight on himself) until summer. And that's not the only way Drake is paying attention. Avoiding the bubble that invariably develops around artists of his stature, Drake makes sure he always knows what's happening in all corners of rap—even the left-field pockets that we wouldn't expect to come across the radar of a mainstream star. That's how we get surprising little moments like the "plug!" tag on "From Florida With Love," courtesy of the song's producer MexikoDro, an influential figure in the SoundCloud rap era. And that's how up-and-coming producers like OZ and D Hill get so many placements, helping Drake sound forever youthful and current (even as he approaches his mid-30s). That's why Drake's on top, and why it doesn't look like he'll be falling off any time soon. —Eric Skelton
"Losses" is the standout
A moody, thoughtful cut reminiscent of Take Care closer "The Ride," or some of the better tracks on Nothing Was the Same, "Losses" is an early standout for fans online, and it features perhaps the best bar-for-bar rapping on Dark Lane. "I do it for the Grahams, not the 'gram," he says confidently on the second verse, and the song features emotionally affecting interluding with the rapper's father, Dennis Graham. A coterie of producers, including Sevn Thomas and OZ, crafted a beat that is both soulful and icily distant, with crisp drums and a tangled nest of synths and vocal chops. Throughout, Drake raps candidly about not just the cost of success, but how much had to break perfectly to get him to that palatial home in Toronto and stain-resistant superstar status. "I never thought I'd see awards in a glass case/I could've ended up in your crib with a masked face," he admits. On Instagram Live, the night of Dark Lane's release, Drake indicated that these sorts of heady, contemplative records were going to be featured on his upcoming studio album. "I've been in a very reflective state, so I'm gonna give you all I have," he said. "All the other songs are fun, but this is what I love to do the most." —Grant Rindner
Is he crowdsourcing the new album?
Dark Lane is perhaps best viewed as a test case for Drake's next LP. The sound palette is all over the place, and Drake's flows are unpredictable to the point that this collection of songs feels more like a string of loosies than a coherent, fully-realized album. But that seems to be Drake's point, or at least his strategy. By offering a wide swath of new ideas and sounds, Drake is stripping his new album of any risk. It seems he's going to find what fans like about Dark Lane, and apply that sound across the LP. I have a feeling it's going to be some variation of what he does on "Time Flies." It's melodic, deeply personal, vibey without feeling empty, and unrelentingly catchy. "Toosie Slide" is too painfully obvious as a cash grab, and a track like "D4L" succeeds as a standalone hit, but there's no way Drake is ceding the spotlight to rappers as popular as him throughout his next solo LP. With Dark Lane Demo Tapes now spreading from streaming service to radio station to meme-based platform, Drake is sitting back and taking notes. May the best song win. —Will Schube
Drake is still not very good at relationships
Drake is still remarkably bad at participating in functional monogamous relationships. On "Time Flies," he picks up girls via a Finsta account. "Chicago Freestyle" finds the honorary Raptor texting a variety of girls, some of whom now have other men, while others receive his pleas in the form of green texts; an ominous portension. The chorus, in which Giveon hilariously sings, "Two-thirty, baby, won't you meet me by The Bean?" reminds me of the scene in The Office where Michael Scott introduces the cameras to his local New York by-the-slice spot: Sbarros. On "Not You Too," Drake's chorus is as heartbroken as ever: "First time in a long time/Hurtin' deeply inside/First time in a long time/Hurtin' deeply." The only thing implausible about this refrain is that it's Drake's first time being hurt in a long time. Insanity is doing the same thing over and over expecting new results, but Drake just can't help himself; his heartbreak makes for great songs. —Will Schube
There are shades of 'If You're Reading This It's Too Late' here
Unsurprisingly, there are similarities between Dark Lane and If You're Reading This It's Too Late, Drake's biggest commercial mixtape. Both are surprise releases that see Drake rapping over leaner, grittier beats than we're used to hearing from him, and focusing more on traditional bars and delivery than melodies and hooks. "When To Say When" and "Landed" in particular capture the wintry aesthetic, thanks to beats by street-savvy producers June James and Roxx on the former and Cardo and Dez Wright on the latter. "Losses" recalls tracks like "You & the 6" and "Jungle," with its candid reflections on Drake's career and family. Even the two drill records that close out Dark Lane fit the frosty soundscape that worked so well for him back in 2015.
While "Toosie Slide" debuted at No. 1 on the Billboard Hot 100, the rest of the project is light on trend-chasing would-be hits. IYRTITL was certified double platinum, but its tracks achieved little chart success (compared to a typical Drake drop anyway). "Energy" peaked at No. 26, while "Legend" reached No. 52 and "Know Yourself" hit No. 53. Changes in the way streams count as sales mean the Dark Lane cuts will undoubtedly chart well, but having another "God's Plan" or "Nice For What" clearly wasn't on Drake's agenda when he and his team assembled this project. —Grant Rindner
He couldn't resist getting quarantine bars off
Drake had no problem sprinkling in a few tidbits about his time in quarantine. On "From Florida With Love," he mentions that he hasn't "left the 6ix in like a month," while on "Time Flies," he shares more details about being "stuck inside the crib on my own." "Soon as I free up, I'm bouta pop up on your phone," he spits over the OZ-produced beat. He seems to propose taking a virtual shot with his dad on "Losses," saying on the interlude, "You got some liquor at the house? Go get a shot, let's do a shot together." I guess it shouldn't be surprising that he dropped a few bars about COVID-19, though. Shortly after the mixtape dropped, Drake hopped on Instagram Live and revealed that the project was finalized while under quarantine. "We pulled this together in the last two days or something like that," he said. "I'm always here for you, just trying to give you guys music. I know what it is to be sitting around just in your zone." —Jessica McKinney
It's a sample platter
Drake tries out a lot of different flows and styles throughout Dark Lane. On "Not You Too," he gets in his feelings, leaning into his singing side, and  appealing to his female fans, singing, "Why you do that little shit to me, shawty?/When you know that we was meant to be." Then he switches things up on records like "Landed," where he drops cocky bars, name-dropping high end brands like Cartier and even mentioning his own customized, private plane, Air Drake: "Wrote this with a Cartier pen, do I sound different?" He also dives into his newly-adopted drill side on records like "Demons" and the AXL Beats-produced "War." This leaves us with a project that isn't nearly as cohesive as some of his past work, but that's not the point here. This is a sample platter of what he has to offer right now—besides maybe summer anthems (more on that later). —Jessica McKinney
People are turning on Carti
If you were on Twitter when Dark Lane hit streaming services at midnight, you saw how many people skipped straight to "Pain 1993" before listening to the rest of the project. The Pi'erre Bourne-produced song was easily the most anticipated song on the whole thing. But it was also the most disappointing. Carti's once-beloved baby voice, pitched up even higher than we're used to hearing, wasn't embraced by fans. It was immediately rejected. Within minutes, fans were already making Carti-less versions of the song. This isn't the first time the internet has turned against Carti in the last month, either. His long-anticipated return single, "@ MEH," was also rejected by the majority fans (or at least the loudest ones). Personally, I think a lot of this is overblown—these songs certainly aren't among Carti's best work, but they aren't as bad as everyone's making them out to be either (you can expect to see us diving more deeply into this debate on these pages soon). What isn't up to debate, though, is that the tide is starting to turn against Playboi Carti, who had entered the year as one of rap's most adored new rappers. Let's hope he rights the ship on Whole Lotta Red, whenever that finally arrives. —Eric Skelton
He saved the summer anthems for the album
With the exception of a viral hit like "Toosie Slide," which is currently breaking records on TikTok, Demo Tapes is lacking big summer anthems. When you think of Drake summer hits, songs like "Nice for What" and "Controlla" come to mind, and there's nothing that sounds anything like that on this mixtape. Instead, there are a lot of slow-burners that probably won't get much air play in the clubs (even if they were open right now). So, it's likely that Drake saved the big smashes for his sixth studio album, which will come this summer. During his Instagram Live session on Friday, Drake dropped a few hints about the forthcoming LP, promising that "the album is on the way" and "the album is about to slap." We'll be waiting. For now, this was a nice warm-up. —Jessica McKinney