Ali Gatie on Working With XO's CEO and His New Worldwide Fame
The Canadian streaming sensation talks about his upcoming album, his Arab Muslim background, and working with XO CEO Wassim "Sal" Slaiby.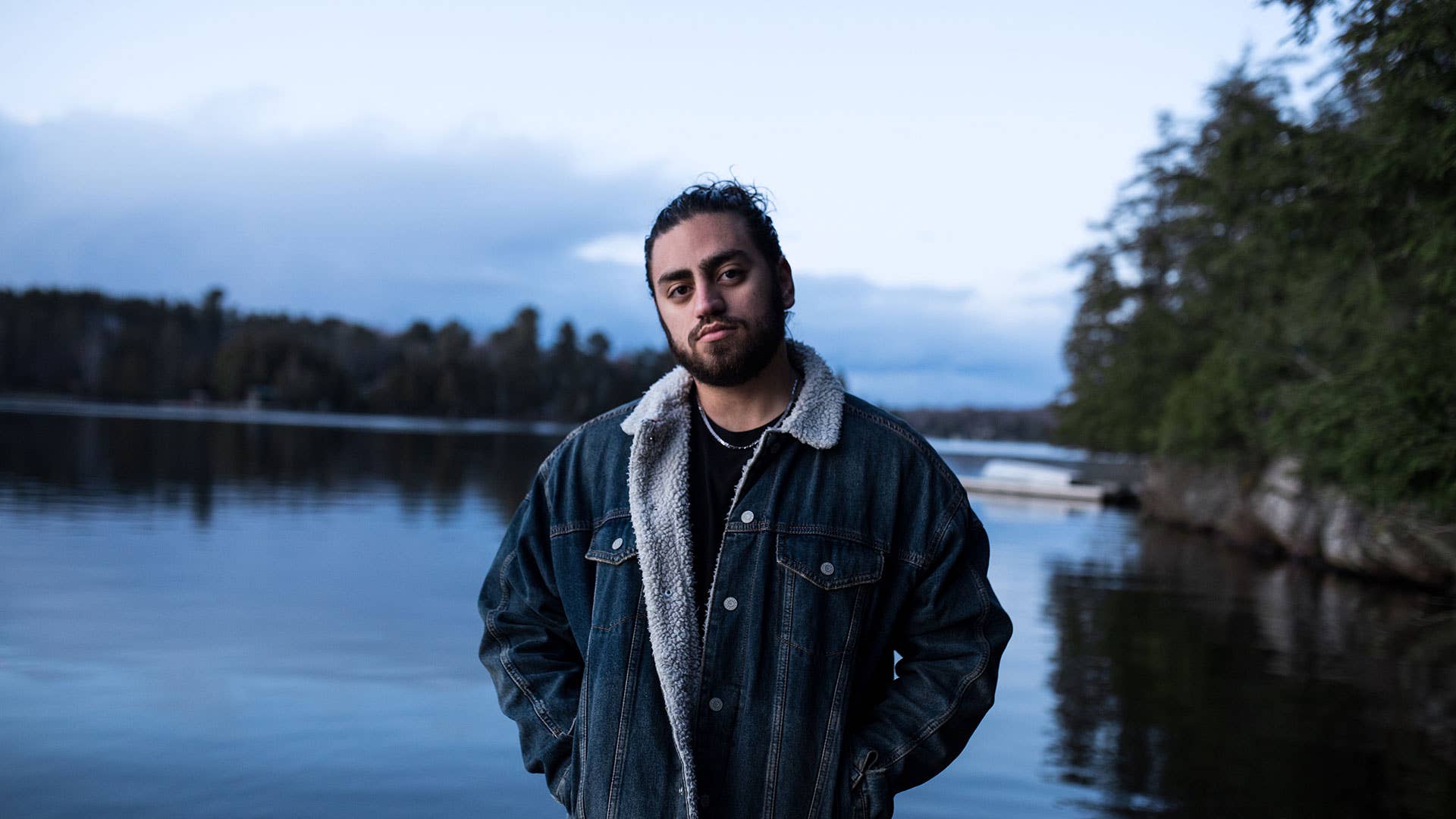 Publicist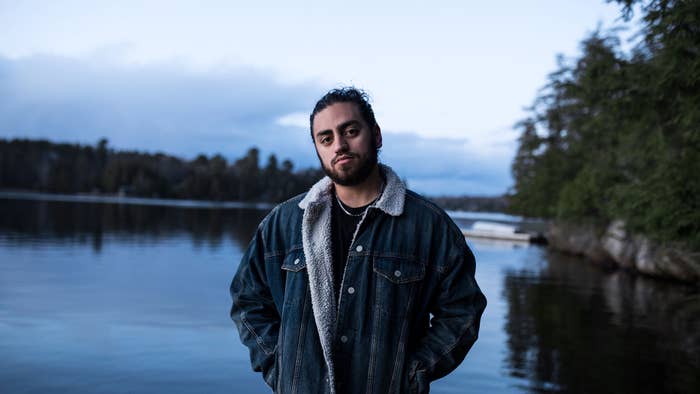 Ali Gatie just dropped a single from his highly anticipated new album, and it might throw his fans for a loop. 
"I'm known as the king of making sad songs," says the Toronto singer. His new tune "If I Fall In Love," however, is surprisingly happy. "This is a different side of me that shows a different side of love."
A low-key contender to the throne of Canada's next prince of pop, Gatie's already experimenting with his sound. That's pretty daring, considering he rose to fame not that long ago. Born in Yemen, raised in Toronto, it seemed like just yesterday when the 22-year-old made the bold decision to drop out of school and pursue his dream of becoming a full-time artist. "I always knew I was going to make it," he says.
He first enjoyed viral success in 2018 with his heartbreak anthem "Moonlight," which racked up over 20 million YouTube views and caught the attention of the Kardashians. Soon after, he'd sign with Warner Music and drop his debut EP You, which would go platinum; its breakout hit "It's You" spending 13 weeks on the Billboard's Hot 100. He's been on a non-stop ride ever since, amassing a huge international following and boasting 2 billion cumulative streams. Prior to COVID-19, his first world tour—scheduled to hit the Middle East and Asia—sold out.
Gatie's also the subject of the latest episode of JUNO TV's docuseries, Rising, which explores the creative process of up-and-coming Canadian artists. (Watch the trailer below.) The singer notched two JUNO nominations this year (before the awards show was cancelled due to COVID-19), and rightfully so. With his single "What If I Told You That I Love You" becoming a TikTok smash a few months ago—garnering over 20 million engagements—he's undeniably one of the nation's hottest young streaming sensations.
When we catch up with Gatie, he's in his hometown of Mississauga, Ontario, spending time with family, working on new music, virtually engaging with fans, and fasting. He says he's looking to flex a brighter side of his music. Along with "If I Fall In Love," he'll be dropping new single "Running On My Mind" this week, which boasts an upbeat R&B vibe. All in all, it seems he's trending in a more hopeful direction. And we could all use a little hope right now.
We talked to Gatie about his upcoming album, cultural background, success overseas, and the legacy he wants to leave behind. The interview, edited for clarity, is below.
How are you holding up during quarantine?
I'm good, man. Thankful I'm at home in Canada. Trying to stay positive and be grateful for what I have, as opposed to thinking about what I missed out on. Keeping that mentality helps me stay sane, now that I'm making music again.
I loved the new singles and you've been teasing the album for a while. When and what can we expect from it?
I wanted to release the album right after I finished this tour, which would've been done around my birthday [May 31]. [It's] obviously a play. And, you know, ideally, I want to release an album when I announce a new tour, so I would be able to perform those new songs. Now with the whole pandemic, [I'm] probably not going to be able to perform this year but I'm almost positive the [album] will come out this year. Don't know the real details, but definitely as soon as things start clearing up in the world I'll announce something.
Is the album a new sound or similar to your previous projects?
The first single earlier this year ["What If I Told You That I Love You"] brought a new sound. In the album, it's not like I'm a completely different artist; it's gonna be interesting to see how fans approach it. It's definitely not a sad album. It's a much brighter and optimistic side of me. These two new tracks specifically ["If I Fall In Love" and "Running On My Mind" ] are a mix between my old and new sound.  
It's also been around two years since "Moonlight" went viral and launched you to stardom. How has life changed since?
I feel like I've changed [in some ways]. I don't know if it was a drastic [change]. I used to live in a condo and share a room with my mom, so now I was able to get a bigger place for me and my family. I also live in L.A. now, have a team, and was able to partner up with Warner Music for a record deal. 
Nothing really changed in my personal life. I'm still that same kid who loves making music. Just a lot busier now. I have more stress, responsibility, pressure, and eyes to deliver [for]. Before ["Moonlight"] I would release songs and nothing big happened. It wouldn't matter. Now, I put this pressure on myself to impress my fans and excite them.
When you dropped out of university to pursue music, how big did the pressure feel coming from family or friends?
I think for any parent, if their son or daughter told them they were leaving school to become a singer, they would be alarmed. But especially coming from a Middle Eastern Muslim family. 
"I did a show in Cairo and that was the first time I really needed a full-on security. People were waiting even at the hotel and airport."
Exactly. I know what you mean.
Not just Middle Eastern background, but any immigrant family would understand. They literally come to this country for you to go to school and have a better life, and that's literally all they care for. That was definitely a challenge for me. I felt pressure, but it wasn't [pressure] to succeed. It was more my parents' fear and lack of knowledge about the industry. They just hoped I [would] realize it wasn't going to work and go back to school. 
I worked my ass off everyday and that started to catch up with me quickly on a time scale. And, I was able to show [my parents] that this path was working out. Now that everything is going according to plan, they've finally come to terms with it. 
I grew up in a similar situation and if it's not like the classic doctor or engineer career path, they get worried. 
It's more out of fear than it is of you making it. 
As you get bigger and more exposure in the industry, who are some of the people in your support system keeping you grounded?
Honestly, my childhood best friend Ozzy. Not really music-wise, as we're both learning together. But, having him be around and live with me, he's that one person that knows me before everything. If I'm ever moving weird, which I always try not to, he can always tell me straight. Mentor-wise, I have a really dope manager Sal (XO CEO Wassim Slaiby), who's been in the game. 
Sal has managed artists like The Weeknd, French Montana, and Nav. How did you two start working together and what are some of the things he's been able to help you with? 
It's a fairly new relationship that really just started off as a genuine friendship. It was just after ["Moonlight"] came out. I signed a record deal and had a team at the time, but parted ways with them on good terms because it just wasn't the best fit for me. 
I already happened to be in L.A. and [Sal] reached out to me on Instagram just to say he's proud to see a Middle Eastern kid making it big. We started talking and it was a friendship, nothing business-related. I wasn't interested in having a manager. I wanted to do things by myself. I took a gamble, though, and gave him an opportunity. He believes in me and I believe in him. It's been about 8 months now and as time passes by, we see eye to eye, have our fights about things at times. But we both understand how important it is to be a Middle Eastern artist. Like, for example, both my singles came out around Eid and not many managers understand the significance of that. Like, he does and I respect him so much for that. 
Both of you have worked a lot to create your own brand and fanbase. You're getting bigger by the day, yet you're so interactive with fans in a way that not many artists who are growing at that rate do. What's that relationship like?
For my story, I never had the blessing of a huge artist or entity to cosign me or some global smash that came out of nowhere. The way I built my fanbase was [through] nurturing the fans I did have, constantly showing them love. Those fans would tell their friends and they would join along. Replying to fans, to me, it's not like a tour. I make sure to engage one hour every day with them through social media. It's just ingrained in my brain. A lot of it comes from remembering that not too long ago, I was that fan DM'ing people telling them to check me out. It comes full circle from being humble. I understand that every new fan builds another new fan. Hopefully, when I compete in the charts, that one extra fan is going to matter. 
Where's your biggest fanbase? 
It's interesting because I feel like I'm growing rapidly.
Your fanbase in Canada is huge but Europe is getting really big too.
Yeah, well I think I'm kinda big everywhere. The two countries that I would say I'm starting to get to more of a superstar level are Malaysia and Egypt. I did a show in Cairo and that was the first time I really needed a full-on security. People were waiting even at the hotel and airport. Maybe it's because those countries usually don't get as many artists. I'm not saying there's more love there, but it's a different kind of love. 
In Malaysia I have the No. 1 song in the country, so that's probably the biggest. In North America it would probably be Toronto, Detroit, or New York.
Who's on your bucket list of artists you want to collaborate with?
I think probably J. Cole. He's always been my favourite artist. Drake, The Weeknd—those are Toronto legends and it would be an honor to work with them. They paved the way for every artist who came up there and gave the city a name. Then there's legacy artists like Adele and Frank Ocean. Tactically speaking, though, it would be Post Malone, Alec Benjamin, or Bazzi. I'm very open to any real collaboration.
As you get these opportunities and grow, what kind of legacy do you want to leave behind?
I get this question a lot and have a lot of different answers. Lately, I've understood that I'm pretty happy to be where I'm at, but I want to be that example that first Muslim Arab artist to have a No. 1 single or album. I think it's a statement for that community. So my hope once I make it big commercially is that the next kid would be able to tell their parents about pursuing music. Like, "Damn, Ali was just another immigrant kid with no connections or anything." It doesn't even have to be an immigrant kid, but even the average Joe who just loves music and wants to work hard.
I can really see that the Middle Eastern youth in Toronto, Ottawa, and Montreal rep you so hard. Even for me, it's inspiring being the same background and seeing someone like you who's making it big time.
Another big thing is making it without compromising yourself, changing your beliefs or promoting things that may go against your own rules. I'm not trying to rub it in someone's face, but I'm beginning to be more open about my culture or religion. It's cool for people to know a mainstream artist from this background, as opposed to the associated stereotypes you hear about. 
Risingwith Ali Gatie premieres on The JUNO Awards YouTube Channel on Sunday, May 31 at 11am ET / 8am PT