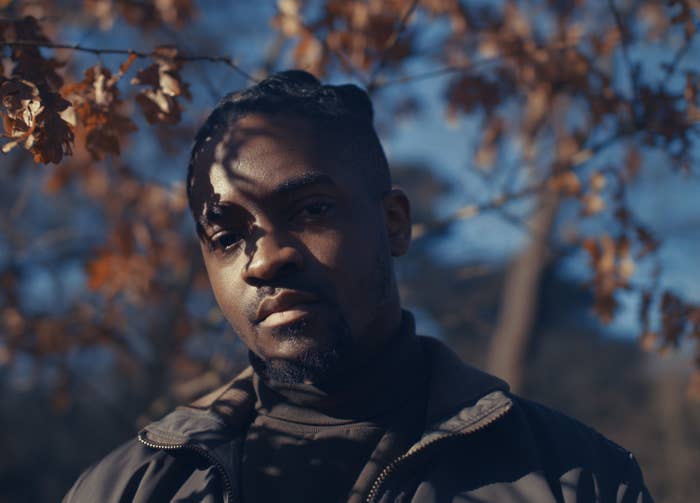 In the ten-plus years that he's been in the game, East London rapper Guvna B's work-rate hasn't paused for one second, releasing a staggering nine full-length albums in this time. The ninth and latest addition to his expansive catalogue is the recently released album Everywhere + Nowhere, a stunningly thoughtful examination of grief and loss that also aims to give a voice to the voiceless. "This is an album for the forgotten people," says Guvna, "all those who find themselves between everywhere and nowhere."
After his father passed away in 2017, Guvna B, who was extremely close with his dad, channeled that pain straight into his music, exploring the fragility of life and finding at least some sense of hope or positivity in it all. Tying that experience to the other themes of the album, he also takes inspiration from the work of the American photographer Vivian Maier who, he explains, wasn't even discovered (let alone lauded) until after her death in 2009.
You might be forgiven for thinking the results would be downtempo or melancholy, but as the title of the opening track "Bittersweet" suggests, it's far more complicated than that. 80% of the LP was produced by Guv's good friend, JimmyJames, who avoids the usual cliches by supplying mostly uptempo and energetic rap instrumentals to sit beneath his candid rhymes. Stirred into that robust mix are elements of gospel ("With Me All Along"), soul ("Fall On Me") and even pop ("These Are The Days"), for a listening experience that's both deeply moving and uplifting.
Complex caught up with Guvna B to break down every track on Everywhere + Nowhere, explaining more about some of the themes and how they play into each track. 
Take it in below and cop or stream the full album on iTunes or Spotify now.
---
"Bittersweet"
"This track is really the crux of the album. It's the beauty of living in two places at one time and all the different things we can learn from that. I rap about the memories of my dad being all around but him being nowhere to be seen, as he's passed away. I chat about God being there for me but still feeling lonely, and I talk about my own battle with balancing achievements and disappointments. This song is me saying that life is a beautiful struggle, and even in the toughest of times, there's blessings to count."
"Cushty"
"I made 'Cushty' with TSB in LA. It sounds glamorous but it purposefully wasn't. We were there for Grammy week and most people were networking, partying and all that and we just wanted to get in the studio and make a song about the ends because that's our reality; kids getting gunned down and stabbed every other day. Me and TSB have been on our own journeys trying to make a difference and see positive change. I think most people in the hood want everything to be cushty but the system is complicated. We move, though."
"Mazza"
"'Mazza' was the first single from the album and produced by JimmyJames. This is a song about my Imposter Syndrome. I've been in the game for a decade now and I think I've earned my respect and paid my dues. Man know what I'm about, but insecurity can still get the better of me. I can often look at the latest trend or another artist in that lane and think to myself, 'This positive messaging through music ain't really getting me the big looks,' but this song is saying: 'I'm pulling up same way and I'm meant to be here playing the role I'm playing.'"
"Fall On Me" f/ Wretch 32
"This song was a moment for me. Wretch 32 is one of the greatest lyricists this country has seen and I respect what he stands for. He's about the music and the message. This song is out to mumsy, grandma, pops and all the olders that really held us down; providing a stable home, giving us drive and ambition and praying for us every day. We are the result of emotional, financial and spiritual investment from our olders, so in the midst of the mud and the crud, it's us giving thanks and praying for the blessings to continue."
"With Me All Along"
"This is me in my gospel bag. I grew up on Kirk Franklin, Mary Mary, YolanDa Adams and Kim Burrell—gospel music has always played a big part in my musical journey so I teamed up with a few cool writers, a choir and Teni Tinks to work on this uplifting one. It's about looking back in life and realising God had your back."
"You Never Let Go" f/ Travis Greene
"I sampled one of my favourite songs on this one: 'You Never Let Go' by Matt Redman. I wanted something that felt sonically warm and inspirational. When people hear this, I want them to feel like they can overcome anything life throws at them. In that situation where you feel like giving it up or like it's all over, this song is supposed to help you think, 'I'm going to keep fighting.'" 
"These Are The Days"
"I worked on this with my producer, JimmyJames, and a jazz band from North London called Ezra Collective. This is the celebration anthem on the record, the one you play at birthday parties or whenever you're in a feel-good mood. I've been a fan of Ezra Collective for a while and the joy they bring through their music, so I was gassed they were up for playing on this. The clip at the start is from Capital Xtra's Rob Bruce—he DJ'd at my birthday party in Ghana last year. The mandem flew out and it was a vibe!"
"Kumbayah" f/ Barney Artist
"'Kumbayah' is about bad decisions that I've regretted. It was inspired by one of my boys who passed away after a seizure. I'd seen him a few weeks before that and done that thing that the man dem do: 'Yeah, bro, we need to link up. I'm gonna shout you!' But we never made it happen and he passed away. The mad thing is he only lived 20 minutes away, and when I found out he had passed, I went to his crib to pay my respects as soon as I heard. This song's about making time for important things while you can. My boy Barney Artist joined me on this one and blessed me with a deep verse."
"Battle"
"This one's a full circle moment for me. One of my all-time favourite tunes is Wookie and Lain's 'Battle', and from a young age the words have always been deeper for me. Me and JimmyJames have wanted to sample it for ages so we were gassed when Wookie gave us the green light to do it. It was a lot of pressure because, obviously, you don't want to ruin a classic, but everyone was happy with how it came out. When this one comes on, it's good vibes straight away. 1Xtra backed it hard and I saw the most radio success I'd ever seen, so it felt good that it was with a tune like this."
"You"
"I had my first child last year and he completely changed my perspective on life. He made me grateful for my family and so I recorded this song as a mark of respect to my wifey and my son. I recorded it in Nashville, and it's me showing gratitude to my immediate family. There's a little clip of my son at the end of this, too! I need to set him up on PRS [laughs]."
"Safe Place"
"I'm a man of faith and one thing that really frustrates me is when people of influence and power use faith to manipulate and disrespect people. I think it gives faith a bad name, and can undo a lot of good stuff faith can do. I wrote 'Safe Place' to call out a lot of the hypocrisy in Church and also the hypocrisy in my own life. It's a challenge for people of faith to do better."
"Everywhere + Nowhere"
"The outro and the title track, I love this one because it feels like a freestyle. I'm just letting the beat run and freeing the realness. This track is the closest thing to a lyrical diary and, I guess, sums up my personal battle with achievements vs disappointments. It cements the theme of the album."