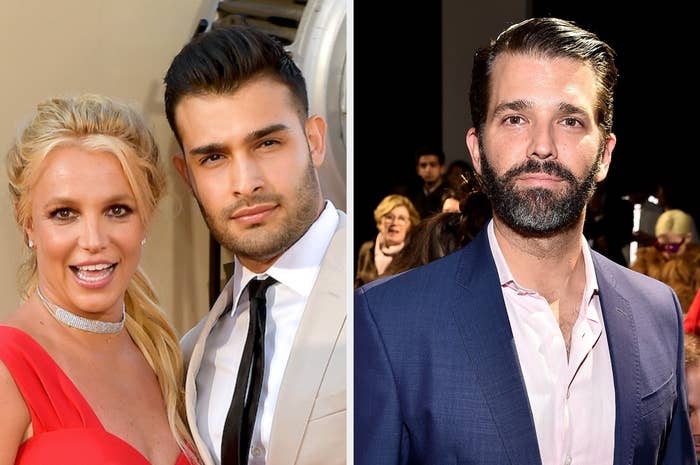 Sam Asghari still seems to have Britney Spears' back.
During the weekend, Donald Trump Jr. took to Instagram to post a meme of Spears. One-half of the image compares the height of the singer's popularity to Donald Trump's America, and the other half compares Spears' current career to Biden's America, using a screenshot from her recent knife-wielding IG video.
Asghari didn't take kindly to the juxtaposition. He called out Trump Jr. in a since-deleted IG Story post, writing, "It's not okay to be a bully @donaldtrumpjr."
It was a slight surprise given the state of Spears and Asghari's relationship. The fitness trainer filed for divorce in mid-August, writing on IG following their split, "After 6 years of love and commitment to each other, my wife and I have decided to end our journey together." Ensuing reports revealed that he would contest their prenuptial agreement and that Spears was shelling out $10,000 per month in rent for Asghari's new Los Angeles apartment.
Fans became concerned for Spears when last week, she posted a clip of herself dancing with butcher knives to celebrate the arrival of Halloween. She later shared that the sharp objects weren't real, though it didn't seem so in her videos. The IG post also prompted a wellness check by the local authorities.