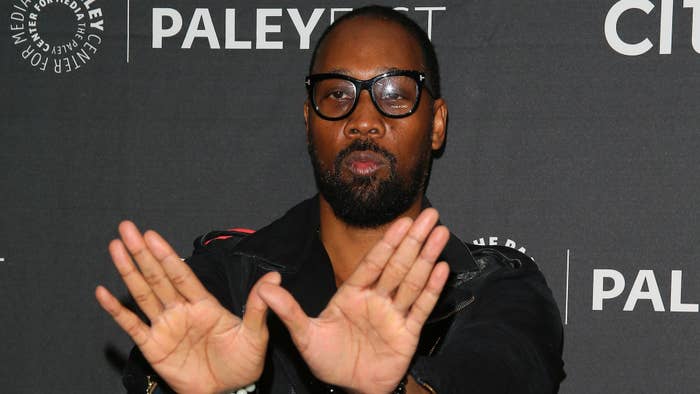 RZA has filed a lawsuit against multiple e-commerce stores for selling products that have the Wu-Tang Clan logo on them.
In legal documents obtained by Complex, the rapper accuses these bootleggers of trademark infringement, counterfeiting, and false designation of origin. These bootleggers—who are thought to be running their businesses from China—have also used the rap group's brand to make it seem like they're selling authentic merchandise.
"Many defendants also deceive unknowing consumers by using the Wu-Tang Clan Trademarks without authorization within the content, text, and/or meta tags of their e-commerce stores to attract various search engines crawling the Internet looking for e-commerce stores relevant to consumer searches for Wu-Tang Clan products," documents say.
"Other e-commerce stores operating under the Seller Aliases omit using the Wu-Tang Clan Trademarks in the item title to evade enforcement efforts while using strategic item titles and descriptions that will trigger their listings when consumers are searching for Wu-Tang Clan products."
RZA hopes to block these stores from continuing to sell imitation merchandise, and is seeking either $2 million for the use of Wu-Tang trademarks, or all profits and damages for trademark infringement. He wants to ask companies like Amazon, eBay, and AliExpress to stop promoting these products.
The lawsuit comes amid the launch of Wu-Tang Clan's official merch store that is being run by Wu-Tang Productions. Designed by Crooked Youth and powered by Shopify, the e-commerce shop will sell limited edition items and share information related to the group. "For the past few years we've been licensing out the logo, which has been great, but it's nice to have full creative control again. It feels like the brand is finally home," Torrie Anderson, Director of Music Publishing at Wu-Tang Productions, said.
RZA also sued a dog-walking company called Woof-Tang Clan for trademark infringement back in 2017, saying the logo was "unmistakably associated" with the Wu-Tang Clan. The fact that they also had dog-themed shirts that referenced Old Dirty Bastard's Return to the 36 Chambers didn't help.