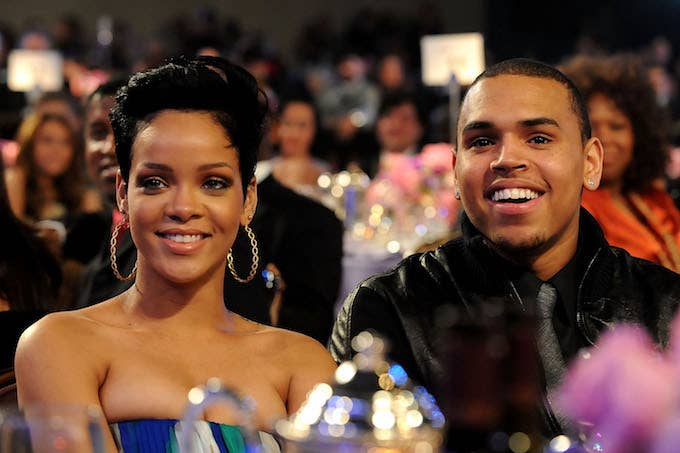 Even though Chris Brown has put Rihanna through hell and back, the two are apparently on good terms. After Brown wished his ex-girlfriend a happy birthday on Tuesday via a surprising Instagram tribute, an insider disclosed to Us Weekly that the former couple remain close.
"Fans might have been surprised that Chris wished Rihanna a happy birthday so very publicly on social media," the source told Us Weekly. "However, they are good friends and talk all the time."
After Brown's birthday wishes, Rihanna's loyal hive snapped at him and pushed for the post to be removed. If you're foggy on the details, the pair dated for about four years, from 2005 to 2009. But their tumultuous relationship screeched to a halt when Brown assaulted Rihanna while they were on their way to a Grammy Awards party in 2009. Brown pleaded guilty to assault, was placed on probation for five years, and had to go through one year of domestic violence counseling. The two briefly reconciled in late 2012, only to break up again in 2013.
Rihanna opened up about Brown in Vanity Fair's November 2015 issue. "I was very protective of him," she said. "I felt that people didn't understand him. ... But you know, you realize after a while that in that situation, you're the enemy. You want the best for them, but if you remind them of their failures, or if you remind them of bad moments in their life, or even if you say 'I'm willing to put up with something,' they think less of you—because they know you don't deserve what they're going to give."
Brown spoke on his relationship with Rihanna in his June 2017 documentary Welcome to My Life. "My trust was totally lost with her, she hated me after that. I tried everything, she didn't care. She just didn't trust me after that," he remembered. "From there, it just went downhill because there were too many verbal fights, physical fights as well. Mutual sides. It is the first time I get to say anything. We would fight each other. She would hit me, I would hit her, and it never was OK."