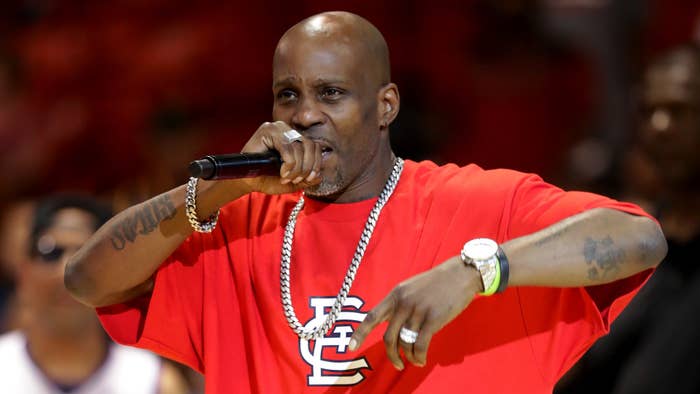 A vigil was held outside DMX's hospital in White Plains, as the rapper still remains in critical condition. The moment of prayer took place on Monday at 5 p.m. ET at the request of the family.
TMZ reports that X's fiancée Desiree, his ex-wife Tashera Simmons—who shares four kids with the rapper—and Yadira Borrego—who also has kids with X—were in attendance, as were some of his kids, including sons Xavier and Exodus.
Some in the crowd were in tears, with many chanting "DMX" and crossing their arms in the shape of an X, which hospital employees also did in the windows of the building.
"On Friday night, April 2nd, 2021, our brother, son, father, and colleague DMX, birth name of Earl Simmons, was admitted to White Plains (NY) Hospital, facing serious health issues," the family said in a statement, per Billboard. "We ask that you please keep Earl/DMX and us in your thoughts, wishes, and prayers as well as respect our privacy as we face these challenges."
According to TMZ, hospital staff also held their own small vigil on Sunday night. The Monday evening event follows the Ruff Ryders Motorcycle Club's tribute to the rapper on Sunday, when the crew pulled up to the hospital to pay their respects
DMX has been in the hospital since Friday after reportedly suffering a heart attack due to an overdose. His mother and fiancée have been with him since the weekend, and other family members, including his kids, have come to the hospital to see him as well.
A source told ET that medical staff "tried to revive him twice in the house, and revived him again in the hospital" in White Plains, New York. DMX's manager told Vlad TV he tested positive for COVID-19 and that only specific family members are allowed in his hopsital room.
DMX has received thoughts and prayers from everyone in the music and entertainment community, including Eminem, Missy Elliott, Killer Mike, Rick Ross, and Travis Scott.