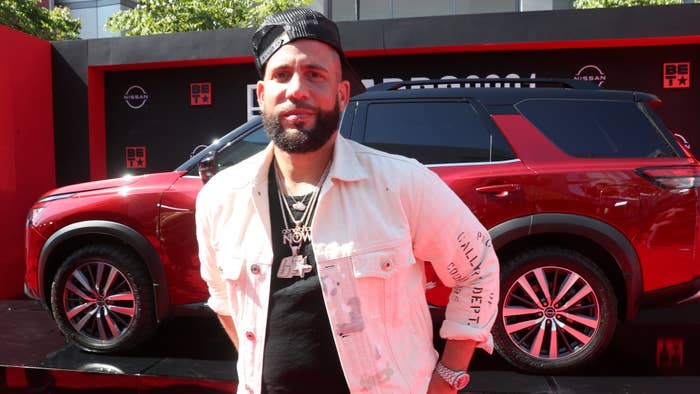 DJ Drama is assuring fans that there is no beef between him and Drake.
User @ChampagneZiggy took to Twitter on Friday, writing, "​​Surprised Drake gave jack that feature, know he don't fuck with dj drama," in reference to Drake jumping on Jack Harlow's Come Home the Kids Miss You album cut "Churchill Downs." 
When Drama saw that tweet, he responded, "We gotta stop this narrative lol. Me & Drake been put that to rest. Grown men shit, and beyond that Jack & Drake cultivated they own relationship. Now erybody go stream that 'Churchill Downs'!!"
In a subsequent tweet on Friday, Drama touched on a comparison another fan made between Harlow and Lil Uzi Vert, who has publicly feuded with Drama over being signed to his label, Generation Now. Harlow is currently signed to Generation Now and Atlantic, as is Uzi.
"No one could EVER replace @LILUZIVERT. He's One of One. And guess what… So is @jackharlow! GENERATION NOW. Watch what comes next," Drama wrote.
If you needed any more confirmation that Drama and Drake have squashed their feud, it seems that Drizzy appeared on Drama's Instagram Story in March.
Drama and Drake initially got into it back when Drake and Meek Mill were beefing in 2015. Meek thought he was getting dissed on his Drake collab "R.I.C.O." with the line, "the girl of your dreams to me is probably not a challenge." Meek thought Drake was taking a jab at the Philadelphia rapper's then-relationship with Nicki Minaj.
Drama tried to placate Meek by telling him that Drake's "not dissing you… those weren't technically his bars." However, that didn't work as Drama had hoped, and Meek instead accused Drake of ghostwriting. "I had a conversation with my man about something and from there it just blew out of proportion," Drama told The Breakfast Club in 2016.